#NIT fire rages on: non-Kashmiri students say shift campus to 'India'
An eerie calm envelops Srinagar's National Institute of Technology. While the Kashmiri students have resumed classes, most of the non-local students, who are in an overwhelming majority, are still "not fully satisfied". They are demanding, among other things, that some of them be allowed to go home.
The campus resembles a fortress, guarded by two companies of the CRPF deployed Tuesday night. CRPF vehicles rumbled in and out throughout the day as if the campus was just another military camp in Kashmir. And while the CRPF is stationed inside, the J&K police are manning the entrance.
The police were replaced inside by the paramilitary after they lathicharged non-Kashmiri students. A top officer who did not want to named because he wasn't authorised to speak to the press told Catch that "political interference is demoralising the force". The media is not being allowed on the campus.
Meanwhile, the NIT's registrar issued a notice Thursday. The notice, a copy of which was accessed by Catch, states that the chairman, board of governors and two senior officers of the HRD ministry met the agitating outstation students on 6 April. "They listened to them and noted their demands," it added.
Also read: #NIT is becoming the latest 'nationalist' flashpoint. How did it happen?
The demands? One that the students be allowed to go home immediately. Other "non-negotiable" demands include hoisting of the Indian flag at the main gate and shifting of the NIT outside Kashmir.
The administration has assured the students they would be allowed to go if their parents permit it. It would even let them take the exams scheduled for 11-14 April later.
The delegation of the non-local students that met the visiting HRD ministry team reportedly told them that "Kashmir is not India". "This is not India, sir. We cannot live here. You will have to shift the college," they reportedly said.
Some of them also sought action against the J&K police personnel who they alleged had chased them with lathis when they tried to stage a protest outside the campus the previous day.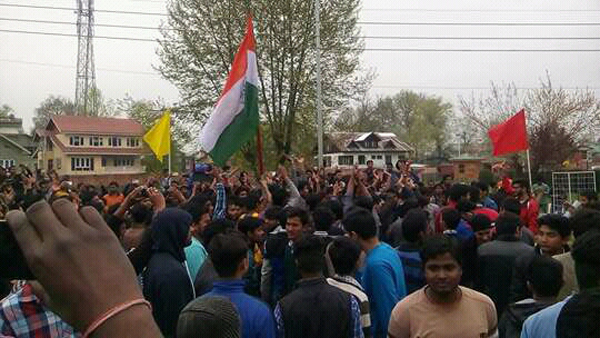 Photo: Gowhar Geelani/Catch News
Politically charged
Rajnath Singh and Smriti Irani, the central ministers for home and HRD, respectively, have separately said they were satisfied with Chief Minister Mehbooba Mufti's assurance of safety of the non-Kashmiri students.

J&K Education Minister Naeem Akhtar, too, assured the outstation students of safety, describing them as "like our own children". He also announced an inquiry by Srinagar's additional deputy commissioner, who has been asked to submit the report within 15 days.

Also read: Srinagar: Police lathicharge students at NIT, CRPF deployed

Kashmir's top pro-Azadi leaders - Syed Ali Shah Geelani, Mirwaiz Umar Farooq and Yasin Malik - have appealed for calm and assured the non-local students that they are safe in the valley.

Geelani said "the non-local students are our guests and we always welcome them here". He urged all NIT students to "concentrate on their studies".

Speaking to Catch, the Mirwaiz condemned the "anti-student activities" at the NIT. "The sad part is the disturbing news that some students have been thrashed by the police. I strongly condemn police brutality."

Pointing out that no outsider was harmed in Kashmir even during the 2008 agitation or the floods of 2014, he said, "Kashmiris have protected outsiders as their guests at the cost of their own safety. Even in those difficult times, not a single Amarnath pilgrim or tourist was touched by Kashmiris. It should not be different now."

Also read: Srinagar NIT: 4 injured in police lathicharge, HRD ministry team to arrive at campus

The Hurriyat chief, however, expressed concern over what he described as "more than desired political interference" in the NIT.

Questioning the "double standards" being applied to Kashmiri students and the others, he said, "When Kashmiri students were arrested in Rajasthan or harassed in New Delhi during the JNU row, there was no intervention from BJP or its HRD ministry to ensure the safety of our students. The Narendra Modi regime has only exposed itself by turning NIT campus into a fortress by deploying CRPF."

The "NIT issue" could easily have been resolved by the local administration, the Mirwaiz said, "but then everything in Kashmir is controlled and managed by Delhi".

Yasin Malik took issue with the media coverage of the issue, alleging that some TV channels were "stoking passions with their misreporting of facts from Kashmir".

More in Catch:

Students at NIT Srinagar clash after India's T20 semi-final loss; campus closed

No food, water, electricity, but massive police brutality: 48 hours in the life of Hyderabad University