New moms may soon get 26 weeks off. Here's why it's great news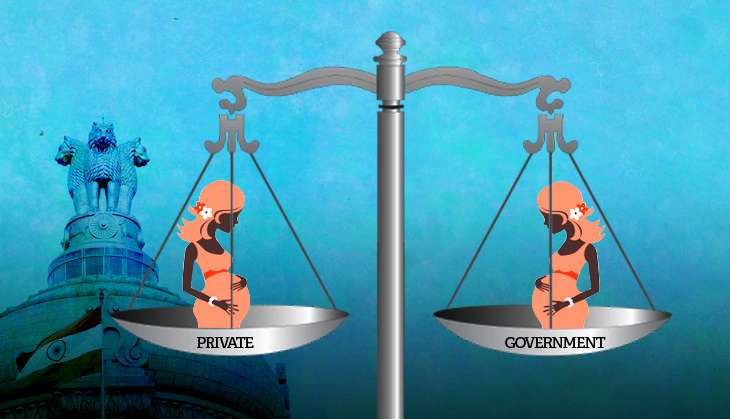 Issues so far
Until now the maternity leave allowed in the private sector was 12 weeks
Government employees got six months or 24 weeks off as maternity leave
New developments
Labour ministry has agreed to increase maternity leave to 26 weeks
This extension will be applicable to all women employees across sectors
More in the story
Why a six-week-long maternity leave is vital for new mothers
What\'s the verdict on both parents getting time off from work when a baby arrives?
Mothers in India can breathe a sigh of relief now. In a long overdue policy change, the labour ministry is finally increasing maternity leave across all sectors to 26 weeks.
Presently, private sector employees experience a rather short 12-week maternity leave as opposed to mothers with government jobs who get six months.
With this policy change, the result of a year-long push by Women and Child Development (WCD) Minister Maneka Gandhi, all women employees across sectors and professions can enjoy a six and half months of paid maternity leave.
Also Read: Flipkart's new maternity policy is great for babies - and business
Recent statistics by International Labour Organization (ILO) show that for Indian women workers the attrition rates are the highest in the world. Experts say paltry maternity leave and consequent pressure to return to work is one of the reasons new mothers are forced to quit.
This data might have played a role in getting a group of ministers, headed by finance minister Arun Jaitley, give the green signal to the labour ministry's proposal of increasing maternity leave for working women on Wednesday.
Labour Minister Bandaru Dattatreya tweeted earlier on Friday:
Good news for women employees, we are planning to enhance the Maternity Leave from 12 weeks to 26 weeks. @PMOIndia @MinistryWCD BJP4India">@BJP4India

— Bandaru Dattatreya (@Dattatreya) July 1, 2016
He also recently expressed to the media that he feels hopeful that the Bill to amend the Maternity Benefit Act, 1961, may be introduced in this Parliament session itself.
The ILO Maternity Protection Convention mandates a minimum 14-weeks of maternity benefit to women but recommends that countries should increase it to 18 weeks.
If the Union cabinet clears the proposal, India will become one of 40 countries where maternity leave benefits span more than 18 weeks.
The significance of 6 months
Lalita Iyer, the author of I'm Pregnant Not Terminally Ill You Idiot, a book about 'pregnancy, maternity and life post a baby minus all the wish wash', breaks down the significance of a 12-week maternity leave with the precision of a ninja warrior.
Iyer worked at a large media house when she was pregnant. She gave birth and returned after a 12-week maternity leave. Her boss, having herself spent 8 years not working post child birth, greeted her with unease and asked her if she really needed the job.
"Most companies treat motherhood as some sort of hobby or incurable disease the woman has suddenly developed.. (They) don't know how to deal with the 'strange' needs of new mothers. Of having to nurse...or bringing their baby to work. Or being excused for an hour in the afternoon so they can go home or to the day care and check on their babies," writes Iyer in her book which she began writing after she walked out of her job.
Also Read: Surrogate mothers entitled to six-month maternity leave: Bombay HC
Today Iyer, a full-time author, says that the two components to analysing whether six months is enough time are the physiological and the emotional side effects of a maternity leave.
Calling three months a rather "either or situation" where mothers either winged it in three months and jumped back into the workforce, full of uncertainty about a host of factors, or threw in the towel and just resigned, Iyer says that six months is enough time to get the basics right and put a system in place to confront a post-motherhood career.
The first of this is what WHO recommends - to exclusively breastfeed a child for the first six months post birth. The antibodies and vitamins in breast milk helps in building a strong immune system to resist infectious diseases during that initial fragile period.
"So mothers can get back to the workforce after six months without feeling guilty that they didn't do the bare minimum," says Iyer.
In six months' time, a child can be weaned off breastfeeding, started on solid foods and have grown to be a more robust, stronger and better-developed baby that helpers at day care can handle confidently.
"Three months is too fragile. The child is too immune to diseases. It's too early to leave a child at daycare when parents themselves are afraid to even pick up a baby that tiny," says Iyer.
"The emotional part is that if you have the assurance of a job waiting for you for six months then the incentive to get back to work is higher. Most women just throw in the towel and resign in three months. Here you're at least giving mothers a fair choice," says Iyer.
More battles in line
The WCD ministry had initially pushed that maternity leave be for eight months across sectors and for a component of paternity leave as well.
This, however, didn't fly with Dattatreya and team. The 7th Pay Panel rejected the demand to increase both the maternity and paternity leave granted to government employees.
Canada, UK, Sweden, Denmark and some other European countries have parental leave from 52 weeks to one full year that can be shared between both parents. Some of these countries pay full wages and some pay up to 80 per cent of the wages during this period.
According to a report by non-governmental organisation Save The Children, in countries with longer periods of parental leave, children are breastfed for longer and their life expectancy is also higher.
Iyer says it's important to steer away from patriarchal policy-making around child-rearing putting all the onus on the women.
"I'd rather the six months be allowed to be split between the parents the way they deem fit. That would be radical," says Iyer.
It took 55 years to think of amending the present Maternity Benefit Act. Let's hope the next policy revolution around parenting responsibilities happens sooner.
Edited by Jhinuk Sen
Also Read: #Bizarre: pregnant doctor loses her job after seeking maternity leave
Also Read: These tech companies are offering expecting parents the parenting leaves they deserve