Meeting point Vatican: Mother Teresa's canonisation to bring together Mamata & Sushma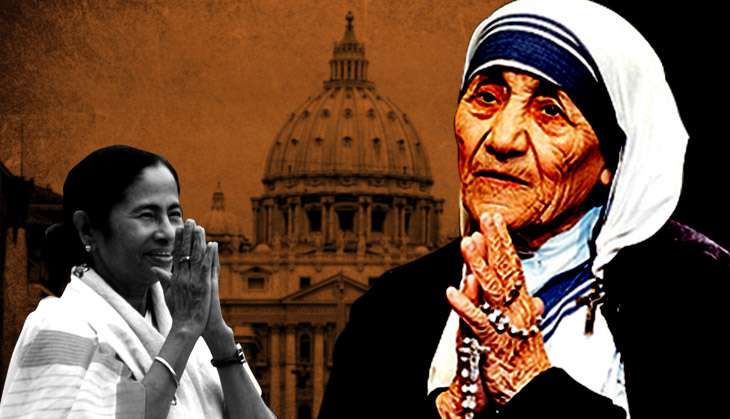 Mother Teresa's canonisation ceremony, to be held at Vatican City on 4 September, will see a lot of Indian political heavyweights coming together.
Besides West Bengal Chief Minister Mamata Banerjee, External Affairs Minister Sushma Swaraj and Delhi Chief Minister Arvind Kejriwal will also be attending the ceremony.
Sources in the Chief Minister's Office confirmed that a delegation led by Sister Prema, the superior-general of the Missionaries of Charity, has already left for the Vatican, and Mamata will be heading out on 1 September from Kolkata.
Top sources in the MEA have confirmed that Swaraj will also be present at the ceremony and Mamata is scheduled to have an informal meeting with Swaraj post the event. Sources in MEA confirmed that Swaraj will reach at the Vatican on 3 September and come back to India on 5 September.
The detailed press release of Swaraj's visit to Vatican City will be issued within few days.
TMC MP Sudip Banerjee confirmed that Mamata will be accompanied by other TMC leaders on her way to the airport, but only party spokesperson Derek O' Brien may accompany Mamata to the Vatican.
The politics in it
Political analysts feel that Swaraj and Mamata meeting at the Vatican will be important in the backdrop of Mamata wanting a Congress Mukt Bharat. and she is tryinAccording to them, Mamata is trying to make an Opposition free Bengal by poaching workers from the Opposition parties.
But, on the other hand, Mamata has been constantly criticising the Centre claiming that it is disturbing the federal structure of the state.
Professor Amal Mukherjee, former principal of Presidency University and a political analyst, said, "The meeting with Swaraj will be significant at a time when Modi wants to have a Congress Mukt Bharat and this way, she can she tacitly gain support from the BJP despite criticising the Centre publicly."
A city celebrates...
While the canonisation ceremony takes place in Rome, Kolkata - Mother Teresa's hometown for more than 60 years - is going to mark it with its own celebrations.
Archbishop Thomas D'Souza said a life-sized bronze statue of Mother Teresa will be installed at the Bishop House next to the statue of Pope John Paul II.
D'Souza added that the statue, donated by Namit Bajoria, the Designate Honorary Consul of Republic of Macedonia in Kolkata, will be installed on 25 August.
A day before Mother Teresa's birthday, i.e.25 August, a 'Teresa Walk' will be held from Entally, in Central Kolkata, to the Missionaries of Charity office on AJC Bose Road.
...with a series of events, book launches...
Some of the events celebrating the canonisation also includes book releases, talks, symposiums, film festivals and an art exhibition, began on Sunday, with a programme at Shanti Dan, Mother Teresa's homeless shelter. The celebrations will continue in the city till November.
On 2 October, a 'Thanksgiving Holy Eucharist' followed by a civic programme will be held at the Netaji Indoor Stadium in Kolkata with Vice President Hamid Ansari attending it amongst other luminaries.
The West Bengal government is also planning a 'Homage to St. Teresa of Calcutta'.
Among the books to be released is Mother Teresa - A Life, written by the late Sudeb Roy Chowdhury, who was a well-known journalist. It will be released by two different international publishers in French and English.
Another book by a Kolkata-based entrepreneur is expected to be released in Rome by Mamata.
...and special films
One of the highlights of the celebrations will be the Mother Teresa International Film Festival (MTIFF), beginning on 26 August. The MTIFF will continue till 29 August and will be held at Nandan.
The film festival will feature 23 foreign and Indian films made on, or inspired by, the Nobel laureate.
Besides these 23 films, seven Indian films, documentaries and short films from the US, France, UK, Spain, Italy, Canada and Japan will be screened including a one by Gautam Lewis, a 39-year-old filmmaker.
As a polio affected child, Lewis was rescued by Mother Teresa and later adopted by a British couple. The filmmaker will be in the city to attend the festival as well.
Besides Kolkata, Mother Teresa's birth place Macedonia will also mark her canonisation with a series of celebratory events.
Mother Teresa's life of service
Born to Albanian parents in Macedonia in 1910, Mother Teresa came to India in 1929. She set up the Missionaries of Charity in 1950 and dedicated her entire life to the service of the poor and the destitute living in slums and on the streets of Kolkata. She was awarded the Nobel Prize for Peace in 1979. She died on 5 September, 1997.
Mother Teresa was beatified in 2003, by the Late Pope John Paul after a miracle where she cured a woman hailing from Uttar Dinajpur district of West Bengal with a tumour in her stomach.
This miracle was approved by the Vatican and she became 'Blessed Teresa of Calcutta' - one miracle away from being declared a Saint.
Edited by Jhinuk Sen
Also read: Arvind Kejriwal to attend Mother Teresa's sainthood ceremony in Rome
Also read: Mamata to attend canonisation ceremony of Mother Teresa in Rome
Also read: Mother Teresa was part of a 'conspiracy for Christianisation of India': Yogi Adityanath