Man brutally attacks mother while dog comes to rescue her; video goes viral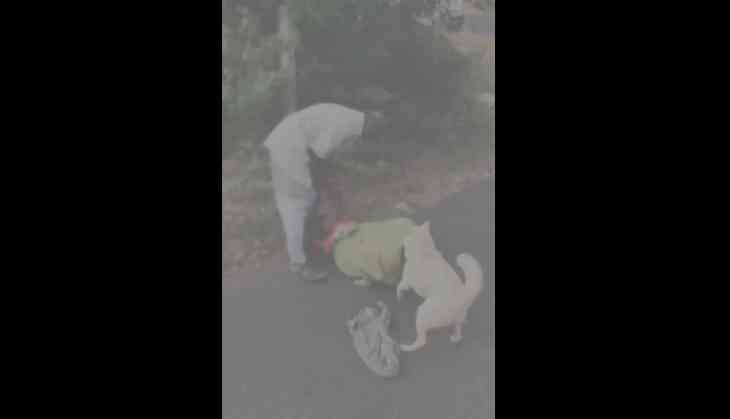 Screenshot from the viral video
A shocking video has surfaced on the Internet in which a man can be seen brutally attacking his mother.
The incident reportedly took place in Tamil Nadu's Ponneripatti. The man allegedly assaulted his mother for money. However, the woman's dog tried to rescue her from the assaulter.
According to India Today reports, the victim woman identified as Nallammal, who was living alone in Ponneripatti after her husband's death. She had already registered her land in her son's name. Though she was living with the earning she got while working under the MNREGA scheme.
Reportedly, she had saved Rs 3 lakh which she had kept in her home.
Also Read: Girl gives poisoned food to 'punish' brother, mother for shocking reason
In the viral video, the man can be seen dragging his mother on the road and trying to snatch away the keys from her. Nallammal's dog tried to protect her from her 'heartless and cruel' son Shanmugan, who assaulted her for money. However, Shanmugam's wife and their relatives chased away the dog and left injured Nallammal on the road.
The elderly woman was later admitted to the hospital. When the video of the incident went viral on social media, Namakkal Police swung into action and arrested Shanmugam for attacking his mother. While a lookout notice has been released for his wife who is absconding.
Also Read: Teenage boy accidentally kills self during his birthday bash; reason will teach you a lesson