Danger games: Muslims & Mamata's communal play in Bengal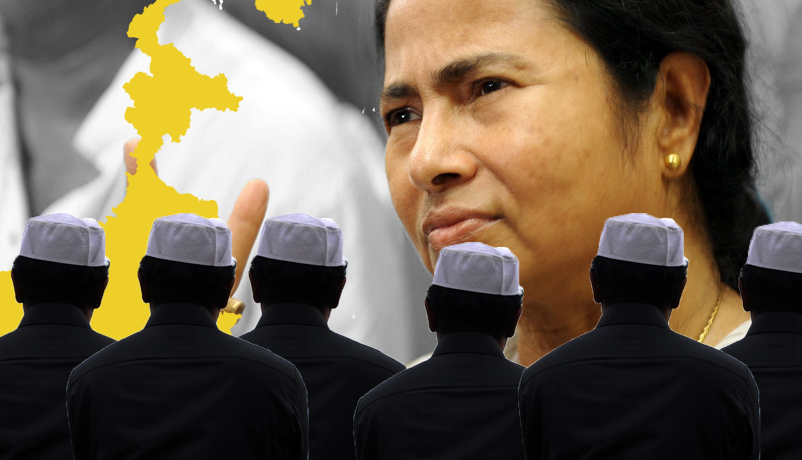 The policy
Throughout her term as CM, Mamata Banerjee seems to have had a policy of \'appeasing\' Muslims
Most of her actions seem to be token gestures
The political reality
Bengal has a 30% Muslim population, so \'appeasement\' may not be the right term for Mamata\'s policy
Trinamool has captured a huge chunk of the Muslim vote, and needs to retain it in the 2016 elections
More in the story
Why Mamata is playing a dangerous game, without any subtlety
How this policy may lead to short-term gains, but won\'t help Bengal\'s Muslims
In Uttar Pradesh, Mulayam Singh Yadav is often labelled 'Maulana Mulayam' for his Muslim-centric approach to politics. But now, in West Bengal, Chief Minister Mamata Banerjee is being called much more uncharitable things for her approach towards the state's 30% Muslim population.
The BJP hurls the term 'Jihadi Didi' towards her, while the CPI(M) has accused her of spoiling the atmosphere by communalising Bengal's politics.
Also read - Mamata attending Jamiat-e Ulama's Conference shows how polarised Bengal elections are going to be
Mamata's recent address to the Jamiat Ulema-e-Hind, where she wore a hijab-esque head-wrap, and her already-announced plans to do more meetings with key Muslim divines at the Furfura Sharif shrine, were the strongest signals yet that Muslims are central to the Trinamool Congress's plans in the run-up to next year's assembly polls.
A question of numbers
The Congress still holds sway in the Muslim-majority districts of West Bengal, but Trinamool cornered a significant majority of the Muslim vote in the 2009 Lok Sabha elections. This later contributed in a big way to its electoral decimation of the once-invincible Left Front in 2011.
With the possible exception of the Congress in Assam, no major ruling party has a greater proportion of Muslims among its voters.
This reflects the demographic reality of West Bengal, and the traditional view of 'secularism' needs to be tweaked when looking at the political manoeuvrings of the Trinamool Congress. Actions which appear as 'appeasement' for a state with 15% Muslims, for example, do not hold true for a state with nearly 30% Muslims. That too, when the Sachar Committee report on the condition of Muslims in India painted a sordid picture of West Bengal.
Mere tokenism
Mamata has used some smart tactics to nurse the minority base; however, in a severely debt-ridden state, it amounts to nothing more than a bunch of tokenisms.
Consider the case of Kazi Nazrul Islam, the legendary Bengali poet, song-writer and artist. Nazrul is one of the few Muslims every Bengali, irrespective of creed, holds dear - someone who wrote songs in praise of the goddess Kali as well as poems and songs with Islamic themes.
Also read - Why the labour strike against the Modi regime got Mamata all riled up
At a predominantly Muslim gathering organised at the Netaji Indoor Stadium by the West Bengal Minorities Development Corporation, Mamata kept stressing how her government had planned a Nazrul research centre.
She is playing a dangerous game, and not a very subtle one at that. To underline the Muslim identity of Nazrul plays to the age-old and flawed conceptions of what the Muslims of Bengal want to hear.
Other such tokenism include making the historic Aliah Madrasa into a university (and ridiculously naming it Aliah Madrasa University), or building a new Hajj House for Umrah pilgrims.
Mamata's party was visibly uneasy fending off appeasement allegations after the government announced stipends for thousands of Imams and muezzins of mosques.
West Bengal CM Mamata Banerjee has taken many token steps to 'appease' Muslims during her term
Unfortunately, there is no dearth of Muslim leaders around Mamata who would want her to continue with flawed tokenism. Hence, in a state where unemployment is a huge issue with massive seasonal and permanent economic emigration, and where normal employment exchanges are not able to provide jobs, her government announced the formation of a "minority employment exchange".
Also, social programmes that target girls, including the distribution of bicycles, were alleged to have a communal bias. She has tried to address this recently by her ambitious 40 lakh bicycle distribution scheme for every school-going student between Class VIII and XII.
All this, in addition to the huge rise in the BJP's West Bengal vote share during the 2014 Lok Sabha polls, had ushered in a period where Mamata's public bonhomie with select Muslim divines had hugely decreased in frequency.
Now, she's back at it, given that her lieutenant-turned-dissident Mukul Roy and the CPI(M) are targeting her Muslim vote bank.
Confusing Muslim with Urdu-speaker
Additionally, Mamata's 'Muslim policy' suffers from the very old disease of conflating a Muslim identity with the Urdu language, and thus, non-Bengaliness. This becomes clear when one closely looks at page 42 of the English version of the 'vision document' of the ruling party that was published in 2011.
Under 'Action Agenda', which it promised to implement within the first 200 days of coming to power, the most interesting part is the sub-heading "Creation of new universities, colleges and schools to meet people's aspirations."
Among the 10 points under that particular topic, six are as follows:
Muslim universities & colleges
More madrasas and Urdu schools
Implement the recommendations of the Sachar Committee and the Ranganathan Commission, where 10% Urdu speaking Muslims are there
Set aside a portion of the state's budget for plans intended for the educational and economic uplift of Muslims
Give, without any hindrance, official recognition to Urdu educational institutions, thereby facilitating them with all the constitutional benefits, which they lacked hitherto
Special budgetary provisions should be made for imparting technical education in Madrasas
Earlier this year, the government held a high-profile felicitation of Urdu poet Mohammad Iqbal's grandson. No living Bengali Muslim writer has been accorded such a lavish, public reception, using government funds. All this paints a picture of how the party think-tank views the aspirations of the Muslims of West Bengal and, more importantly, its conception of the Muslim polity in the state.
Mamata's Trinamool Congress seems to confuse Muslim identity with speaking Urdu
The picture that emerges is extremely problematic. Clearly, the party conflates Muslims and Urdu. Note how madrasas and Urdu schools are mentioned together. No one has claimed that the Quran's revelations were in Urdu, so its relevance vis-a-vis madrasas only shows a shoddy attempt at clubbing together what the government conceives as 'all things Muslim', and making a curious goodie bag out of it.
At this point, it is important to remember that most Muslims of West Bengal have no real connection to Urdu whatsoever. Nine out of 10 Muslims in West Bengal are ethnic Bengalis, with Bangla being their mother tongue. However, non-Bengali Muslims are thoroughly over-represented in Mamata's cabinet, as well as among Trinamool's MPs.
Different creeds, same problems
Mamata's Muslim policy, which is expected to increasingly play the insecurity card against an aggressive BJP, will ultimately hurt the Muslims of West Bengal. It may carry short-term favour with certain self-serving Muslim leaders, but in the long term, it'll do nothing to address the issues that face most Muslims of West Bengal.
Food insecurity, lack of adequate and accessible health facilities, job opportunities and education will continue to be a problem. It's not surprising that these issues are no different from those that afflict the other 70% of the people of West Bengal, irrespective of creed.
MORE AT CATCH - #IntoleranceDebate was a letdown. But we should have seen it coming
Your shopping on wings: Amazon's drone delivery is almost reality