KG Subramanyan was a teacher who was way ahead of his time: Archana Shastri
KG Subramanyan was one of India's most famous contemporary painters, sculptors and muralists. A Gandhian and an environmentalist, Subramanyan's art spoke volumes.
But he was not just an artist, he was a teacher who fired the imagination of many a student.
On Teachers Day, Catch talks to Archana Shastri, Dean of the Maharishi University of Information Technology's School of Design, Art, Animation and film at Noida, who studied under him.
Shastri first met Mani Sir, as he is fondly known by his students, when she was 15 and a first year student at the faculty of Fine Arts at MS University in Baroda in the 1970s.
Shastri talked to Catch about what makes him a teacher that nobody can overshadow. Here are some excerpts:
What sort of a teacher was KG Subramanyan?
I was 15 when I joined the College of Fine Arts. The 70s was a good time to be in Baroda. The people who shaped the institute were the best in the country. We had Jairam Patel, Jyoti Bhatt, Ghulam Muhammad Sheikh, Vinod Rai Patel, to name a few. But there was no parallel when it came to Mani Sir who taught us there.
These were all teachers and professionals rolled into one.
Mani Sir was a great story teller. He had a sharp vitriolic tongue, full of wit, humour. He had a mind which was unimaginable in its depth and vision. His range of multi-varied and multi-perspective nuances sank in slowly but effectively.
He had an integrated, wholistic view of education, unlike today's cookie cutter methodology. It was not just practice, but context as well.
He was a consummate craftsman and worked in a variety of mediums and techniques like with paper-cuts, murals, wood, leather etc. Silk screen printing was introduced at Baroda in the 1970s.He encouraged exploration. He loved to talk about Matisse.
He would present animated images rooted in indigenous tradition and marry them with modernity. He could bridge that gulf.
What was most impactful were the lectures on his socio-cultural, anthropological approach to various cultures in south Asia. For me that was fascinating. One never got down to thinking why our cultures were so different. My own study in language of symbols, later on, was inspired by his teachings.
He would link environment beliefs and practices to the act of image making which reflected in his work. You could soak in so much by just watching him at work.
Give me examples of his teaching style. What stayed with you?
He had imbibed a lot from Shantiniketan studying under the direct tutelage of Nand Lal Bose, Tagore, his peers and companions. These made him the thought provoking person that he was.
There were almost no literal answers given to you but alternative choices from varied sources fired ones imagination.
He taught that Indian or Western art were of equal competence. While teaching western art he would always put in context the Indian equivalent. In most art schools when it comes to the modern period, the west is focused upon. But Mani Sir taught us to draw parallels.
So when he enlarged upon the Bengal tradition, he would expand upon the process of image making and its visualisation, building on the understanding of the socio-cultural context around that period.
He was progressive in his ability to work with most materials, in his way of thinking and in his definition of modernity in an Indian context.
His images of Durga drawn from mythology or secular images of Indian women slipped easily between past and present, space and time.
His had a highly intellectual approach to art. It was cerebral. He always had a tremendous amount of clarity. And he was always contemporary.
The learning we got was simply by watching him at work. He did a whole lot of murals. In his late 80s he even climbed on scaffoldings to paint Kala Bhavan. Despite reflecting a strong sense of identity his work reflected the tenor of contemporary times, never remaining dated.
He was a prolific writer not just an artist. He had tongue-in-cheek interpretations of the stories of Adam and Eve or the story of Hanuman.
The story of Creation was readapted with the two children of Adam and Eve taking to patriarchal and agricultural modes of livelihood. They then construct their own gods which later become the cause of grief and dispute leading to each others destruction. The commentary is not far from truth, even in the present context.
The sheer range of human issues he could cover with his art and scholarship was awesome. He opened up windows one after other.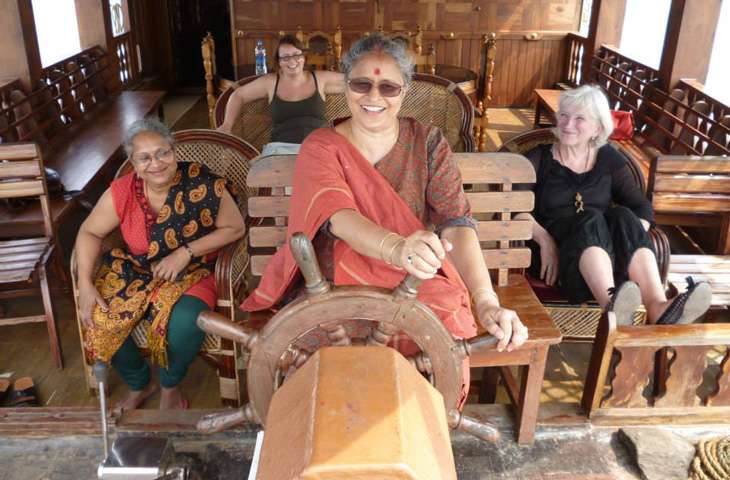 Archana Shastri with her friends. (Photo from Archana Shastri's Facebook)

What is your most cherished memory of him?

His favourite story to tell us when we would be confused about something or stop working was the story of the millipede who was asked which leg to move first. The millipede became so confused that he stopped walking (laughs).

Despite his intimidating veneer, he was a patient and very sensitive listener. I could tell him the smallest of things if something moved me very much, as art often does.

He could feel what you were saying. Three months after I finished my MA and had already enrolled to study further he told me, "The institution can give you what it can offer. It has nothing left to give to you after this degree. I think you've got whatever you've gotten from this place. Go carve your journey."

Under his intimidating veneer he was a gentle soul and still overshadowed everyone with his brilliance.

Edited by Jhinuk Sen