Karnataka minister slaps woman on stage; she then touches his feet [WATCH]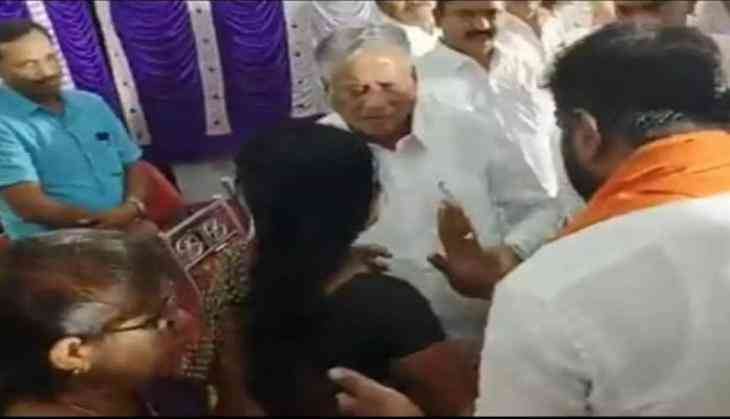 Karnataka Minister V Somanna on Saturday was caught on camera slapping a woman at a public event where he distributed land titles in Hangala village in Chamrajnagar district.
BJP leader V Somanna, Minister of Infrastructure Development of Karnataka, was at a public event when he was confronted by a woman who was angry about not receiving a land title. The visibly furious minister then slapped her.
Here's the video:
Karnataka minister seen slapping a woman. Housing minister & senior @BJP4Karnataka leader V Somanna caught on camera slapping, on stage, a woman who was trying to voice her grievance at an event the minister was participating in on Saturday at Gundlupet. pic.twitter.com/3OuMQYqgqB

— Anusha Ravi Sood (@anusharavi10) October 23, 2022
The woman, despite being slapped, is seen immediately touching the Minister's feet. The BJP leader reportedly apologised later.
About 175 people were eligible for title deeds for land regularisation in rural areas under Section 94C of the Karnataka Land Revenue Act. As maintained by the woman, she approached the Minister to narrate her ordeal of not being granted a plot under the revenue department, and that was when the Mr Somanna slapped her.
V Somanna was supposed to reach at 3.30 pm for this public event, but was late by two hours.
This is not the first time a BJP minister has been seen abusing people in public. Previous year, in December, Law Minister JC Madhuswamy was seen abusing a woman farmer in full public view.
Also Read: Delhi air quality falls in 'severe' category'; doctors share ways to protect your lungs