J&K Police data contradicts Mehbooba's statements on Kashmir unrest
Catch Team
| Updated on: 11 February 2017, 5:47 IST
If you thought that only 5% of the Valley's population was involved in the ongoing unrest, as asserted by Chief Minister Mehbooba Mufti, the reality is the very opposite.
Similarly, if you thought that the ongoing turmoil in Kashmir has largely been concentrated in South Kashmir, think again.
Also read - WATCH: Why Kashmir could slip into anarchy
The J&K Police figures about the unrest draw a picture of the unrest that is contrary to its perception peddled by media and the J&K and central government.
A Valley-wide revolt
A total of 2,249 stone throwing incidents have taken place in Valley over the past 110 days. But South Kashmir, the alleged hub of the strife, stands, only witnessed 715 incidents. Central Kashmir, which is presumed to have been the least affected, leads at 825 incidents. North Kashmir takes second place with 725 incidents.
Out of the 825 incidents in central Kashmir, Srinagar district witnessed more than 600 incidents. In popular perception, the district has otherwise been generally considered peaceful. Ganderbal is the least affected district with just 78 incidents.
The figures thus show a Valley-wide revolt contrary to the view that it was limited to certain pockets scattered across Kashmir, with South Kashmir as its spearhead.
However, the figures do attest to the predominantly rural character of the ferment. Out of the 2,249 incidents, 1,566 have taken place in the countryside and just 650 in the urban centres.
The maximum number of incidents on a single day occurred on 9 July - the day after the popular militant commander Burhan Wani's death - with 200 instances. Around 20 people died on the day. In contrast, only one incident took place on 17 October.
Fridays have witnessed the most violence with 700 stone throwing incidents. The third Friday following the eruption, 29 July, witnessed 95 incidents and 20 September, the 12th Friday saw just 11 incidents.
Week-wise, the first week saw the most stone pelting at 476 incidents and the last week just 36 incidents. The downward trend in the number of stone throwing incidents began in the seventh week.
Similarly, on the first day, an average of 2,000 youth pelted stones in 200 incidents which means around 40,000 people were pelting stones on the day. The number over the last week has come down to just 10 incidents a day with just 10-50 youth throwing stones. This works out to around 500 stone pelters a day.
Rallies and processions
Stone pelting transitioned to protest rallies in August, a month after the outbreak of the current strife. Initially 5 to 10 rallies were taken out everyday with an average strength of 5,000 people. But now in October, it has reduced to one odd rally a week with a strength of 50-200 people.
Militant attacks
With 67 militancy related incidents - grenade throwing, fidayeen attack and encounters - have also shown a conspicuous uptick over the past three months. In all, 35 security personnel - Army and CRPF - and 6 cops lost their lives. Eighteen foreign militants were also killed. Similarly, 6 civilians - political and panchayat workers - were killed by suspected militants.
More than 50 militants have joined militancy and again contrary to perception, recruitment has not been confined to South Kashmir alone. In fact, 13 militants are said to have joined in Baramulla, a district that has seen little local militancy in recent years. On October, Baramulla town was subjected to house-to-house searches. This was first time since 1994 that the security forces resorted to a full-fledged crackdown.
Property destroyed
Around 44 government and security buildings were set ablaze over the past three months and 52 were damaged.
Similarly, 21 school buildings and 10 shops were also gutted. In addition to this, 60 private vehicles have been burnt for violating the shutdown and uncounted others partially damaged.
Arrests
More than 6,000 people have been arrested for their alleged involvement in the unrest. Of them, 4,800 have been bailed out. The arrestees include the government employees.
More than 300 employees have been identified for having either participated in the protests or instigated them. Police are now deciding on their arrest and whether to book them under PSA after investigating the quantum of their involvement.
Around 483 have been slapped with Public Safety Act.
Fatalities and injuries
So far 94 people have been killed. Several hundreds have been blinded, and more than 14,000 have been injured.
Similarly, two cops were killed and around 4,050 security personnel injured in the ongoing turmoil.
Weapon snatchings
In all, 23 weapons have been snatched in nine incidents over past three months and 50 in this year.
Though many weapons were lost when a mob attacked and gutted a police station a day after Burhan Wani's killing, police terms it as loot rather than snatching.
"Most of the weapons in the attack were burnt, not looted," said a police officer.
Private transport
Despite continuing shutdown, private transport has gradually increased on the roads even while public transport has followed Hurriyat protest roster. Everyday now, around 30,000-40,000 ply on National Highway from Jawahar Tunnel to Kupwara, says the police study. Among them more than half the number plies in South Kashmir, otherwise regarded as the hub of the unrest.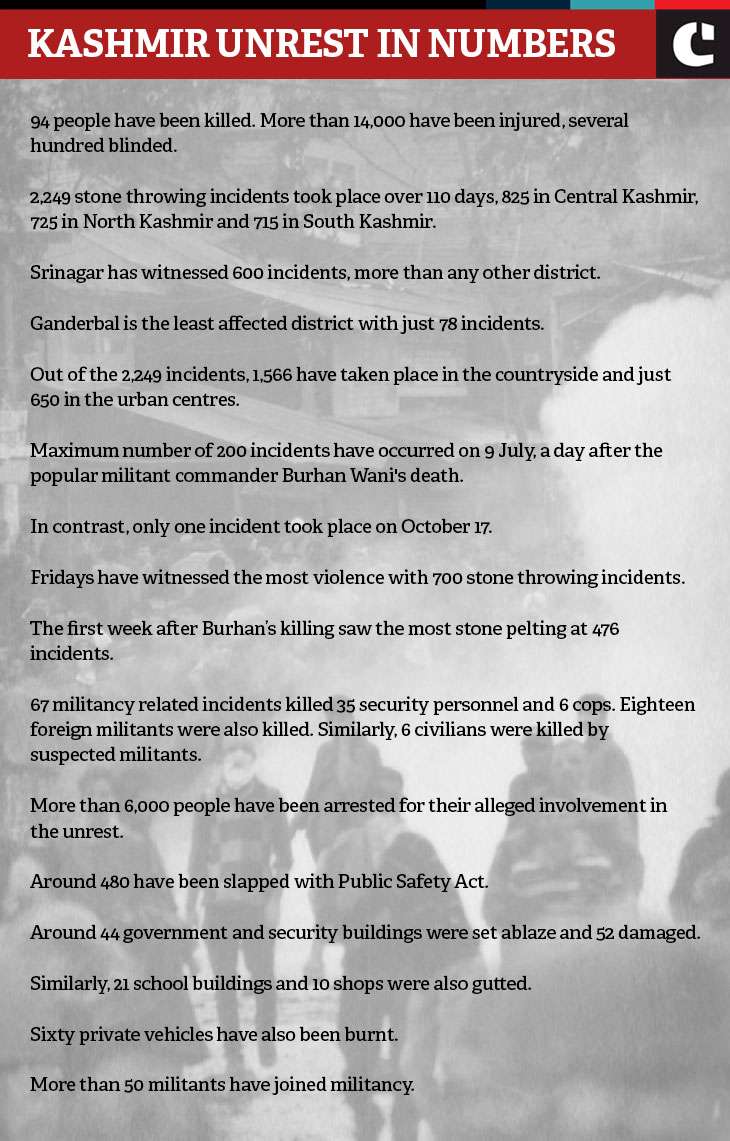 Edited by Aleesha Matharu
More in Catch - Education in Kashmir hit hard between Hurriyat shutdown & govt crackdown
11,000 arrests, 150 missing boys, 1 problem: rise in Kashmir militancy