IRCTC Holi gift for passengers! These special trains to run from Delhi to UP, Bihar; know timing and schedule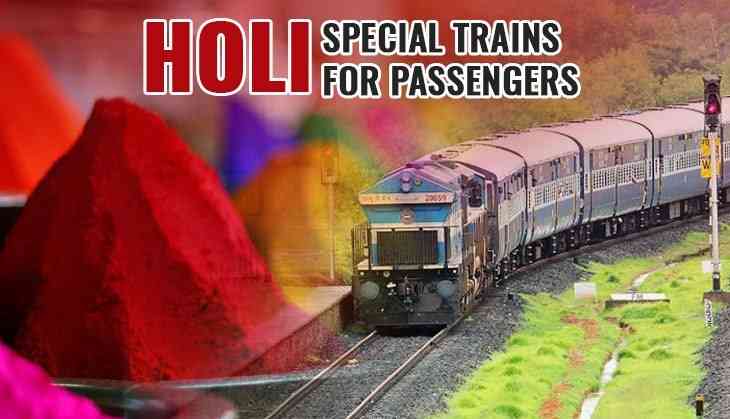 In view to avoid heavy rush due to the forthcoming festival of colour, Holy, Indian Railways has come up with an idea to run a special train for passengers. Indian Railways has introduced 10 special trains this Holi season that will run on Delhi to Bihar and Uttar Pradesh routes.
To curb the crowd during festivities, these special trains would help in fulfilling the demands of travellers who are planning to go home to celebrate the festival with their family and friends.
With this special announcement, passengers will definitely help in minimising the tensions of passengers who earlier used to travel with a crowd in several trains.
As Northern Railway has announced as many as 16 special trains as a Holi gift and out of which 10 will originate from Delhi.
If you want to take the benefit of this exciting facility then have a look at the list of trains that will run in between Delhi to UP and Bihar.
Know trains timing and schedule:
1. Anand Vihar to Patna:
Date: The train would run from 16th March to 23rd March on every Saturday.
Timings: The train would depart at 00:10 hrs from Anand Vihar and 19:35 hrs from Patna.
2. Delhi to Chapra:
Date: Train would run from 17th March to 1st April 2019.
Timings: From Delhi, the train will depart at 14:00 hrs on every Monday and from Chapra, it will depart at 16:00 hrs on Sunday.
3. Hazrat Nizamuddin to Pune:
Date: From 12th March to 28th March 2019
Timings: At 21:35 hrs from Hazrat Nizamuddin on Tuesday and at 05:15 hrs from Pune on Thursday.
4. Hazrat Nizamuddin to Yashwantpur:
Date: From 14th March to 1st April
Schedule: The train would depart at 20:00 hrs from Hazrat Nizamuddin on Monday. At 18:30 hrs from Yashwantpur on Thursday.
5. Anand Vihar to Kamakhya:
Date: From 13th March to 23rd March 2019
Timings: The train would depart from Anand Vihar at 11:45 hrs on Wednesday and from Kamakhya, it would depart at 05:35 hrs on Saturday.
Also read: Holi Special Trains 2019: Planning to go home via train? Check out the schedule of these IRCTC special train