Indian unpreparedness and dengue outbreaks are great (hospital)bedfellows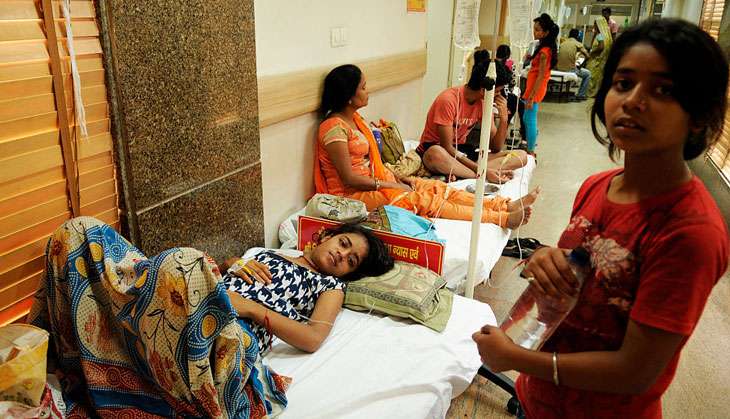 In the last week, Delhi alone has seen 640 cases of chikungunya, pushing the seasons tally closer and closer to the 11,000 mark. 317 new dengue cases have also been recorded between October 22-29, enough to grab headlines once more.
This year, not only are we seeing a resurgence of the chikungunya virus in New Delhi but in West Bengal as well. Meanwhile, towns like Dehradun, the capital of Uttarakhand, are in the grip of a dengue outbreak. The last time chikungunya affected large swathes of the population was in 2006, when over 13 lakh cases were reported nationwide. In July 2016, 7,591 cases were reported from Karnataka alone.
All of this grabs headlines. But headlines and overflowing hospital wards are all we ever get.
The Indian non-response to disease
Our approach to dengue, chikungunya and other vector-borne diseases reeks of Hindu fatalism of the worst kind. Whatever has to happen, will happen. Que sera sera. Maybe it's our karma that we deserve it.
Our fatalism works at two levels. The first has to do with prevention. The attitude of the civic authorities is that these are inevitable seasonal occurrences; the mosquitoes and the virus they carry come with the rain and humidity, and will go away with the rain as well. Till then, sit tight and hope for the best i.e. chomp on some papaya leaf in a full-sleeved shirt.
There also exists a second level of fatalism. This is a consequence of our endemic lack of preparedness. We know the rains will come. We know that in the wake of the monsoon there will be dengue. This much is a certainty. And yet we do little to prepare for it.
Every season, there is a shortage of beds in hospitals, a shortage of test kits and trained personnel. We are simply not battle-ready. We act only when chaos descends.
The prevailing chaos
Dehradun has witnessed disorderly scenes in its public hospitals. One ran out of testing kits, even as the hundreds standing in queue were left in the lurch. The people retaliated by destroying public property. The authorities came up with a new plan-a coupon system, which would help relatives of patients avoid the bother of standing in a line. This could have been thought of in advance.
Dehradun authorities also launched a crackdown on unauthorised pathologists who are not qualified to do tests but were charging exorbitant rates from unsuspecting patients. Except, those in charge of enforcing the law ended up shutting down two blood collection centres in error, which were ordered to re-open hours later by the District Magistrate.
At the city's main public hospital, Doon Hospital, lab technicians have succumbed to the virus themselves; there is only one person deputed to checking 250 blood samples every day. There is no guarantee that the tests are accurate.
All this just adds to the prevailing confusion. Not only are we helpless against the virus gaining traction due to seasonal factors, we are also inept at marshalling our facilities on-ground in order to combat it effectively once the annual outbreak happens.
I came down with chikungunya myself and I can say with some experience that the word 'debilitating' somehow doesn't quite capture how crippling it can be. The after-effects last for weeks and months, and in some cases, especially with the elderly, years. The joints we take for granted-fingers, ankles, knees-stop working. The pain lingers.
This has a direct and dire effect on the economy and the workforce. According to report in the Indian Express, industry has been hit by a 20% fall in worker attendance. Work on roads and bridges in the NCR has been delayed by weeks, the sanitation work force in East Delhi is severely depleted, while migrant workers employed by the PWD have returned home in droves.
Examples of epidemic management
This begs the question: what do other tropical regions around the world do about it. Do they helplessly accept whatever fate has in store for them? It seems not. Countries like China have national vector control programmes spearheaded by specialists. The private sector has also been roped in with companies like Google partnering with the government. In Singapore, the National Environment Agency is in charge of preventive surveillance and control.
Perhaps the most sophisticated war on mosquitoes is being waged in Florida. A recent report in the Economist describes a combination of measures. While the breeding areas differ according to geography-in Florida the Aedes aegypti thrives in swamps, swimming pool filters and birdbaths -- it's the seriousness of the approach that is striking. For one, in Florida the battle against mosquitoes has always been a major election issue. Some counties are even known to elect dedicated mosquito commissioners.
Deployed in service of the cause are helicopters, fleets of trucks and traps baited with dry ice. Flocks of sentinel chickens (on which mosquitoes like to feed) are installed at key locations. Mosquitofish, which feed on mosquito larvae, are artificially bred in water fountains.
Dedicated teams of 'mosquito busters' work on the problem around the year, spreading out into the nooks and crannies of the county, pesticide squirters in hand, draining crevices in plants, and even going into alligator-infested channels to clear obstructions. The attention to detail is staggering. And it happens because the mosquito menace is taken seriously and tackled as such.
To begin with, there is an acknowledgement that the area has a problem. The next step is prevention. If that too fails, the hospitals are ready to take care of eventualities. This is why Florida has managed to put a check on the Zika virus, limiting recorded cases to fewer than 50.
As October draws to a close and brings down the curtains on the damp and humid conditions, we can breathe a collective sigh of relief. November will be better. December even more so. The scourge will return next year. Who knows, 2017 could even be the year of the Zika. Until then, que sera sera.
(The writer's House Spirit: Drinking in India was published recently)