In Tamil Nadu's Jallikattu belt, people take to the streets over SC stay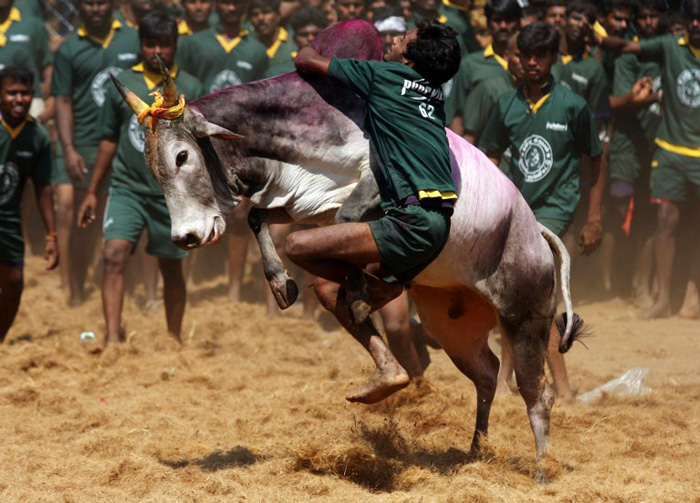 The verdict
Jallikattu, a bull-taming festival, can\'t be organised this Pongal
The Supreme Court has stayed a central order lifting a ban on Jallikattu
The fallout
The verdict has led to mass protests in Tamil Nadu
CM Jayalalitha has sought a central ordinance
More in the story
Who oppose Jallikattu and why?
What do the supporters of Jallikattu say?
Jallikattu, the controversial bull-taming sport integral to Pongal in many parts of Tamil Nadu, may have come under sharp criticism of late, but there is no dearth of supporters of the event.
When the Supreme Court passed an interim order on Tuesday to stay a central government notification lifting a ban on Jallikattu, it infuriated villagers enough to come out in protest.
In Madurai district, hundreds from Alaganallur village blocked a main intersection leading to the district headquarters, and four of them even threatened self immolation.
Such supporters of Jallikattu found ample political support when Tamil Nadu Chief Minister J Jayalalitha wrote to Prime Minister Narendra Modi, seeking an ordinance allowing Jallikattu.
ALSO READ: Promulgate ordinance for conduct of Jallikattu: Jayalalithaa urges PM Modi
In what is believed to be a political move keeping in mind the poll-bound state, the BJP-led central government on 7 January issued a notification allowing Jallikattu while also permitting bullock cart races in Maharashta, Karnataka, Punjab, Haryana, Kerala and Gujarat with a a set of safety measures.
Jallikattu is a form of bull taming in which hundreds of men chase down a bull at a time or try to hold on to its hump for a predetermined distance or time. It takes place in several rural pockets of Tamil Nadu from January to May, especially during the harvest festival of Pongal and during temple festivals in the state.
If beliefs and mentions in certain Tamil literature are to go by, the tradition is over a thousand years old, making the event a sensitive, personal practice ingrained in Tamil society.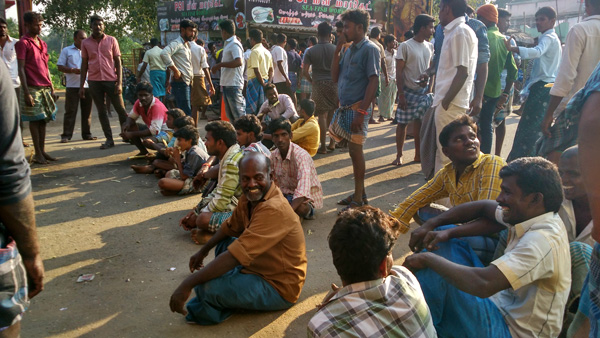 Animal rights activists have been campaigning for a permanent ban on the sport, alleging that bulls are tortured for the event while scores of participants are killed and injured. Animal Welfare Board of India, People for Ethical Treatment of Animals and a Bangalore-based non-government organisation had jointly challenged the Centre's notification on Monday.
ALSO READ: #Jallikattu: You call this celebration? What bull!
"We are glad the law has prevailed, but we are saddened that we had to go back to the Supreme Court for what we thought was a clear settlement on the issue of Jallikattu," said Animal Welfare Board Vice-chairman Dr Chinni Krishnan.
He didn't comment on media reports that the board's Chairman Dr RM Kharb and others were being coaxed to resign by senior bureaucrats in the Ministry of Environment and Forest for appealing against the government notification of 7 January.
For villagers and Jallikattu enthusiasts, the decision proved to be a shocker as preparations for the sport had begun after the centre's permission. Villagers said protests will be on until Pongal. They have also planned a day-long fast on Wednesday.
For those like 61-year-old Selvam, a bull owner from Alaganallur, the decision was hard to comprehend. He said the event was never halted until the ban in 2014.
"We raise bulls as if they are gods," said Selvam who bought an additional bull this year, hoping that the event will resume.
Many feel the decision has deeply hurt the pride of Tamils, some even went on to the extent of calling the Chennai floods, a wrath of god, hinting at the religious significance of the event for the masses.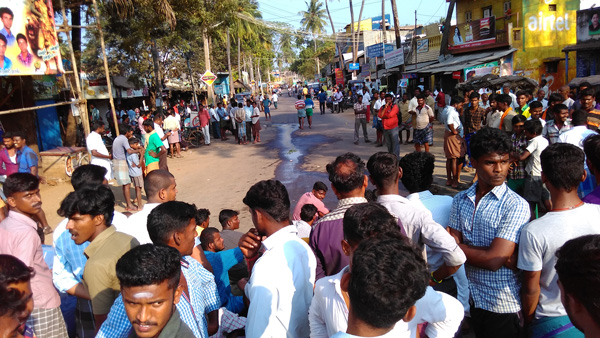 The clamour against PETA and animal rights groups were heard echoing throughout the village.
"Jallikattu is a game of bravery for us. It is a centuries-old cultural tradition, without which Pongal is incomplete," said Kadal Kesan, the president of the auto drivers' union in the village, who led the roadblock.
Chithra, a resident of Palamedu village, another prominent Jallikattu belt of Madurai, insisted that the judiciary did not understand the emotions of the people of Tamil Nadu: "They are acting based on inputs of external agencies. We have voluntarily shut down shops and resisted traffic movement, and will continue to do so for the next few days," said the 32-year-old homemaker.
AIADMK spokesperson CR Saraswathy said Jayalalitha had strictly advised party members to not issue statements until a party meeting on Wednesday.
The SC didn't pay any heed to the state government's review petition 18 months ago, but it showed undue haste when the Animal Welfare Board and others petitioned, despite Justice Banumathi stepping down from the Bench, said Coimbatore-based Jallikattu activist and blogger Balakumar Somu.
Justice Banumathi hails from Tamil Nadu.
Somu hoped the state would file an interim petition before Pongal. "If not, an ordinance by the state or the Centre is the only hope for Jallikattu happening this Pongal."