Forget giving sanctity, the BJP doesn't even give a damn about India's Muslims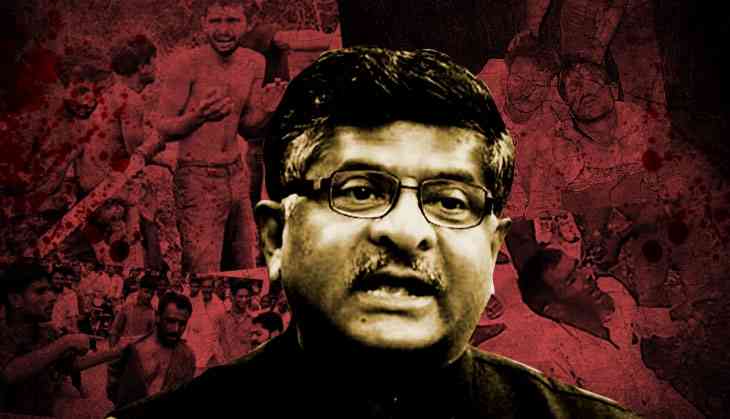 Speaking at the Hero Group's Mind Mine Summit on 21 April, Union Law and IT Minister Ravi Shankar Prasad made a bold claim. When asked how development impacted culture and diversity, Prasad's response took a strange turn.

"Have we victimised any Muslim gentleman working in industry or service? Have we dismissed them? We don't get Muslim votes. I acknowledge very clearly, but have we given them proper sanctity or not?" said Prasad.
Prasad even went on to name a Muslim man, Karimul Haque, who was awarded a Padma Shri by Modi for social work, as proof of how Muslims are given "sanctity" by the government. That Prasad doesn't realise Haque was awarded the Padma Shri on merit, rather than out of the BJP's imagined benevolence to the Muslim community, is galling enough, and even more so when you consider what Haque's work entails.

Haque, a tea garden labourer in Jalpaiguri, Bengal, runs a 24-hour service where he ferries villagers to medical facilities on his bike. His work, which has benefited over 3,500 people over a span of 20 years, culminated in him being awarded the Padma Shri. The award was not an act of inclusion or outreach, it was just reward.
Prasad's belief that the BJP government should be lauded for doing the obvious is not evidence of how inclusive the BJP government is. Haque's award is not proof of inclusivity. The real test of inclusivity is in how the government reacts when Muslims are victimised. On that count, the BJP government has repeatedly failed.
Selective sanctity?
Mohammad Akhlaq and his son were already asleep on 28 September, 2015, when an angry mob showed up at their house. They accused Akhlaq of stealing, slaughtering, and consuming a calf, before proceeding to beat, bludgeon, and stab him to death. His son, Danish, also sustained a fracture to the skull. The violence forced the family to leave their home for good, fearing for their lives.
In the immediate aftermath of the attack, the BJP government offered Akhlaq's family no "proper sanctity". Far from sanctity, the BJP repeatedly tried to have the victims of the lynching booked for cow slaughter. These calls came from the current UP CM Yogi Adityanath, BJP MLA Sangeet Som, Union Minister Sanjeev Balyan, and even party General Secretary Kailash Vijayvargiya.

Strangely, they were less upset with Akhlaq's murderers. In fact, Sandeep Som even attended the funeral of one of the accused in the case, making communal speeches and looking on as the coffin was draped in the Indian flag, as if he was a national hero. None of this drew any censure from the BJP, a sign of its tacit approval.
Prime Minister Narendra Modi, who offers his immediate condolences the moment a minor terror attack happens abroad, was mum on the issue for almost two whole weeks. When he did "break his silence", it was in the form of a meekly worded speech. In it, he didn't even name the incident directly, choosing to carefully sidestep it by offering meaningless platitudes about communal harmony. This too only after President Pranab Mukherjee came out strongly against the communal violence.

Is this what the BJP means by "proper sanctity"?
When Pehlu Khan, a dairy farmer, was recently lynched in Rajasthan by gau rakshaks, neither PM Modi, nor Rajasthan CM Vasundhara Raje acknowledged the incident. Instead, Mukthar Abbas Naqvi, the BJP's Minister of State for Parliamentary Affairs, denied the lynching altogether on the floor of Parliament. While Mr. Naqvi has doubtless been provided "proper sanctity" for doing the bidding of his political masters, can we say the same for Pehlu Khan or his grieving family?

In the aftermath of the Godhra riots, where some 2,000 Muslims were slaughtered, Modi, the then Gujarat CM, referred to relief camps for Muslims as "baby-making factories". Was this "providing sanctity"? Or is it sanctity when multiple fringe elements in the BJP make statements targeting Muslims, without any rebuke from party leadership. Is it sanctity when these same fringe elements are then mainstreamed and elevated to positions like chief minister?
Good Muslim, bad Muslim
But even while the BJP has provided no sanctity for these Muslim victims, the very fact that a top minister in Modi's Cabinet thinks it is the BJP's place to give "sanctity" to Muslims is indicative of the BJP's view of Muslims.

This is a view which sees Muslims as the enemy, needing to prove their 'goodness', and without merit unless certified by the rashtrawadi Hindus. This is amply clear in the way Karimul Haque's case is used, with Modi's certification validating Haque's work, and the BJP's 'good Muslim' being used almost as a contrast with the rest of the community.
This isn't a new phenomenon either. When Delhi's Aurangzeb Road was renamed as Dr. APJ Abdul Kalam Road, Union Culture Minister Mahesh Sharma was quoted as saying that, "Despite being Muslim, Kalam was a nationalist," unintentionally exposing his belief that 'Muslim' and 'nationalist' are terms that are usually mutually exclusive.

When this is the party's attitude towards the community, what standing does the BJP think it has to give sanctity to Muslims? In fact, rather than give "proper sanctity", the BJP should ask forgiveness for their constant vilification of the Muslim community. Ravi Shankar Prasad would be well advised to steer clear of boasting about inclusivity, or risk further exposing BJPs atrocious record when it comes to India's Muslims.