Delhi: Most night shelters have improved but health facilities remain abysmal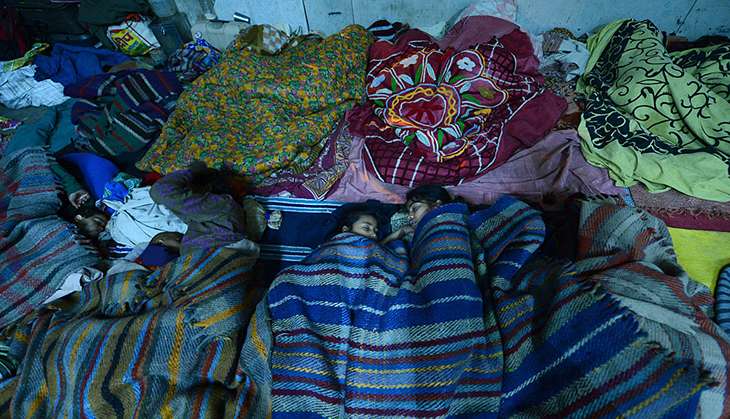 As per the Delhi Urban Shelter Improvement Board, there are about 262 night shelters in the national capital that house nearly 21,000 people. The board, however, estimates that at least 10,000 more people will require the shelters this winter. It presents a challenge both for the NGOs that manage the shelters and the state government that provides facilities such as water and sanitation.
When Catch visited a night shelter near Nizamuddin Railway Station, Sunil Rai of the NGO Society for Promotion of Youth and Masses, which primarily works towards the prevention of drug abuse, volunteered to guide us around. The shelter houses about 350 people, including rickshaw pullers, daily wage workers and the jobless. Rai and his three colleagues manage the shelter.
The shelter has adequate working toilets and washrooms, drinking water supply and, thanks to the Delhi government's initiative, the people get to have two meals a day.
Also Read: Delhi: Women living in night shelters at huge risk, says DCW chief Swati Maliwal
There is a functional TV and a separate room for the elderly and the young, who have their own TV set. Most of the latter were either abandoned or have run away from their homes. Many tell of how running away was the only way to escape daily abuse.
Sadly, not all night shelters are like this. A rickshaw puller, who was clearly inebriated and bickering with Rai as he was praising the shelter, took Catch to another night shelter less than two kilometres away and managed by the same NGO, SPYM. This shelter, nestled between a small market and a huge dumping ground, has a capacity of hosuing only about 150 people.
Here, the manager was less enthusiastic about showing us around - although he eventually did - and not without reason. The restrooms are dysfunctional with water leaking across the entrance of the shelter. The sleeping hall lacks proper ventilation, and the dumping ground makes it even more suffocating, forcing many to sleep with their heads firmly tucked inside blankets. Many complained of the constant foul odour. The first aid kit contains little more than a few strips of paracetamol tablets and a couple of adhesive bandages.
Residents of a night shelter in Chandni Chowk face similar problems - lack of clean functional toilets and blankets that haven't been washed for months. "They have been providing us the same blanket since I started staying here in October," says Dinesh.
Catch News
Poor medical facilities
Health remains the biggest concern in almost every night shelter in Delhi. The state government has promised to set up a Mohalla Clinic near many of the shelters. But currently, among the shelters visited by Catch, only the one near Nizamuddin railway station had a clinic that functioned in daytime. The other shelters had rudimentary first aid kits, if that.
Also Read: 33,000 homeless people have died in Delhi since 2004
In 2009, Delhi had 50 night shelters, now there are 262. But despite the Supreme Court's orders, most of the shelters don't ensure regular medical check-ups, especially for women and children.
"Most people staying here at night are not even aware of the first aid kit box. There is a government-run clinic nearby where everyone goes for check-ups. The doctor there does free check-ups but you have to buy your medicines," says Gopal, who has been spending nights at the railway station shelter for over a year now. Gopal alleges that even during an emergency, the shelter managers dither over calling an ambulance, which sometimes take over an hour to reach.
"The government medical vans come twice a week but we cannot rely on them. They are never able to check every patient," says Arun Kumar at the Nizamuddin shelter.
Both Arun and Gopal, however, admit that there has been considerable improvement in the condition of shelters compared to previous winters. "Even until last month, hardly any shelter had adequate water supply for all," Gopal points out.
Besides improving facilities at night shelters and providing meals twice a day, the Delhi government has also turned some underground parking lots, subways and even abandoned buses as shelters. Still, health facilities are far from adequate. "Ten people on an average are ill every day in a shelter. A first aid kit can't provide for all of them," says Gopal.
Also Read: Delhi is not safe. But it's getting a super-progressive women's rights charter