Delhi metro goes cashless. But why is it relying exclusively on Paytm?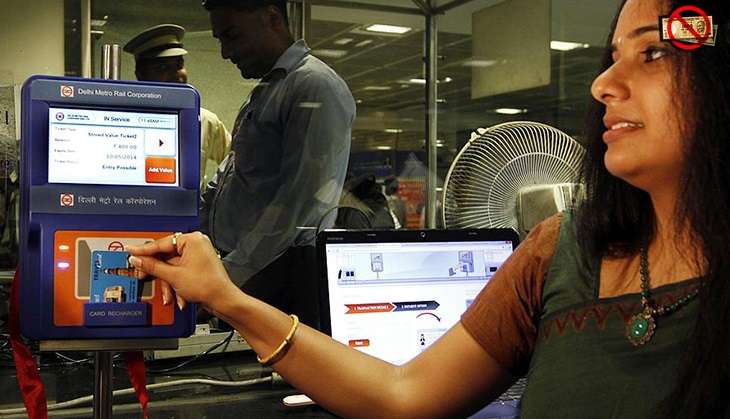 Having 10 metro stations in Delhi go cashless is one thing. Having Paytm as the only e-wallet to facilitate it is blatant cronyism.
The Delhi Metro Rail Corporation (DMRC) has announced that 10 of its stations - Rohini East and Rohini West on Red Line; Mayur Vihar Phase-I, Nirman Vihar, Tilak Nagar, Janakpuri West, and Noida Sector-15 on Blue Line; Nehru Place and Kailash Colony on Violet Line; and MG Road Station on Yellow Line - will go cashless from 1 January 2017.
But, and here's the rub, only Paytm will be accepted for digital transactions alongside regular debit or credit cards.
Also Read: 'Cash only please': Watch how the govt's digital push is failing in its own backyard
Although one counter at each of these stations will sell tokens for cash - "Ticket Vending Machines and POS machines are also available at these stations where a passenger can easily get his transactions done in cash/ credit/debit card", according to the DMRC - the fact that the metro rail operator DMRC is promoting Paytm, a private company, is problematic.
There are two points to note here. First, that the DMRC is going "cashless" with only "optional" token counters accepting cash means it is flirting with illegality. Cash is legal tender and a public utility such as the metro can't turn a customer away for wanting to pay in cash.
Second, though the DMRC claims the "process to rope in" other e-wallet players is underway and "very soon other e-wallet agencies will also be there to facilitate cashless transactions at metro stations" it still doesn't explain why Paytm got the primacy and the first mover advantage. Particularly when there is no clarity about how Paytm came to bag the DMRC's contract to facilitate cashless transactions in the first place.
More important, what about the commuters who don't have smartphone or don't want to pay digitally for a ticket. And given the metro's heavy footfall, will they be forced to stand in long queues at the lone counter or TVMs?
#NextRBIRule
How is it legal that only PayTM will be used at metro stations?
How about ppl with feature phones, or those who dont want PayTM

— Shehla Rashid (@Shehla_Rashid) December 24, 2016
Also, with the Aadhaar payment app being launched on Christmas Day, why couldn't the DMRC wait a few days to adopt this government-backed facility for cashless transaction?
More so when about 40 crore Aadhaar numbers are already linked to bank accounts and the Narendra Modi regime is targeting to link all accounts to Aadhaar by next March.
Also Read: BJP%20&%20Co.%20have%20produced">In defence of demonetisation: 8 genius analogies BJP & Co. have produced
The Aadhaar app is a more seamless option for digital transactions. Just type in your Aadhaar number, select a bank through which to make the transaction, and use a biometric scan as password to authorise the payment. Crucially, unlike online transaction using credit or debit cards and e-wallets, the Aadhaar app enables payment without charging a "convenience fee".
Advantage Paytm
Before demonetisation, probably the only advantage Paytm had over its competitor e-wallets was that it was linked to the popular taxi-hailing app Uber. It meant a large number people had already signed up with the e-wallet, and once demonetisation came into effect, it was a natural transition for those consumers.
Paytm is trying to milk the cash crunch brought about by demonetisation for every paisa. Indeed, just hours after the announcement on 8 November, it put out a frontpage ad, complete with a picture of Prime Minister Narendra Modi, hailing the exercise. The tagline went, "Ab ATM nahin, #PaytmKaro!"
Paytm has since hit record highs. The company revealed on 21 November that it had clocked over seven million transactions per day, together worth Rs 120 crore, since the note ban was announced. The number is comparable to the combined average daily transactions through debit and credit cards.
Paytm has a 70% share of the e-wallet market and over the past few week it has recorded a 100% growth in online recharges.
And, it has got a bonanza from the DMRC.
Not surprisingly, people are raising questions. Delhi Chief Minister Arvind Kejriwal asked if the Modi regime was now in the pay of Paytm.
जब मोदी जी ख़ुद PayTM के ad में आ गए तो अब तो मोदी सरकार PayTM की जेब में है। CBI की हिम्मत नहीं कि PayTM के ऑर्डर को ना माने। https://t.co/tC0sKA6xzX

— Arvind Kejriwal (@ArvindKejriwal) December 16, 2016
Bengal Chief Minister Mamata Banerjee asked: "The prime minister used to call himself a chai-wala (tea seller) before. Now he has become a millionaire 'Paytm-wala'."
Also Read: Notebandi & politics: What is the problem with demonetisation?