Delhi Assembly Election 2020: AAP takes a dig at Manoj Tiwari, says 'tumse Na ho paayega'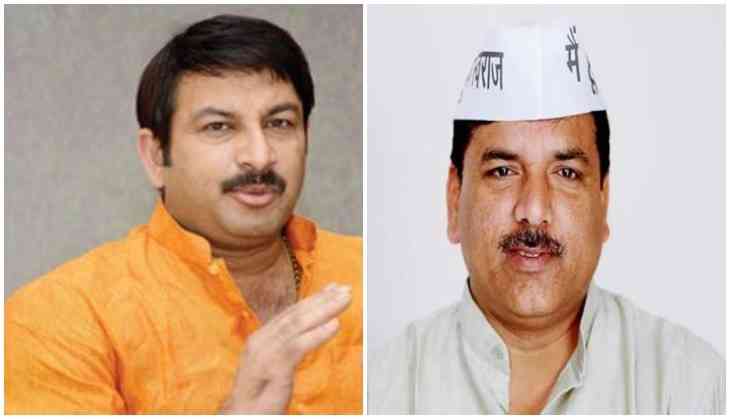 Delhi Assembly Election 2020
Launching a fresh attack on Bharatiya Janata Party (BJP), the Aam Aadmi Party (AAP) on Thursday criticised BJP leader Manoj Tiwari's claim that his party if voted to power in Delhi will give five times more benefits to people, telling him 'Tumse Na Ho Paayega'.
Senior AAP leader and Rajya Sabha MP Sanjay Singh took a dig at Tiwari by re-tweeting a post of Haryana Deputy CM and BJP alliance partner Dushyant Chautala in which the deputy CM is seen working without electricity in his office at around 11.30 PM.
" In Haryana, the Deputy CM has to work without electricity. In Delhi, you are faking promises of thousands of units for free to the Delhi residents, Dear, BJP leaders, at least give electricity in your states." Singhs wrote in his post.
भाई @ManojTiwariMP जी हरियाणा में उप मुख्यमंत्री को बिना बिजली के काम करना पड़ता है दिल्ली में आप हज़ार यूनिट फ़्री देने की फेंक रहे हैं कम से कम अपने राज्यों में बिजली तो पूरी दे दो भाजपाईयों फ़्री का सपना मत देखो "तुमसे न हो पायेगा" https://t.co/YBDtj0rkkX

— Sanjay Singh AAP (@SanjayAzadSln) January 9, 2020
On December 14, the Haryana Deputy CM had posted a photo of himself, where he can be seen working at his office, and captioned it: "When you work at 11:30 pm and office staff want to wrap up all the files same day and the light goes... This is how we work."
In another Tweet, The AAP leader has asked Delhi BJP president Manoj Tiwari to make parking fees-free in Delhi.
" I have heard that you are asking for suggestions, MCD is under BJP; my small suggestion for the BJP is to make parking fees-free in Delhi, " Singh Said tagging Tiwari.
Chief Election Commissioner (CEC) Sunil Arora on January 9, announced the polls date for Delhi Assembly elections.
70-member Delhi Assembly will go to polls on February 8 and the counting of votes will be held on Feb 11. The voting will be held at 13,750 polling stations.
The term of the current assembly will expire on February, 22.
Also Read: Delhi Assembly Election 2020: Polling on February 8, counting on Feb 11