Debt, hunger, joblessness: Here's what 50 days of note ban brought to a poor family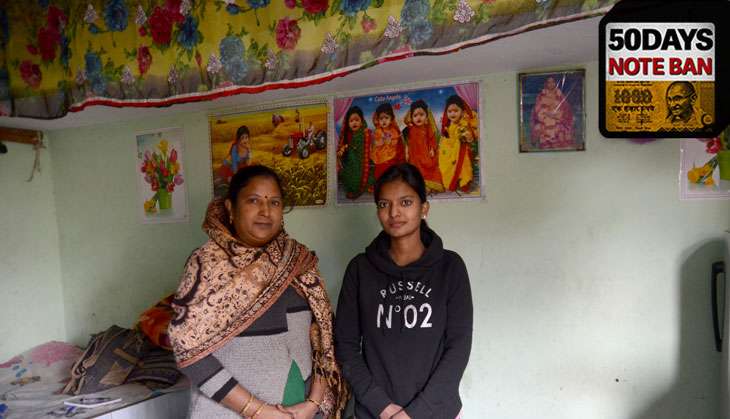 Many congested gallis and open nallahs later is Asha Chautale's one bedroom home in Prahlad colony, Barolla Gaon, near Noida's Sector 50.
Asha cooks at homes in neighbouring societies, while her husband Rajesh is a peon at a private school. They have four kids studying in school and college. A BPL card holder, demonetisation crippled Asha's family income.
Now 50 days after, standing in her two square foot bare kitchen, Asha says that Prime Minister Narendra Modi's promise where he assured a return to normalcy hasn't come true. They still have to scrape through to get by each day.
Also read - Note ban & family budgets: How they made a month's ration last for 45 days
In fact, their family budget has been cut by half, and they have more debt than they ever had before. "We have no complaints against Modiji though. This is all for the larger good of our country," she says unasked, almost as a disclaimer.
Debt and joblessness
On 8 November, when demonetisation was announced, Asha was just recovering from months of illness.
Just recovering from the two months of persistent fever and swollen feet, she knocked on gates of Noida's sector 50 in the first week of demonetisation, asking the guards if anyone in the locality wanted to hire a cook.
She was turned away.
"They guards told me that the seth's don't have money themselves and said nobody was hiring anybody, let alone a cook. Normally I would've gotten a job in a day. But in the first month of demonetisation, there wasn't one willing employer," she says.
It was only on 20 December that she got a job at Noida's Sector 78. Meanwhile her husband's private school refused to pay his salary. He was given the money only in mid December, and that too in old notes.
"We had nothing. Especially because I had been ill, demonetisation only compounded our debts. We borrowed money from my in-laws and from my brother. Now, we're Rs 10,000 in debt. We owe our grocer Rs 6,000, we owe my children's school Rs 2,000 of tuition fees and our landlord Rs 3,000 for last month's rent," says Asha, who says it will probably take all of next year and maybe longer to pay back Rs 21,000.
Managing on a tightrope family budget
Asha is looking forward to the end of the month when she will get Rs 7,000 for the cooking jobs she has secured at three houses. Her husband earns Rs 5,000 and their eldest daughter, Karishma, earns Rs 2,000 by taking tuitions her home.
The only way they could bridge the gap between their income and their debt was by cutting back on the family budget.
This is what their expense sheet looks like during a normal month:
Home rent: Rs 3000
Food and Groceries: Rs 6000
School fees for three kids: Rs 2000
Books, stationary, clothes for four kids: Rs 1500
Medicine budget: Rs 500
Post demonetisation, their food and groceries budget fell nearly by half. "We try to not spend more than Rs 3,500 a month," says Asha.
"It is mostly masoor dal and potatoes these days. We used to get burgers and Chinese from outside sometimes. Now all that has stopped," says Karishma.
They've also not been able to buy any winter clothes. "We're making do with old ones or wait for some employer to give us their old clothes," says Asha.
Karishma has also stopped getting the monthly pocket money she would enjoy. "Now, ma just gives me what I need for the transport of one day. There's very little to even spend on a snack with my friends at college," she says.
Karishma studies at a Government PG college, so her education is free. "Modiji has done right. Those with black money will suffer. Our sufferings will ease in a few more days," she says.
Karishma is also training in her second year at the NCC. She wants to join the police force. "I wanted to study to become a lawyer. But since my family couldn't afford it, I thought of becoming a cop. I want to be empowered enough to bring justice to the innocent," she says earnestly.
Edited by Aleesha Matharu
More in Catch - Why demonetisation is an attack on the idea of people's democracy
Delhi metro goes cashless. But why is it relying exclusively on Paytm?