Note ban & family budgets: How they made a month's ration last for 45 days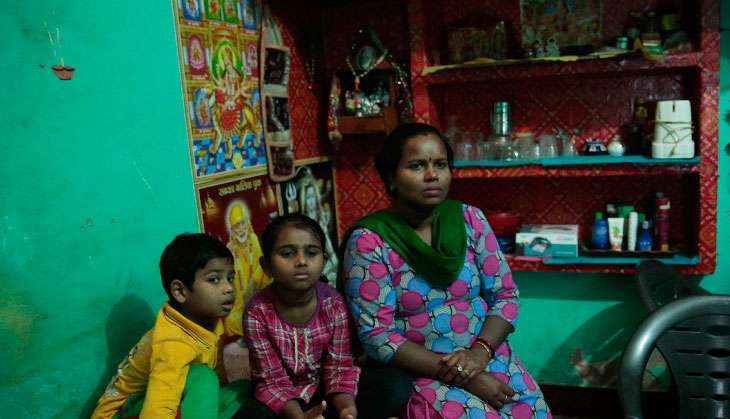 When Prime Minister Narendra Modi made the announcement to demonetise Rs 500 and Rs 1000 notes on the night of 8 November, Naina Lal and her kids were watching a Hindi serial on cable TV. Her husband, Rajkumar, was yet to return from his shift.
Naina and Rajkumar live with their two kids, aged 5 and 9, in a small rented room at Chilla Gaon, home to East Delhi's domestic workers servicing New Ashok Nagar and Mayur Vihar.
She is a domestic help who doubles up as a nanny at one of the large housing societies in the vicinity. Rajkumar is a security guard at Pragati Maidan.
Two days passed before the PM's decision reached Rajkumar and he tried to explain the situation to Naina, fumbling to find the right words.
"I didn't understand at all. How could my own money become invalid?" asks Naina.
She had gotten her salary only on 2 November. It had been Rs 8,700 rupees in total. She had kept Rs 2,000 and deposited the rest into her account.
Rajkumar was to receive his salary, which is deposited straight into his account on 10th each month. But this time, on 10th, instead of his salary of Rs 11,000, his employer explained to him apologetically that the company would need time to organise finances to pay salaries.
They didn't tell him how long. Rumours were rife that it would take up to two months.
The budget
So Rajkumar and Naina decided they would stretch what they already have until he got his salary and until they could make it inside a bank to withdraw money.
Their joint monthly income is Rs 19,700 rupees and their family expenditure break up looks something like this -
Rent + Electricity: Rs 4,000
Groceries (rice, atta, dals, vegetables, oil, sugar, etc): Rs 6,000
Milk: Rs 1,500
School: Rs 2,900
Transport: Rs 1,000
Two prepaid mobile recharges and TV recharge: Rs 1,000
Children's clothes, tuitions, medicines, gas and miscellaneous: Rs 1,600
Their monthly budget amounts to Rs 18,000. On an average they save about Rs 1,700 rupees a month from both their salaries.
"But this month, because we had to live with just Rs 2,000, we stretched our monthly groceries to last for 45 days instead, consuming much lesser," explains Naina.
Within days Naina was out of vegetables, atta, most groceries and cash. And that meant doing more meticulous calculations each day, such as - could they afford to buy milk for their kids or afford to take sugar in their chai since there was so little left.
"Last week, my kitchen was wiped out. I had to scrape through to the bottom of my rice drum to get old insect-infested rice grains. I washed it thoroughly, put a few spoons of dal, turmeric and salt and put lots of water in a pressure cooker. We ate a watery kichdi with green chillies for some ten days. There really wasn't even a potato to put in it," recalls Naina.
Sehar Qazi/Catch News
Loans
The two times Naina and Rajkumar stood at an ATM to withdraw cash, they spent six hours in the queue. When it was their turn, the ATM had run out of cash. There was also no cash in any of the other ATMs in the vicinity. They decided they would have to ask their employers for loans to get by.
"The hardest part is asking employers as if you are beggars. Both the houses I work for are new and even the employers didn't have money to spare. I could see their reluctance and how the cash crisis was affecting everybody. With great difficulty I got a Rs 2,000 advance of my salary in a new note," says Naina.
But since nobody would give change for the amount, Naina was forced to make a trip to Big Bazaar to buy some groceries in exchange for change. "It feels a bit beyond my means to buy groceries there, but there was simply no other way," she says admitting to spending more than necessary.
Rajkumar got his salary after a 20-day delay in his payment cycle. He was also lucky that his office helped with withdrawals so he didn't have to stand in a queue. Naina made it just in time to pay her kids' school fees and avoiding the late penalty by a wisp.
"It was a tough period. And I think we'll be more ok now. We still support what the prime minister is doing. Great things will come off it," says Naina vaguely, but still full of hope.
Edited by Jhinuk Sen