Counting of votes for Maharashtra bypolls underway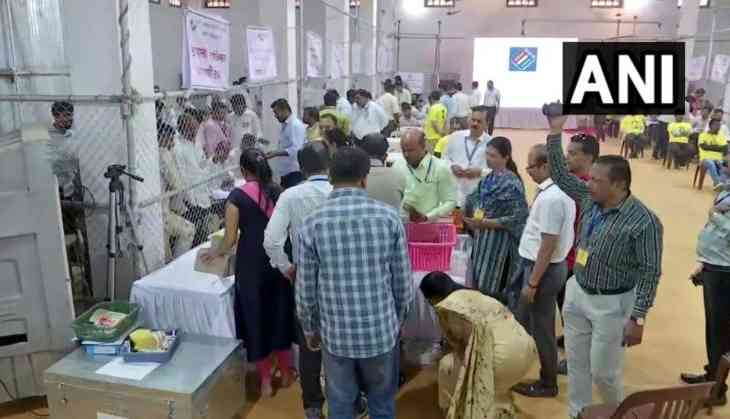 Counting of votes begins for Maharashtra bypolls (ANI)
Mumbai (Maharashtra): The counting of votes for the bye-elections to the Chinchwad and Kasba Peth Assembly seats in Maharashtra is underway. The counting votes, which began at 8 am, will decide the electoral fates of three leading candidates from Chinchwad Assembly constituency -- NCP's Vitthal Kate, BJP's Ashwini Jagtap and Independent Rahul Kalate.
A two-way fight between the BJP and the Maha Vikas Aghadi (MVA) will decide the poll outcome for Kasba Peth, with the latter pitting Congress candidate Ravindra Dhangekar against the BJP's Hemant Rasane.
The heavyweights of the contesting parties, including Chief Minister Eknath Shinde, Deputy CM Devendra Fadnavis, NCP chief Sharad Pawar, senior NCP leader Ajit Pawar, Shiv Sena UBT's Aditya Thackeray and Congress state chief Nana Patole, have been campaigning extensively and vigorously for their respective party candidates through roadshows, street corner meetings and public rallies in the poll-bound constituencies.
As per data released by the district information office, the total number of voters in the Kasba Peth constituency is 2,75,428 with 1,38, 550 women voters and 1,36,87 male voters and five transgender voters.
In the Chinchwad Assembly constituency, a total of 56,8954 eligible voters cast their votes across 510 pooling booths. Around 1300 police personnel along with all senior officials of the police department were deployed for voting day by the Pune police. The bye-elections were necessitated after the demise of BJP's MLA Laxman Jagtap, from the Chinchwad Assembly constituency, and Mukta Tilak from the Kasba Peth Assembly constituency.
(ANI)