Cho Ramaswamy: Goodbye to the ultimate political critique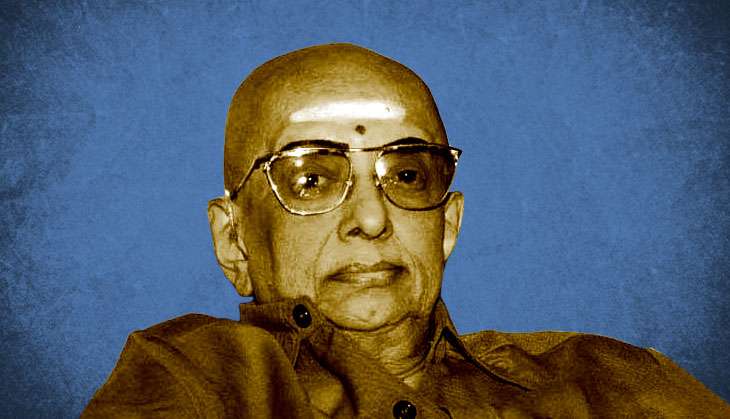 It is hard to contain everything that Cho Ramaswamy was in his 82 years in one introductory sentence. He was a playwright, director, script writer, actor, editor, political commentator, political broker, satirist, comedian and a Rajya Sabha MP among other things that are harder to define. His creative tentacles seemed to be into everything at once and perfectly in synchrony.
A day after J Jayalalithaa died, her political mentor Srinivasan Ramaswamy passed away at 4 am on Wednesday after suffering a cardiac arrest. Cho was admitted to Apollo Hospital, Chennai, on 29 November for chronic obstructive pulmonary disorder. He was moved to the ICU when his condition worsened, but was said to have watched Jaya's funeral until Tuesday afternoon.
Also Read: Thuglak editor Cho Ramaswamy passes away in Chennai
Cho enjoyed wearing many hats. But the one that deserves to be celebrated the most today is perhaps that of a person who was such a fearless critique of political figures and yet earned the respect and awe of even those he took to the cleaners.
As editor of Tughlaq, the magazine he liked to call an "anti-establishment responsible opposition", he was supremely critical of Indira Gandhi and her Emergency; the DMK's softness on extremism, its corruption and closeness to the LTTE; Jayalalithaa's high-handedness and disproportionate assets.
"My criticism of any chief minister starts from the assumption of office. I'm a critique of government," he declared to Vir Sanghvi once.
Cho fought tooth and nail for the DMK to exit and for Jayalalithaa to assume power in the 1991 election. In 1996, he was instrumental in stitching together an alliance between the DMK and Moopanar's TMC to fight Jaya's unpopular and corrupt regime. Cho also roped in his other close friend, Rajinikanth, whose famous line that "even God cannot save Tamil Nadu if Jayalalithaa comes back to power" helped bring the DMK back to power.
Yet, Jayalalithaa called Cho her "Raja Guru" and admitted to turning to him for advice at several periods through her roller-coaster relationship with him.
As filmstar Rajnikant said after Cho's demise, "He never compromised on his writings for anybody's sake. May his soul rest in peace."
The questioning spirit
The story goes that Cho badly wanted a role in Thenmozhiaal, a play written by the famous Tamil playwright Koothabiran. Koothabiran didn't have a role for him, so Cho ordered him to write one. "It's not possible to fit you in," Koothabiran said. "Well, in that case, I will walk into every scene," Cho reportedly replied. Koothabiran wrote five scenes for a new character he introduced - Mr Cho. The name stuck.
Also Read: Watch: When Cho Ramaswamy introduced Narendra Modi as 'Merchant of Death'
Cho wasn't afraid to ask uncomfortable questions, of himself and the society around him. Sometimes, the process of finding answers led to criticism, but he persisted anyway.
In 2004, he wrote a book called Enge Brahmanan, or Where is the Brahmin? It was later made into a popular Tamil serial of 140 episodes. The story struck a chord with Tamil Brahmins who blindly performed rituals. It questioned the relevance of traditional practices in a modern world. Cho produced it with just the right balance between skepticism and faith.
Anti-Brahmin critiques brushed it aside as a serial that justified the caste system and particularly, Brahminism. For Cho, it was a perhaps a personal and spiritual quest to understand the relevance of being a Brahmin in a modern world.
Cho would perhaps be most remembered for the socio-political satirical play Tughlaq, which he wrote in 1968. In it, Cho resurrects Tughlaq, the sultan of Delhi from 1324 to 51, and his minister Batuta. They are found buried alive in a coffin, and they step out into modern day India. In four days, Tughlaq tunes into all that has happened since he last left and finds that it isn't much. He decides he will contest elections to become the prime minister. So, India sees a ruthless, deaf-eared leader who is self-opinionated and makes illogical plans such as legalising corruption.
In a twisted ending, it is revealed that both are actually ordinary individuals, who, with the intention of reforming the country, have impersonated Tughlaq and Batuta.
Tughlaq cleverly remarks, "I know I will have your support for every move I make. And as long as you remain like this, our country will remain like this."
Cho's greatness lay in that every time a leader became a Tughlaq, he called him or her out unapologetically through sheer power of expression. More important, his views were paid heed to. That made him the ultimate political critique who held a mirror to the face of Indian politics. The best way we can honour him then is to vow to put aside our subservience and always remain a fearless mirror to our society and politics.
Also Read: A fighter to the end, Jayalalithaa leaves behind a complicated legacy