CBSE paper leak issue shouldn't be taken lightly: Sheila Dikshit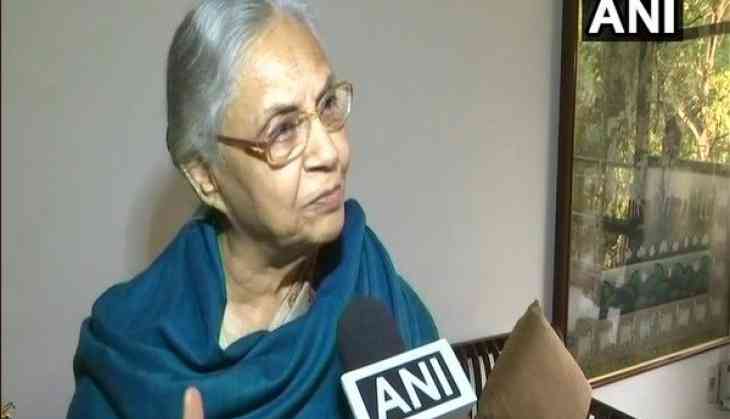 Former Delhi Chief Minister Sheila Dikshit on Friday said that the Central Board of Secondary Education (CBSE) question paper leak issue should be dealt with seriously and should not be taken lightly.
"This is a very serious matter and it should not be taken lightly," she told ANI.
Dikshit further asserted that the matter should be investigated properly.
"It should be investigated as to how the papers were leaked so that incidents like these do not occur in the future," she said.
The papers of the Economics exam of class 12 held on March 26 and Maths exam of class 10 held on March 28 were leaked on social media hours before the examination.
Yesterday, CBSE Chief Anita Karwal said that the decision to hold re-examination for the Class 10 Mathematics and Class 12 Economics subjects was taken in "favour of the students".
"We have taken a decision in favour of the students. We are working for their good. Dates for re-examination will be announced soon," Karwal told ANI.
The Delhi unit of All India Democratic Students' Organisation on Thursday demanded a high-level probe into the CBSE question paper leak case, and said that the incident showed the board's utter negligence in conducting examinations fairly.
Earlier, the CBSE Chief met Union Human Resources Development (HRD) Minister Prakash Javadekar in connection with the matter.
The Delhi Police also said that they have taken a teacher of a private coaching centre, located in Rajinder Nagar, into their custody in regards to the same.
The CBSE, in its complaint, named the teacher as one of the accused in the alleged leak of Class 12 Economics and Class 10 Mathematics papers.
The crime branch of Delhi Police had said that they are trying to trace the trail of the paper leaks.
RP Upadhyay, special Commissioner of Police, Delhi, said, "We are trying to trace the trail of the paper leak. One private tutor was named by CBSE in their complaint, he is being interrogated."
Upadhyay further informed that two cases were registered and special investigation team (SIT) was formed for the investigation.
"Total 25 people have been questioned so far. Both the papers were leaked on WhatsApp a day before the exam. No person has been arrested so far," he added.
--ANI