Caught on cam: Three killed as speeding 18-wheeler trailer crushes car on highway [Watch]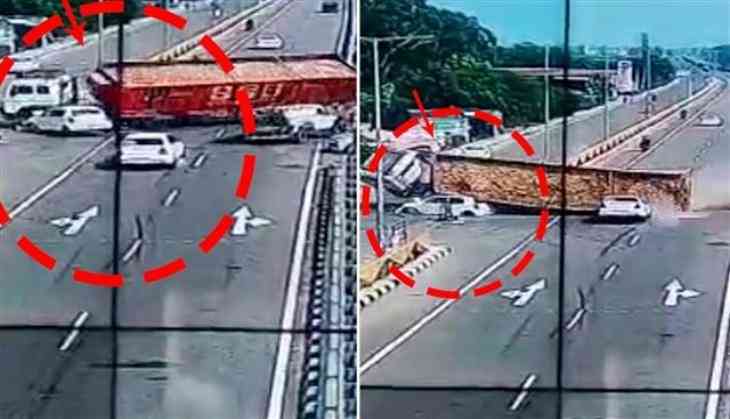 Chandigarh highway trailer accident.
In a recent development coming in from the state of Punjab, three members of a family were killed after a loaded trailer lost its balance and fell on its side crushing the car they were travelling in.
The unfortunate incident, which happened at Punjab's Behram on the national highway connecting Phagwara and Chandigarh, was captured by a CCTV camera.
The footage displays the loaded 18-wheel trailer take a sudden turn without slowing down. The huge vehicle loses its balance and its contents fall on the road. The trailer blocks the way of two cars coming from Phagwara; one of them is crushed and the other has a narrow escape. A couple and their son were in the crushed car and died on the spot. Three passengers in the other vehicle were injured.
Take a look at the video:
Punjab- Three people were killed in a road accident near Behram on Phagwara-Banga road. 🥺 #Punjab #accidente pic.twitter.com/5roGOZFc32

— Chaudhary Parvez (@ChaudharyParvez) September 13, 2022
Visuals from after the accident showed that the car's frame had been flattened, making it evident that nobody could have survived the horrifying accident.
Police have registered a case against Major Singh, the driver of the trailer, for causing death due to rash and negligent driving.
Also Read: Nursery student raped inside school bus, woman helper tried to conceal crime