Rampage after Ram Rahim verdict: 30 killed in arson, mob torches buses, trains, rly stations
Catch Team
| Updated on: 25 August 2017, 19:35 IST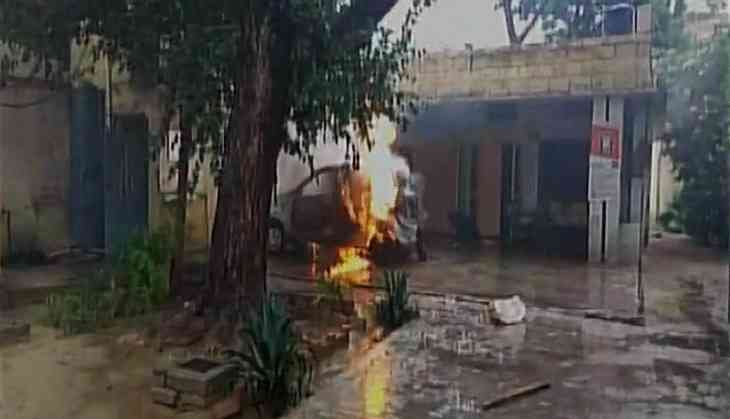 Controversial Dera Sacha Sauda chief Gurmeet Ram Rahim Singh was convicted of rape by a special CBI court in Panchkula, Haryana, on 25 August. Soon after he was taken into judicial custody. The quantum of punishment will be decided on 28 August.
After this, thousands of Dera supporters gathered in Panchkula and resorted to violence after the sentence was pronounced. The rape case against the controversial self-styled godman dates back to 2002 when a woman follower wrote an anonymous letter to then Prime Minister Atal Behari Vajpayee claiming she had been raped. The victim also alleged that several others women were also raped by him inside the Dera campus in Sirsa, Haryana.
30 people were reportedly killed in Panchkula in the arson that followed while more than 100 were injured.
Hundreds of vehicles were gutted down by Dera chief's followers across Haryana and Punjab.
Nearly a 1,000 have been taken into custody, reports suggest.
Reports suggested that five railway stations were also set on fire by protestors.
Curfew has been imposed in several cities across Punjab - Muktsar, Bathinda and Mansa - and Haryana amid reports of violence by Ram Rahim's followers.
Multiple OB vans were overturned and burnt and journalists were attacked.
TimesNow OB van burnt, NDTV journalists attacked. Police remain mute spectators. Riots all over. #RamRahimVerdict

— Rasheed Kappan (@kappansky) August 25, 2017
Journalists attacked, OB vans set ablaze, petrol pumps torched, complete madness. What blind faith makes people do. #RamRahimSingh

— Ananya Bhattacharya (@ananya116) August 25, 2017
Emergency meeting of Haryana cabinet is being held in wake of violence in several parts of the state.
Six battalions of Army has been deployed in Panchkula to stop violence
Multiple buses attacked in the capital city of Delhi
A train at Anand Vihar was torched
Security of Rohtak handed over to CRPF
Meanwhile, the High Court ordered that properties of Dera chief be attached to compensate the damage to properties caused by his followers.
#WATCH: #DeraSachaSauda followers turn violent, topple media van near Panchkula's Spl CBI Court after conviction of #RamRahimSingh pic.twitter.com/53KCHXoVdz

— ANI (@ANI) August 25, 2017
#RamRahimSingh pic.twitter.com/XFHBqD6ibC

— Arshdeep (@arsh_kaur7) August 25, 2017
#Ramrahim in Chopper at Rohtak jail @bainjal pic.twitter.com/bI5Di93Ce9

— Madhur Puri (@madhur_puri) August 25, 2017
Backgrounder
The victims also alleged that several other women were also raped by him inside the Dera campus in Sirsa, Haryana. Thereafter, the case was handed over to CBI, which then went on to interview several other women but only two of them claimed to have been raped by the Dera chief.
Based on their statements, the CBI filed a chargesheet on 30 July, 2007 and the trial began on 6 September after Ram Rahim was charged under Section 376 (rape) and Section 506 (criminal intimidation) of the Indian Penal Code.
One of the women even went on to claim that when she entered the Dera chief's room, the doors shut automatically while the self-style godman was watching pornographic video on his television. Sources claimed that her statement was crucial to Ram Rahim being convicted.
Earlier in the day, while hearing a PIL against Ram Rahim and his supporters for causing inconvenience to people, the Punjab and Haryana High Court told the police force for "fooling the nation". The court even gave the forces the freedom to to use weapons if the need arises.
The court also directed that police should register FIR on trouble makers and in case they fail to do so, FIR should be registered against the responsible police officers.
Despite having enough intelligence about Dera chief's followers congregating in Panchkula, the state government seemed totally unprepared to handle the situation. As a result, soon after the verdict was announced, Ram Rahim's followers started pelting stones on the police force which responded by lobbing tear gas shells and fired in the air to disperse the mobs. In the ensuing violence, the protestors attacked media and even put fire to several OB vans stationed outside the Panchkula court.
Apart from rape charges, the Dera chief is also the main accused in two separate cases of murder. The first death happened after an anonymous letter by a woman accused the godman of repeatedly raping her. The Dera followers suspected Ranjeet Singh, a member of Dera's management committee, of spreading the letter. Singh was shot dead two months after the letter was made public in 2002.
In another incident in 2002, Ram Chander Chhattrapati, editor of Poora Sach, was allegedly shot dead by Dera followers for reporting illegal activities inside the Dera. The two cases were then handed over to CBI in 2003 and the verdict is still awaited.