3 killed, 500 injured, 50 blinded in 1 day. Is this normalcy in Kashmir?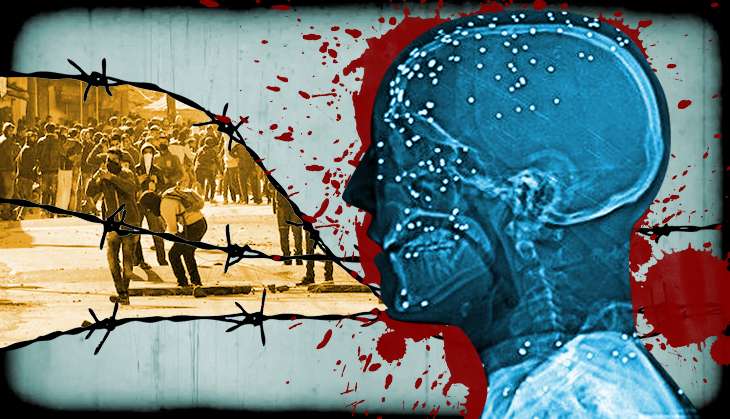 On Monday, it will be exactly one month since Hizbul Mujahideen commander Burhan Muzaffar Wani was killed in an encounter in Kokernag.
The protests that erupted across the Valley after Wani's killing haven't abated even now, despite curfew and restrictions on mobile and internet services.
The government claims that normalcy is returning to Kashmir, but the realities on the ground suggest the opposite. Friday, 5 August, was among the bloodiest days since the protests broke out. Till now, South Kashmir districts of Pulwama, Anantnag and Kulgam were the worst affected.
But on Friday, the violence was focussed more in areas like Sopore and Kupwara in North Kashmir and Budgam district in Central Kashmir.
Number of people who died in police firing on Friday. This includes Danish Rasool Mir a class 10 student in Sopore. The first casualty was Mohammad Maqbool Wangay of Chadoora in Budgam district. According to reports, the security forces fired automatic weapons to quell the protests. One of the bullets hit Wangay in the chest. By the time he was brought to the primary health centre nearby, Wangay had already died. Another casualty was Sameer Ahmed Wani, a resident of Malnoor village in Khansahib block of Budgam.
People estimated to have been injured in Sopore alone on Friday. Security forces fired pellets and tear-smoke shells at the protestors who had gathered after the Friday prayers. Around 80 people were injured in Kupwara district and 40 people in Budgam. Protests were particularly intense in Budgam district's Chadoora town.
Number of people who suffered pellet injuries in the eyes due to firing by security forces on Friday. According to doctors in Srinagar, many of these pellet victims may end up losing their eyesight.
Also read - Can't buy peace: Centre has spent Rs 4,735 crore on Kashmir policing since '89
The approximate number of demonstrations that were held across the Valley on Friday. The protests spread to the Pir Panjal and Chenab Valley.
The number of people who have been killed in firing by security forces ever since protests broke out after Burhan Wani's killing. A majority of the dead are young men and women.
According to conservative estimates, these are the number of people who have been injured in the protests over the past one month. Local estimates put the number to be as high as 6500.
Many of these have suffered pellet injuries. According to a report dated 26 July, CRPF had fired 2,223 pellet catridges since Burhan Wani's death. The security forces maintain that this is the "least lethal" option available to it.
The number of pellets removed from inside the head of Abid Ahmed, a Class 11 student from Kulpore in Kulgam. He has undergone 2 surgeries, one in Anantnag and the other at the Sher-i-Kashmir Institute of Medical Sciences (SKIMS) in Srinagar. Despite this, 8 pellets still remain inside his head. He was shot at on 29 July in the Tahab area of Pulwama. He has suffered severe brain damage. The following case is even more gruesome.
The estimated number of pellets lobbed inside the abdomen of 20-year-old ATM guard Riyaz. His body was found lying on the roadside in Srinagar's Chattabal area on 3 August. After the relaxation of curfew in the evening, Riyaz had merely gone to do his job by checking whether the ATM he is responsible for, was working or not. His brother Shakeel was scheduled to get married in a few days time.
The age of one of the victims of pellet injuries, perhaps the youngest among them. The baby, who was injured in the eye, had to be taken out of Jammu and Kashmir for treatment.
It is cruel to reduce human suffering to mere statistics. Each one of these cases is a tragedy in itself.
Besides those who have been injured or whose loved ones have died, there is also the everyday ordeal of people living in a constant state of siege, unable to go out because of curfew, struggling for day-to-day necessities, witnessing death and injuries around them. No amount of data or even words can express their plight. Especially not the word often used by the government and media for Kashmir: normalcy.
More in Catch - Burhan Wani in life and death: an icon for Kashmir's Gen Next?
In photos: Pellet guns maim, these Kashmiris are proof