15,747 villages, 25 lakh farmers drought-hit. Will Centre's Rs 3,049 cr bring relief to Maharashtra?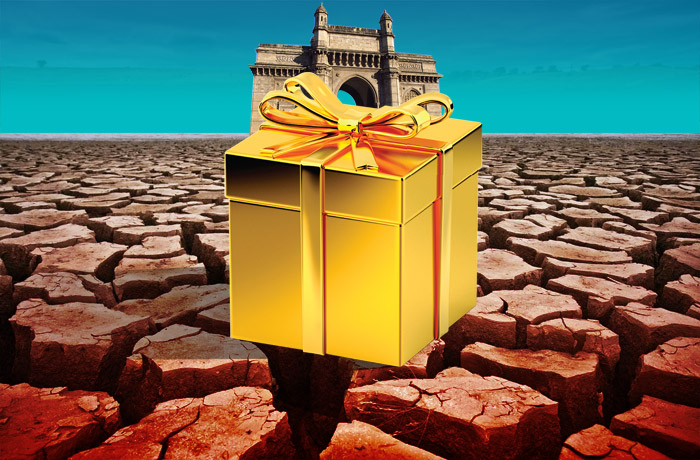 The Centre has announced a Rs 3,049 crore relief package for the drought-stricken farmers of Maharashtra. You might know by now that the state, like nearly half of India, is reeling from a severe drought. But do you have any idea of its sheer scale? Consider these staggering numbers.
The drought has affected 15,747 villages, which account for nearly 15% of the state's total area.

Nearly 25,00,000 farmers have lost their crops, mostly cotton and soyabeen, partly or entirely.

The economic loss is estimated to be around Rs 4,000 crore.

Successive droughts have buried most farmers, especially in the dry Marathwada and Vidarbha, in debt. As a result, at least 1,060 farmers have committed suicide over the past four years.

In Marathwada region alone, 112 farmers killed themselves this month, twice the number of farmer suicides in December last year.
According to a senior agriculture department official, on an average, 30 farmers have committed suicide in Marathwada every week in 2015.
Also read -
Terror attack: 50% of India is reeling from drought. Here's the impact at a glance
State to the rescue
To mitigate the crisis, the state government announced a Rs 10,512 crore relief package last month. Of this, Rs 7,412 crore is expected go directly to the farmers in the form of savings certificates. The rest will be spent on subsidies and developing agricultural infrastructure.
Now, much needed help is coming from the Centre. Chief Minister Devendra Fadnavis claimed the package of Rs 3,049 crore "is the biggest ever package given to any state".
Heavy toll of Maharashtra's drought: 15,747 villages, 25 lakh farmers affected, loss Rs 4,000 crore
Fadnavis' government had asked for Rs 4,002 crore. "We had sought more aid from the Centre. But we are satisfied that the Centre has given the biggest share of drought relief to Maharashtra," said state BJP chief Raosaheb Danve.
In March, the central government had given Rs 902 crore from the National Disaster Relief Fund for drought relief measures in Maharashtra.
And last year, it had declared a Rs 2,000-crore package, which according to Home Minister Rajnath Singh, was meant to help farmers "overcome losses due to severe drought".
A tragedy with no end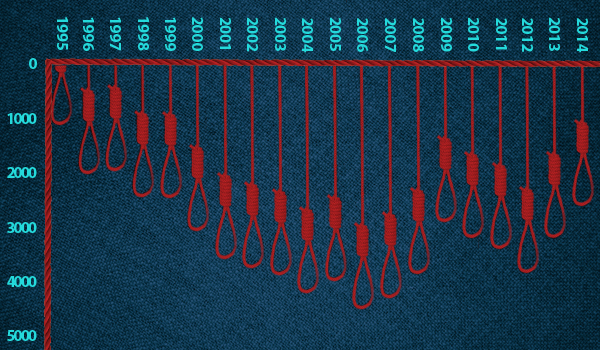 Farmer suicides resulting from crop failures and piling debts have blighted Maharashtra for years now. The suicides peaked at 4,453 in 2006, ironically the same year when India surpassed the United States as the world's second largest cotton producer. Most of the farmers who have taken their lives over the years have been cotton growers from Vidarbha.
In 2014, according to the latest NCRB data, Maharashtra recorded 2,568 farmer suicides, the most of any state.
"There has been an increase in productivity after Bt Cotton was introduced. However, it was not much a relief to farmers as the overheads have gone up sharply," said Kishor Tiwari, chairman of the state Vasantrao Naik Mission for Farmers' Self Reliance.
"On top of that, the severe drought over the last four years has virtually crippled the farmers. This package announced by central government will definitely bring relief to them."
Also read - Why is Karnataka facing the worst drought situation in last 40 years?
Tiwari added, "This package will provide relief to around 25 lakh farmers. The funds will be directly deposited in their bank accounts - that's the best part of it. With this Rs 3,049 crore relief and the earlier Rs 902 crore, the state has received nearly Rs 4,000 crore."
"And we are expecting more relief in the next few months as more villages in Vidarbha have been added to the list of drought-hit villages."
Making political capital
Apart from the farmers, the package is also good news for the state's BJP government. It had been facing sustained criticism for failing to get relief help from its own government in New Delhi despite a central team touring the drought-hit regions four times this year.
So, after the package was announced, Fadnavis hit back at the critics. "There can't be a more befitting reply to those who have been doing only politics on drought instead of uniting for farmers in the time of distress," he said.
The opposition Congress, however, wasn't impressed. The party alleged that there "is nothing in the package to rejoice about".
The severe drought has crippled the farmers. This package will definitely bring relief: Kishor Tiwari
"The announcement of the package is nothing but eye-wash. It won't at all help the farmers in distress. I don't see anything in it to rejoice about," said the party's state chief Ashok Chavan.
It remains to be seen how much of the promised relief reaches the farmers, and how soon. For they can't afford to wait.
Farmers suicides in Maharashtra, 1995-2014
1995 - 1,083
1996 - 1,981
1997 - 1,917
1998 - 2,409
1999 - 2,423
2000 - 3,022
2001 - 3,536
2002 - 3,695
2003 - 3,836
2004 - 4,147
2005 - 3,926
2006 - 4,453
2007 - 4,238
2008 - 3,802
2009 - 2,872
2010 - 3,141
2011 - 3,337
2012 - 3,786
2013 - 3,146
2014 - 2,568
More in Catch - We have got a lot wrong on farm policies
Drought, death & destroyed crops: just how much more can Marathwada take
95% of MP's drought-affected farmers are angry with their govt. Here's why