100,000 women, 10 years, one demand: let us own our farmland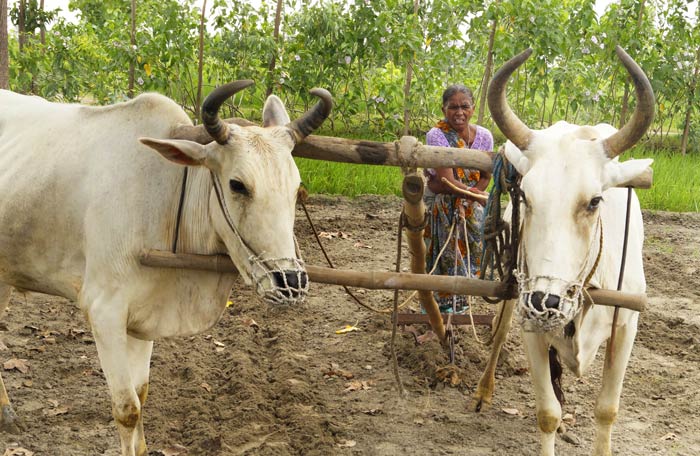 Big fight
For 10 years, UP\'s women have been running AAROH campaign
Backed by Oxfam, it covers 70 of the state\'s 75 districts
The aim: acquire joint titles to their family farmland
Small victories
212 MLAs have signed a pledge supporting joint land title
Women farmers are ploughing their fields with tractors
UP has promised to help waive stamp duty for transfer of land titles
As the fourth successive drought year reignites the debate on farmer suicides, one crucial stakeholder is missing from the spotlight - the woman farmer.
Nearly 74% of rural women do 80% of all the farming in rural India, yet they are not even recognised as farmers. The government records them as cultivators, depriving them of the rights to loan, agricultural resources, training, credit. The Kisan Credit Card, for instance, is only available to landholders.
A woman can only ever be a farmer legally if she owns land. But the land title is almost always in a man's name.
In June 2006, women farmers in Uttar Pradesh launched a campaign to change just that. AAROH, or 'ascend' in Hindi as the campaign was called, was backed by Oxfam and covered 70 of the state's 75 districts. The aim: to promote social recognition of women farmers.
In 2011, the campaign eventually turned its focus on getting women farmers joint titles to their land.
Now in its 10th year, the campaign gives voice to over a lakh women demanding equality and titles to land. And it has helped women like Savitri Devi, 45, from Banda district, to reclaim their right.
Savitri was married into a joint family comprising her parents-in-law, brothers-in-law and their families. Her husband, along with his brothers and parents, owned 4.5 acres of farmland.
Despite being mother to six children, Savitri spent much of her time working the field. Her husband ploughed the land, she sowed the paddy. And when he migrated for work, Savitri did all the transplanting, fertilizing, weeding and harvesting. With every harvest, the land became her own, blossoming green by the touch of her fingers. Until, that is, her husband died following a prolonged illness.
Afraid she might stake claim to the land, her in-laws kicked her out, along with her five daughters. Her son they were keen to keep.
"Had the land been jointly in my name, my in-laws wouldn't have been able to throw me out of the house," says Savitri.
She eventually returned to her parents, who offered to raise three of her children and help her build a house. Gradually though, they too couldn't afford to support her. To sustain her family, she went to work as an agricultural labourer.
It was around this time that she heard of AAROH. They helped her take legal action against her husband's family. Savitri eventually managed to wrest some compensation money and half an acre of land to sustain herself.
The woman, too, is a proud farmer
"Mahila bhi kisan hai, yehi desh ki shaan hai (The woman too is a farmer and it's our country's pride)" - this slogan encapsulates the essence of AAROH.
Apart from Oxfam India, the campaign is supported by five regional not-for-profits - Gorakhpur Environmental Action Group, Vinobha Sewa Ashram, Disha Samajik Sansthan, Pani Sansthan and Samarpan Jan Kalyan Samiti.
The campaign first came to attention with a series of foot marches by women out to claim their social identity. Nearly 41,000 women from across the state took part. The sight of women driving bullock carts along the padyatra is still etched in the minds of many a men; they still talk about its shock value!
Signature campaigns were then organised to bring the issue to the notice of male farmers, the government, particularly the agriculture department, media and local legislators.
In 2009, the campaign mobilised 6,800 men to pledge to give joint land titles to their wives, though only a few of them actually transferred their land. In 2012, some 212 legislators signed a pledge supporting joint land title. In the media, 'mahila kisan' became a part of the vocabulary. And women farmers were recognized and felicitated by the state for their contribution to agriculture.
On the farmland too, they broke age-old norms. Women began ploughing fields, something they were barred from earlier. Suresho of Saharanpur became known as the tractor lady, for being the first in her village to plough the field with a tractor.
To achieve SDGs, women must own land
Two of the 17 Sustainable Development Goals, or SDGs, that India, among other nations, has just committed to achieving by 2030 are tied to women's secure access to and control over land. While Goal 2 aims to end hunger, achieve food security, improve nutrition and promote sustainable agriculture, Goal 5 strives for gender equality and women empowerment.
For India, these will not be easy targets to achieve. One of the major roadblocks is the current status of land ownership among women.
According to the agriculture census report 2010-11, only 12.69% rural women have operational land ownership, including leases. This number is lower than even some poorer African countries like Zambia and Malawi, where 17% and 32% women, respectively, own land.
In UP, only 6% women owned land in 2006, 2% had access to credit and 1% to agriculture training
A study conducted in UP in 2006, the year the campaign was launched, showed that only 6% women owned land while 2% had access to credit and 1% had access to agriculture training.
Why must these figures be improved significantly? Research shows that when women secure rights to property, they gain financial independence from an abusive husband or father.
Manna Devi's husband was an alcoholic and frequently wasted his money in gambling. Once, desperate for money for gambling, he was conned by some locals into selling the homestead without his wife's knowledge. He signed it over but eventually didn't get any money.
Had they been joint titleholders, Manna Devi, 40, could have stopped him. In rural UP, it isn't difficult to find cases where an alcoholic husband sold off land and the wife didn't know about it until long after.
Why only 472 of 5,650 farmer suicides in 2014 were women - those without land titles aren't counted
Rights over land also enable a woman to decide what crops to grow and how to market the produce, giving her a higher degree of food security. She also gains greater decision-making powers in the household. Also, the right to land ensures recognition and compensation in the event of a suicide.
The 2014 National Crime Recrods Bureau data on farmer suicides shows that of the 5,650 farmers who took their lives, only 472 were women. Note that the data only includes farmers with titles to land.
Senior journalist P. Sainath has extensively written about suicides committed by women farmers, tenant farmers and children of the land holder, all of whom are never counted as farmer suicides by the NCRB.
UP takes small steps, India must make giant strides
Ten years of the AAROH campaign, however, have finally brought to some good news. The UP government, in March 2015, promised to take steps to waive off stamp duty for land transfer between blood relatives and spouses.
This is aimed at removing a huge financial deterrent in giving joint land titles to women.
In UP, when land is registered in a man's name, he pays 8% of the land value as registration fee, a woman is charged 6% and in case of a joint title, the rate is 7%. So, giving a woman the title could cost Rs 6,000 to 7,000 rupees for every lakh rupee value of the land.
Given the gender-sensitive setting that the campaign has managed to create, waiving this charge would give a fillip to women's land ownership. This small measure in UP could also spark change elsewhere.
It's about time, too. As Manna Devi asks, "If we contribute to the land and to food production, why shouldn't we have the right to decide the fate of our land?"
Currently, a woman gets "automatic access" to land when her husbands dies, and the apathetic bureaucracy uses this as an excuse to dismiss their fight for land rights. Do women have to pray for their husbands to die to get what is rightfully theirs?