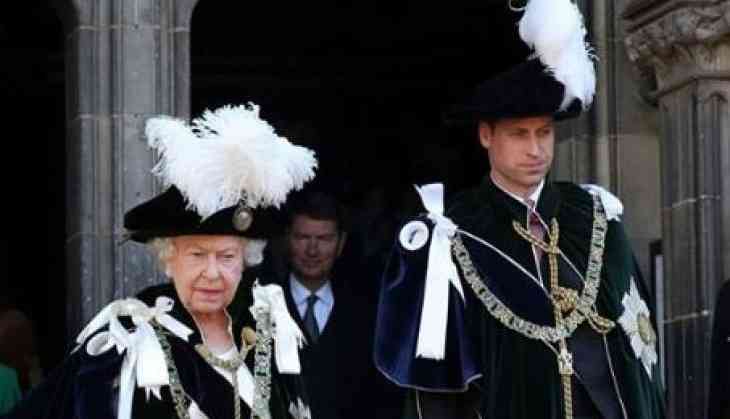 Prince William wore a traditional dark green robe and black velvet hat with white ostrich feathers as he joined Queen Elizabeth for the annual Order of the Thistle service in Scotland.

His regal outfit features the motto "No one harms me with impunity." The prince, and his aunt Princess Anne, accompanied the Queen, 92, for the service in Edinburgh as two new knights were installed in St. Giles's Cathedral in Edinburgh city center.
Also Read: Pregnant Pippa Middleton looks elegant in white at Wimbledon

The ceremony takes place every other year to celebrate the highest honor of chivalry in Scotland, which recognizes men and women for their public service, according to the official royal website.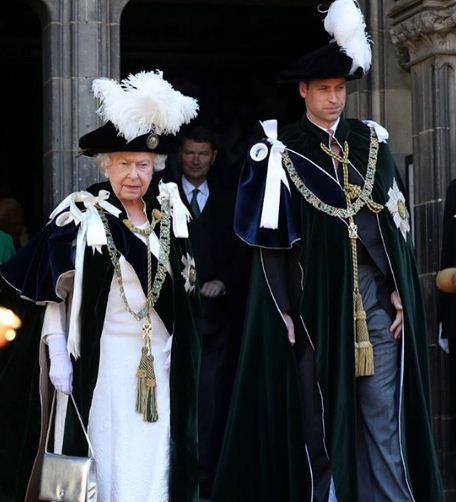 The royals attending the ceremony dressed in a deep green velvet mantle with a white lining and star on the left side. The cape includes white ribbons on both shoulders, a large gold tasseled rope connecting both sides, and—the best part—a black velvet hat with an oversized ostrich feather, according to People.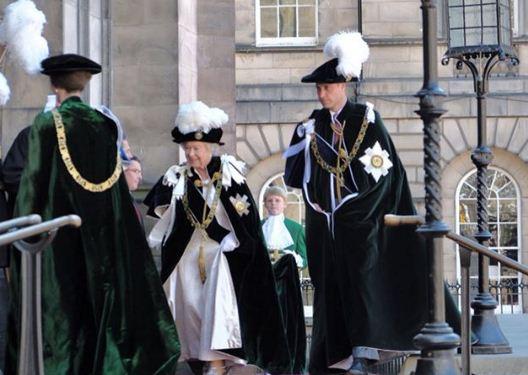 The gold collar they wear over their robes consists of a gold enamel and chain. The links represent a single thistle and four interlinked sprigs of rue, and a pendant portraying St. Andrew carrying the cross of his martyrdom hangs down the center, according to the royal family.
The collar consists of a gold & enamel chain, representing a single thistle & 4 interlinked sprigs of rue, with an enamelled badge featuring St Andrew who carries the cross of his matrydom. pic.twitter.com/DAw6dKB0Le

— The Royal Family (@RoyalFamily) July 6, 2018
The thistle is the national emblem of Scotland, thanks to King James III, who first used the symbol on silver coins issued in 1470.
On the final day of #HolyroodWeek, The Queen joined by The Duke of Cambridge, Earl of Strathearn and The Princess Royal, is attending the Order of the Thistle Service at St Giles' Cathedral. pic.twitter.com/X9gCoj6Ts9

— The Royal Family (@RoyalFamily) July 6, 2018
The star on the cloaks includes a saltire, which resembles St. Andrew's cross, and a medallion featuring a bejeweled thistle. The green center ring shows the inscription "Nemo me Impune Lacessi" (Latin for "No one harms me with impunity"), which is the official motto of the Order of the Thistle.

The Order of the Thistle is the prince's second honorary knighthood. He was invested in the Order of the Garter at Windsor Castle in 2008, which involves an annual June march down from the castle and a carriage ride back up the hill.
Also Read: Prince Harry and Meghan Markle don't hold hands in front of Queen Elizabeth