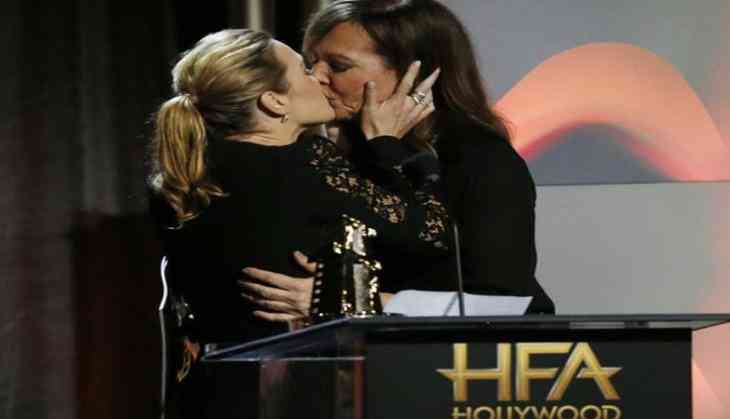 The star-studded ceremony of Hollywood Film Awards saw a lot of 'hot' chemistry between Kate Winslet and Allison Janney.
Oscar-winning actress Kate Winslet, who was named the recipient of the Hollywood Actress Award for her performance in Woody Allen's latest film 'Wonder Wheel', got a little something extra than just a trophy, according to The Hollywood Reporter.
During her acceptance speech, the 'Reader' star said, "I know I don't really know you but I know I just want to be you. I do, or just stroke you or something. I mean, we could always kiss, maybe? Maybe?"
Kate Winslet is honored with the Hollywood Actress Award for her role in @wonderwheelmov. 🙌 #HollywoodAwards pic.twitter.com/zmPl3il3oT

— Hollywood Awards (@hollywoodawards) November 6, 2017
Allison jumped up to the stage, prompting Winslet to remark, "Ah, it's gonna happen! This is an exciting moment."
Janney, who was honoured with the Hollywood Supporting Actress Award for her role in 'I, Tonya', gave Winslet a kiss before heading back to her seat.
Kate Winslet won the award for Woody Allen's 'Wonder Wheel' in which she lays a beleaguered wife to a middle-aged carousel operator in the 1950s on Coney Island.
She falls for a lifeguard, played by Justin Timberlake, but her life begins to unravel when her husband's estranged daughter shows up and begins pursuing him as well.
The flick is slated to release on 1 December in the U.S.
-ANI