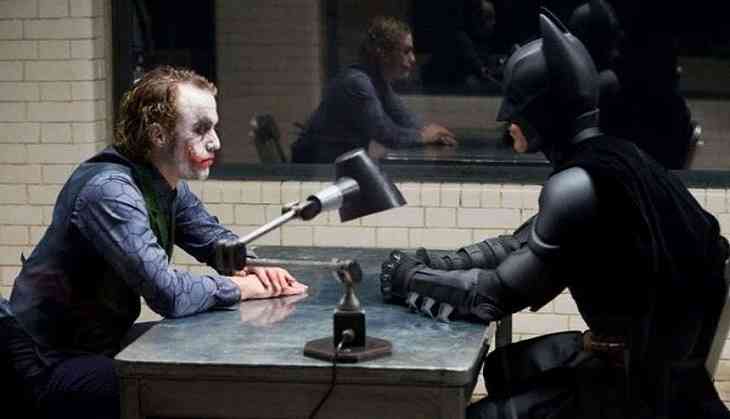 Late Heath Ledger was, as accepted by many, the best Joker of this generation.
The actor, who posthumously won the Academy Award for Best Supporting Actor (Male) for the portrayal of the diabolical clown, went to extreme lengths to prepare for his career-defining role.
And now an interesting fact has been revealed about Ledger's dedication to get into the character of The Clown Prince of Crime.
According to The Hollywood Reporter, new book '100 Things Batman Fans Should Know Before They Die', contains an unearthed interview with Ledger, director Christopher Nolan and Batman actor Christian Bale, who reveals that during the film's iconic interrogation scene, Ledger encouraged him to make the physical altercation between the two authentic.
In the interview, Bale said, "As you see in the movie, Batman starts beating the Joker and realises that this is not your ordinary foe. Because the more I beat him, the more he enjoys it. The more I'm giving him satisfaction. Heath was behaving in a very similar fashion."
Adding, "He was kind of egging me on. I was saying, 'You know what? I really don't need to actually hit you. It's going to look just as good if I don't'. And he's going, 'Go on. Go on. Go on...' He was slamming himself around, and there were tiled walls inside of that set which were cracked and dented from him hurling himself into them. His commitment was total."
Bale noted that Ledger completely embraced Nolan's vision for the film, which was a darker drama, instead of just comic book "caricatures".
Bale, director of 'The Dark Knight', also shared some of the influences for The Joker character.
"Johnny Rotten, Sid Vicious, these kinds of punk influences were some of the things we talked about. We also talked about the character of Alex in 'A Clockwork Orange'. He's very anarchic and yet somehow has great charisma, both in the book and in the film," noted Nolan.
Author Joseph McCabe conducted the interviews with Bale and Nolan in 2008 around the time of the film's release and spoke with Ledger in November 2007, when the actor was promoting 'I'm Not There'.
Ledger died at age 28 on 22 January, 2008.
-ANI