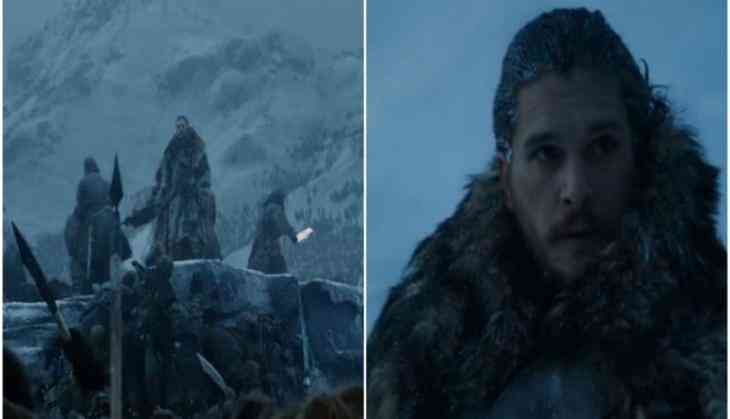 GOT Season 7: The Kings and Queens all set for the war of Westeros (ANI)
The Summer is here and so is the Winter!
A new trailer for the HBO's hit-TV series 'Game of Thrones' has been released by the makers and it is surely going to make fans go wild.
The trailer opens with Sansa Stark (Sophie Turner) walking away from a weirwood tree in the snow as Petyr 'Littlefinger' Baeliesh can be heard in the background, "Don't fight in the north, or in the south Fight every battle everywhere, always, in your mind."
Then we see glimpses of all the main players of the show like Jon Snow (Kit Harrington), Cersei Lannister (Lena Headey), Danaerys Targaryen (Emilia Clarke), Arya Stark (Maisie Williams), Jaimie Lannister (Nikolaj Colster Waldau).
Snow can be heard off screen proposing an alliance to Danaerys Targaryen.
"For centuries our families fought together against their common enemy, despite their differences, together," says Snow.
Bran is then seen in a newly built wheelchair as he faces the weirwood.
Tyrion Lannister (Peter Dinklage) can be seen on the cliffs of Dragonstone, watching as Daenerys' three dragons Drogon, Rhaegal and Viserion soar towards the island.
As the footage moves forward, we hear Snow getting ready for war and declaring that "our enemy is real, it has always been real."
Some glimpses of the great war are also shown, to get the hype up even more.
The trailer ends with Sansa saying, "When the snows fall and the white winds blow, the lone wolf dies... but the pack survives," as Jon Snow fights in the snow.
The footage is intense and the Ramin Dwajadi's 'Light of the Seven' will surely give fans a flashback to the finale of Season six.
With the trailer, the makers also revealed the official character poster on Twitter.
The seven-episode seventh season of 'Game Of Thrones' debuts on HBO on July 16.
-ANI