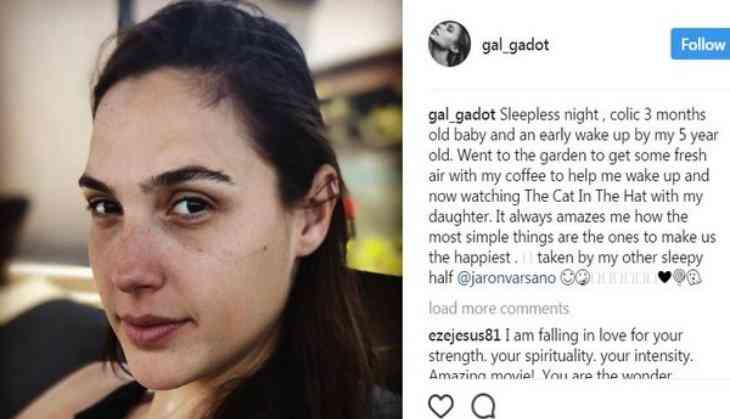 Gal Gadot shows the real meaning of 'Wonder Woman'
She might be the daughter of a god in reel life, but in real life Gal Gadot is as real as it can get.
The 32-year-old actress took to Instagram and shared a photo, showing what real life is like as a wife and mother of two daughters.
She captioned the snap, "Sleepless night, colic 3 months old baby and an early wake up by my 5 year old. Went to the garden to get some fresh air with my coffee to help me wake up and now watching The Cat In The Hat with my daughter. It always amazes me how the most simple things are the ones to make us the happiest . ?? taken by my other sleepy half @jaronvarsano."
The photo shows a close-up of Gal's face and it clearly looks that she is sleep deprived. Recently, her husband Jaron Versano posted a photo of himself and his lady love on his Instagram.
In the funny image, Jaran wears a T-shirt with that has a generic woman's room image with the phrase "Your Wife" next to an image of the Wonder Woman character with the phrase "My Wife."
He captioned the photo, "#mywife #therealwonderwoman."
Helmed by Patty Jenkins, ' Wonder Woman' is still going strong at the Box-Office and has grossed over 517 million USD worldwide.
-ANI