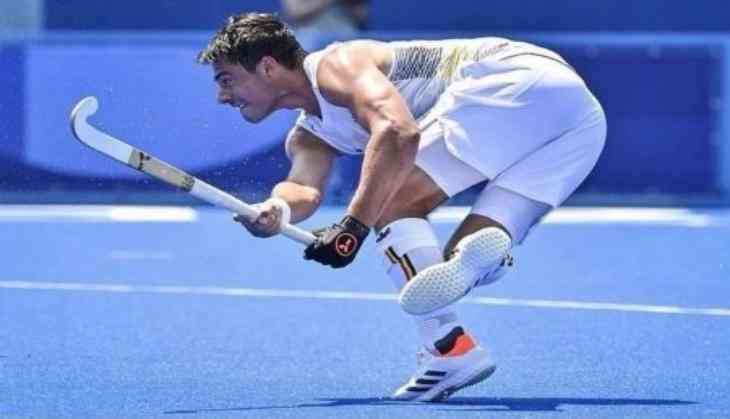 Alexander Robby Hendrickx is a Belgian field hockey player who plays for Dutch club Pinoke and the Belgian national team as a defender. He was born on the 6th of August 1993 in Antwerp.
His first steps on a hockey field was at the age of 5 for Royal Antwerp Hockey Club. Alexander lived just two streets away from the club where he developed himself as a youth player, undergoing all the youth teams, to finally be playing in the first men's team at the age of 14.
In 2015, Alexander left his home town Antwerp for KHC Dragons to further improve his hockey game. During the 3 years Alexander played for Dragons he won 3 league titles and one European medal. Following these successes with Dragons the Belgian felt he needed a new challenge to get out of his comfort zone and develop himself both as an athlete and as a person. In 2018 his new challenge translated itself in playing for Pinoke in the Dutch Hoofdklasse.
Alexander's desire to represent for the Belgium national men's team was preceded by going through all the youth teams, winning a European silver medal with the U16's before being crowned European Champions with both the U18's as the U21's. After that he took part in the Youth Olympic Games in Singapore in 2010 where he got a bronze medal and where Alexander was named highest scorer with 11 goals.
The Belgian's spell with the Red Lions started in 2010. He was picked to train with the squad which led to his first official tournament in 2012, the Champions Trophy in Melbourne. After this tournament, in 2013, Alexander secured the individual prize Golden Stick for most promising player in Belgium. In 2016 he won a silver medal at the Olympic Games in Rio.
Following the Olympics, the Red Lions lost another final in the 2017 European Championship securing the silver medal. In 2018 they made it to the history books by becoming World Champions in Bhubaneswar, India. Alexander was named top scorer of the World Cup with 7 goals. Since then the table has turned for the defender, after losing many finals the Red Lions started winning.
In 2019, Belgium hosted the European Championship, where the Red Lions were crowned European Champions. Alexander was named top scorer of the European cup with 5 goals. Besides hockey, Alexander is a graduate with honors degree at the University of Antwerp, holding a master degree in Applied Economic Sciences.
Furthermore, on 25th May 2021, Alexander was picked in the squad for the 2021 EuroHockey Championship. At present, the Belgian is representing his nation at the Tokyo Olympics. Hendrickx quickly made his mark on Belgium's 5-2 semi-final win over India right away, scoring three goals making him the tournament's top-scorer.
Also Read: Tokyo Olympics: India men's hockey team lose semis 2-5 to Belgium, to play for bronze