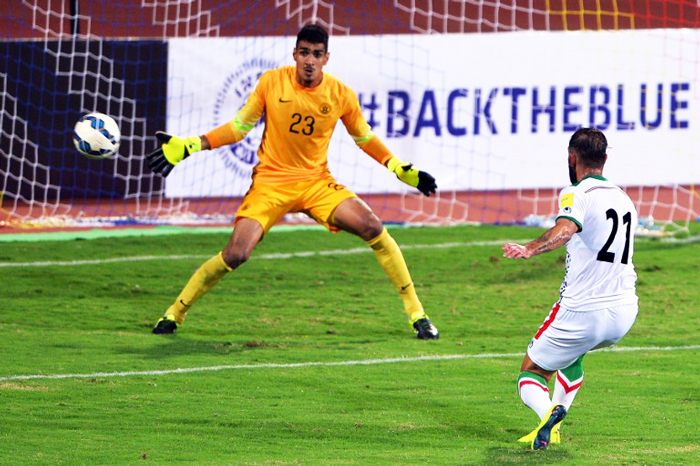 It's been a long journey for 23-year-old Gurpreet Singh Sandhu. After playing for East Bengal, which is one of the biggest clubs in India, the Chandigarh-born and bred goalkeeper now finds himself on the cusp of making history with one of the biggest clubs in Norway.
Stabaek FC of the Norwegian Tippeligaen have one match to go in the league this season. With 56 points, the club is guaranteed a top-three finish. But more importantly, this means that the club has qualified for the qualifying rounds of next season's UEFA Europa League, making Gurpreet potentially the first Indian player ever to feature in any European competition.
Gurpreet is no stranger to making history. He will be remembered for posterity as the first Indian to sign with a top division European side, when he signed up with Stabaek eight months ago. The club's sporting director Inge Andre Olsen had earlier admitted that Indian clubs had made enquiries about loaning him back, and that they had been refused. The opportunity to play in the Europa League next season after honing his skills with top goalkeeping coach Espen Granli for the duration of the season would now more than justify that decision.
And then there is the fanfare of walking out on the pitch with the UEFA anthem playing in the background, a sight thousands of football fans in India are used to seeing. Seeing an Indian face among the players lining up would be a priceless experience.
In a freewheeling interaction with Catch, Gurpreet spoke about his ultimate ambition, the Europa League, and told us what he thinks about the current footballing scenario in India among other things.
'There's a long way to go'
But first of all, his thoughts on being the first Indian to have fully integrated himself into the squad of a European team - and a top division team at that. Gurpreet says, "Being a part of the first team and staying here for a season and half, qualifying for Europe - I do think about it but never let it get to my head. There's a long way to go."
It is precisely this firmly-grounded attitude that has got him this far, and he credits it to some very significant individuals in his life. "I think my parents who gave me my never give up mentality are very important. Budgie (John Burridge) and Joe (Morrison) who convinced me that I can make it in Europe and Espen who has put in those hours in training to make me a better keeper."
There's no doubt that Gurpreet has become a better keeper. As he made his international debut for India in the World Cup qualifier against Iran, he made some very important saves, even though the team lost 3-0.
On I-League and ISL
Asked to compare the level of play between the Tippeligaen and the ISL or the I-League, Gurpreet says, "I think the Tippeligaen is better than what people think it is. It's two or three levels higher than the ISL or I-League."
Little surprise then that he doesn't feel like he's missing out on anything by not playing in the ISL. But Gurpreet has a bigger, more impersonal reason for this. "If I was in the ISL then India wouldn't have got (what) they have today, which is an Indian in Europe," he says.
"I think that is more important for Indian football right now. Players playing outside of India, that's what we need!"
On being probed further about the I-League season being cut short to accommodate the ISL, Gurpreet speaks sagely, holding a balanced opinion.
"I think on one hand, the I-League wasn't being handled the way it should be, whereas the ISL is handled the way a league should be. The problem is that we have two leagues now and this can't go on forever. However, you can't compromise on the national team games and the I-League because of the ISL."
But for the moment Gurpreet can enjoy his time in Norway, as exciting times lie ahead for this Indian youngster who hopes to establish himself as Stabaek's first choice keeper. "I think I was ready (to be first choice keeper) this year", he says "but it is a position you can't shuffle like you can do with the outfield players, specially when the team has done so well!"
'Europa League experience will help me a lot'
On what lies ahead for him in the Europa League he says, "I think it will educate me on what the level is and merely the experience of being a part of it will help me a lot."
He praises his coach at Stabaek, Bob Bradley, who was head coach of the US National team at the 2010 FIFA World Cup. "There's no doubt that Bob is the best coach I have been under in club football. The way he handles things is a class apart, he has a strong mentality which brings out the best in us."
With one match to go in the Tippeligaen season, the fans streamed on to the pitch after Stabaek's last victory which confirmed their participation in the Europa League, a moment which Gurpreet describes as "special".
His next aim? "Play here and then look to step forward to a better league or a team."
But however much he plies his trade in Europe, the lad from Punjab still has his heart in the right place. Asked if he'd rather play in the Champions League with his dream European club or play in a FIFA World Cup for India, he has no second thoughts about his answer. "World Cup for India."