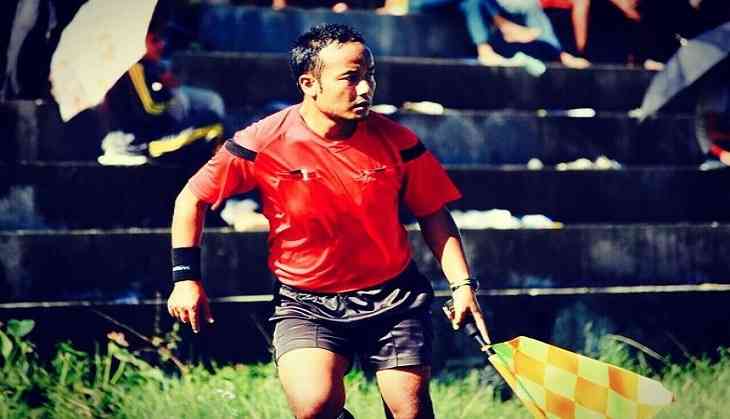 Young soccer referee from Manipur, Thumli Joyshing Monsang, has been selected for an international referee course in Malaysia.
Sports is an essential part of the lifestyle in North East India since the ancient times. Many from the region have sharpened their skills in sports and represent the nation at various international sports tournaments.
25-year-old Thumli Joyshing Monsang from Manipur's Chandel district has been selected for Asia Football Confederation's Project Future Asia Referee Course and will undergo training in Malaysia.
The course will be conducted by the Professional Games Match Officials Limited, an organisation for developing referees for English Premier League and top-level matches in England, in collaboration with All India Football Federation and IMG Reliance in Mumbai.
"Due to lack of proper infrastructure in our Chandel district, I used to practise at the Maha Union Higher Secondary School ground during dry seasons, and on rainy days, I practised at the main Inter-District Highways Road for fitness," said Thumli Joyshing Monsang, Football Referee.
Joyshing, an Arts graduate, has scripted the history by becoming the first person from Manipur and the first male from the northeast region to be selected for the course.
"I was elated when I received a mail that I have been selected for the Professional Games Match Officials Limited (PGMOL) course and I was more excited to know that experts from England will be teaching us," he added.
Joyshing's referee career began from All Manipur Football Association Referee in 2013 and rose to the Project Future India Trial Referee in 2014.
Ever since, there has been no turning back for Joyshing, and now he is well on his way to becoming a referee of international repute.
"To be a centre referee, I need to be brave and at the same time, sincerity, calmness and politeness are an essential part of a referee job. And whenever I go to another country as a referee, I don't represent my state or the region alone but I represent the whole nation," Joyshing also said.
So far, Joyshing has officiated 47 top tier league matches, both National and International, including the Regional Football Festival in Dushanbe, Tajikistan as Centre Referee under Asia Football Confederation in 2016 and I-league U-16 in 2015-2016.
This young lad from Manipur is now eyeing for the Indian Super League and FIFA World Cup by 2020.
"Since his childhood days, he has been concentrating and focussing on the things he likes. He does not like taking favours from others, but through his hard work and abilities, he is moving forward towards his goal," said Joyshing's mother.
-ANI