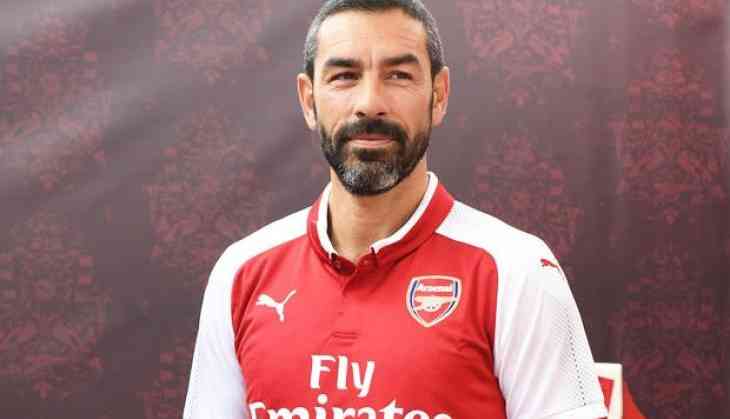 Arsenal legend Robert Pires, who once turned out for FC Goa, Thursday said the Indian Super League has not made much progress since it was launched amid much fanfare five years ago.
Pires signed for FC Goa in the opening season of the then newly created ISL in 2014. However, after a year-long stint with the club, the world-cup winning Frenchman announced retirement.
"I think it (progress from Season one to five) is the same because you need to experiment with other footballing philosophies to strengthen the base. They need an Italian, French or maybe a Spanish or Portuguese to introduce them to other philosophies which will help the ISL to grow," Pires, who is a La Liga ambassador, said.
However, the 44-year-old remained optimistic about the future of Indian football, provided the sport perfects the balance between coaching and training.
"I played in season one and there was a lot of passion among the players. I saw some good Indian talent out there.
"India has a good future ahead but they need good academies, coaching and training to move forward. The mix of all these can lead to maybe an Indian playing in La Liga one day and that sort of progress is very important for development of football," Pires said.
La Liga side Girona FC and and Australian A-League's Melbourne City FC played their pre-season friendly against Kerala Blasters FC in July. Pires emphasised that matches like these would help Indian clubs grow.
"It is a good start. Girona -- I know it is not the best team in La Liga -- coming and playing its season friendly against Kerala is great. It can help Indian football. Get some good teams here. And if things go like this, 2-3 years down the line we can expect top sides like Barcelona and Real Madrid."
Asked about his time in ISL and plans for coaching, Pires didn't rule out a comeback to India.
"Playing for FC Goa was a great experience for me. Right now I am enjoying my role as ambassador for La Liga and Arsenal, but yes if ISL needs my help I will be happy to provide my services."

Pires, who inaugurated La Liga's first football school said: "La Liga Football Schools is an excellent initiative to help develop the game in India. It will give access to the world's best curriculum and facilities to young children in the country who want to pursue football."
La Liga football Schools are being launched across the country, in cities including Mumbai, Pune, Bengaluru, Kochi, Kolkata and New Delhi.
La Liga aims to have over 30 schools, training over 3000 nationwide by the turn of the year.
The intensive training programme will be overseen by Technical Director, Javier Cabrera, who is a UEFA PRO Licensed Football coach with wide experience of working with professional football clubs and academies.
Students from age group of 6 to 18 years will be the focus for the programme, which will be delivered using LaLiga's technical curriculum and detailed methodology.
"Launching the first LaLiga Football School is a very proud moment for us. We want every child in India to have access to the best training methodology to realise their full potential in the game and for that, we are going to deliver our training programmes across the country," head of La Liga India, Jose Cachaza said.
-PTI