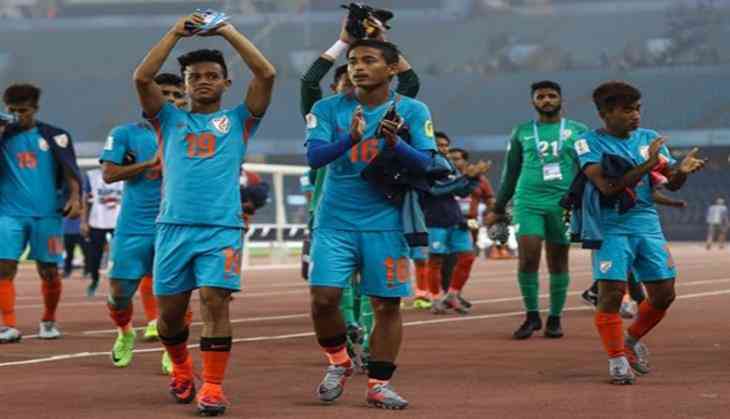 Former national team defender and current Neroca FC player Moirangthem Gouramangi Singh feels that Indian football has made strides in the recent past with improvements in several fronts visible now.
"The playing field is very good now, not only in ISL clubs but also in I-League sides. For example, Neroca is making an effort by keeping a full time staff to look after the pitch. It is a big step and that is not there 10 years back," Gouramangi told PTI in an interview.
"We now have grassroot development programmes in every club and different age group teams -- U-13, U-15, U-18 -- are there in these clubs, including Neroca. In Neroca, there are these kids below 10 years who are part of football clinics three days a week, though they are not in any academy. I think an academy is coming up.
"There are academies coming up in the country and kids are getting trained by qualified coaches. Something is happening. These are baby steps but it should take Indian football forward. It might take some time but we should continue building on this foundation," he said.
The 32-year-old Manipuri represented India in 69 matches between 2006 and 2013 and he was a vital member of the national side that took part in the 2011 Asian Cup in Doha under the stewardship of Englishman Bob Houghton.
He said a single top league with other tiers below it should be the ideal scenario and hoped it would be a reality in two or three years.
"A longer league, a unified top league with minimum 16 teams should be the ultimate aim. I hope it happens in the next two or three years," he said.
Gouramangi said Neroca FC have set the example for other clubs in Manipur to emulate them to think big and make their presence felt at the national level.
"We have so many talented players playing outside the state as part of many clubs, be it at U-13, U-15, U-18 as well as at senior level. Our generation did not have the option (to be in Manipur). But today we have Neroca which is part of I- League. It is satisfying and a good feeling," he said.
"Running a club and making it sustainable is not easy but it will not be a surprise if in the next few years another club or two from Manipur other than Neroca come up and play at top level in the country. If Neroca do well in I-League, they will set an example to other clubs in the state.
"I have spoken to some other clubs in Manipur and they also want to emulate Neroca. So it is good for Manipur football. There will be more platforms for talented players.
There is a football fever in Manipur now, a football movement which I sensed after interacting with a lot of people. Neroca should keep doing the good job and they should play a big role in this. Football should be a part of our lifestyle."
He said he has it in him some more years to continue playing at the top level and he is enjoying the game.
"If Neroca was not there I would have to look elsewhere because I think I have a few more years in me. I was also preparing something about life after football. All fell together. I will be close to home after playing outside Manipur for the last 17-18 years. It is a kind of home coming," said Gouramangi, who hails from Sekmai around 15 kms from Imphal.
"The green ground, the smell of soil, you just go out and play. It feels really good and I am enjoying, training with the team and keeping myself fit."
Gouramangi has also started planning for life after his playing career. He is starting in a few months a grassroot development programme using a small field with a good turf near his home.
"Along with a friend, we are going to have a 8000 sq ft of land which is a bit larger than 7-a-side football field, one-eighth of the full size ground. It is personal land and personal investment," he said.
"We will have a full time coach. Three times a week we will train small kids. There will an artificial turf. I am starting with a small size playing ground. I think I will be having this turf in two weeks time. Hopefully, in six months time I will have another center. May be in two years time, I may have a full size ground you never know.
"I have done a B licence course. It teaches you a lot.
You try to understand from the other side. I learn a lot which I don't do as a player on the pitch. I want to get A licence but I cannot say whether I will become a coach or not. It depends on the situation and whether I will get support from my family.
--PTI