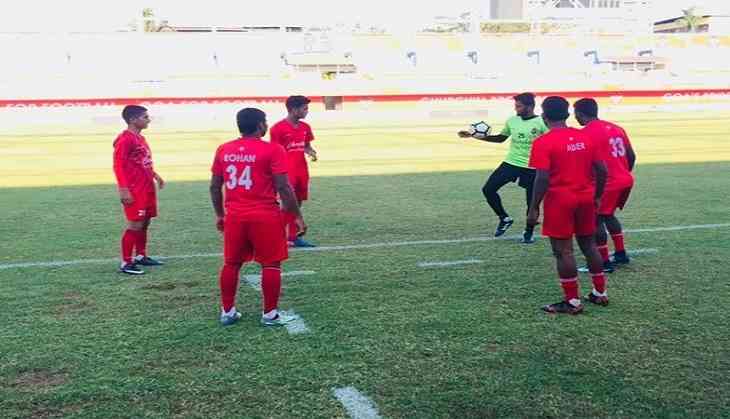 I-League: High-flying Churchill face defending champ Aizawl (ANI)
After having edged past Minerva Punjab FC in their last I-League clash, Churchill Brothers will have another big task to cut out when they face defending champions Aizawl FC in their next encounter at the Tilak Maidan in Goa on Wednesday.
The Paulo Menezes-coached side, who are coming from a stalemate against Chennai City FC, would be wary of the Churchill Brothers who are looking to be the team to beat at the moment.
Aizawl has reasons to be worried as they are winless in their last five matches - counting the AFC Champions League game against Zob Ahan.
The not-so-decent run of results has seen them slump to a lowly sixth on 16 points and Churchill Brothers are only three points behind the defending champions.
Churchill Brothers are growing in confidence with each passing game and they have targeted a top half finish for the season.
After the addition of players like Koffi Mechac, Kalu Ogba, Eldor Hussein and others, the Red Machines look like a different animal.
"It is my belief that if we had this whole set of foreigners from the beginning, we could have been in the top two and even heading the league table with some distance. In the initial stages of the season, we lost five matches which are 15 points. So you see the recovery we had to make from the five defeats," Churchill Brothers coach Alfred Fernandes suggested.
Even Aizawl coach Paulo Meneses agreed that this Churchill Brothers team is not the same as the side they had beaten in the reverse fixture.
"You cannot compare this Churchill Brothers to the one that played in Aizawl with us. They have improved a lot. It will be a very tough game. We are ready to play against them but we know it will be difficult. They are a very competitive team and they are improving. It is not the same Churchill Brothers," Menezes said.
But Alfred Fernandes is prepared to face a backlash from Aizawl after their poor run of form.
"That (backlash) is always expected, especially Aizawl being the defending champions. Being in mid-table, they will come out hard against us. Playing out a draw against bottom-placed Chennai City FC must have hurt them a lot. We have to be prepared," Alfred Fernandes said.
Menezes feels that the points table don't justify their performances.
"The chances that we create in every game, it was enough to be with much more points. Our problem is to score. Hopefully, we have a better chance," he said.
But the Portuguese coach feels that taking one game at a time is the best way forward right now.
"It's a chance, it is a game. Even if you play against East Bengal, you just get three points. Not 15 or 16 points. If you play against Churchill Brothers, you get only three points and not more. Or maybe less like one point or zero points. It is not the best chance to take three points, it is just a chance," Meneses stated.
-ANI