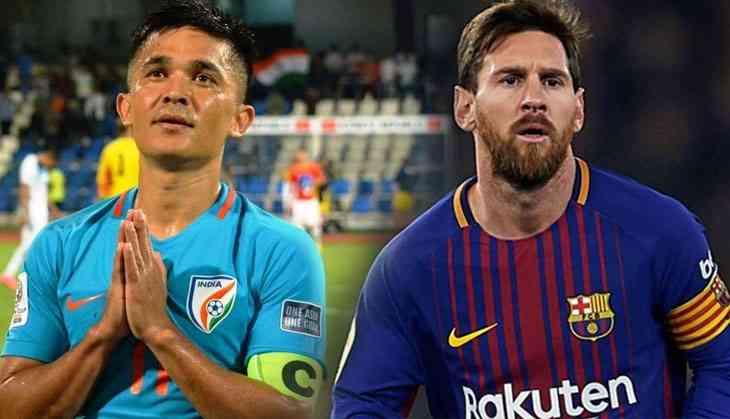 The Charismatic Indian football skipper Sunil Chhetri became the joint second highest international goal scorer among active players along with Lionel Messi's tally of 64 international goals with a stunning support against Kenya in the finals of the Intercontinental Cup in Mumbai on Sunday.
In terms of number of goals per game, Chhetri is much better than Argentina star Lionel Messi, probably the best player in the world currently. Chhetri has nettted the 0.62 goals per game while Messi netted 0.52 per game (64 goals from 124 matches). Indian skipper has better goal ratio per game compared to Portugal star Cristiano Ronaldo (0.54 per match).
In the list of all-time goal scorers, Chhetri and Messi are at the same spot (21st). Chhetri is just one goal behind former Chelsea striker Didier Drogba who has netted the ball 65 times in 104 apperance.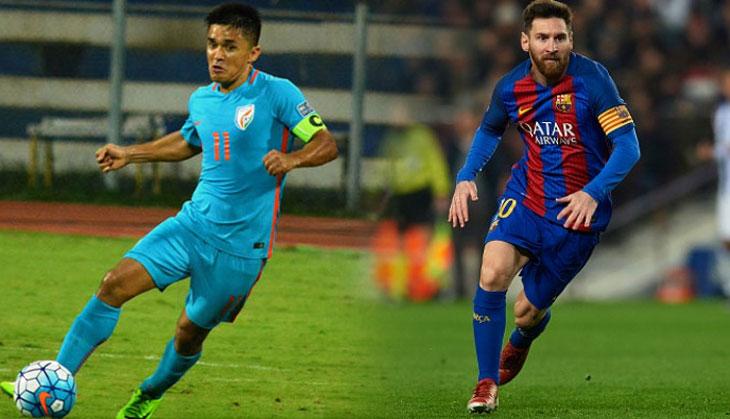 Indian Skipper Chhetri had a stunning tournament netting eight goals. He smashed a hat-trick against Chinese Taipei, scored a double against Kenya in his 100th international match and he net the only one ball in the defeat to New Zealand in India's last game of the Intercontinental Cup.
As quoted in Hindustan Times Sunil Chhetri cited that- "There is absolutely no comparison. They are world-class players. I have seen the graphics on me getting same number of goals as Messi. One should just watch those memes, be happy and forget about it,"
"I don't take it seriously. It's not even fair. The two players who are above me are completely world stars. I am a big fan of [Lionel] Messi and [Cristiano] Ronaldo. There is a massive difference between them and us. There is no comparison at all," the Indian skipper had said.
Also Read : Why Mohammed Shami dropped from Indian squad for the Afghanistan Test ?