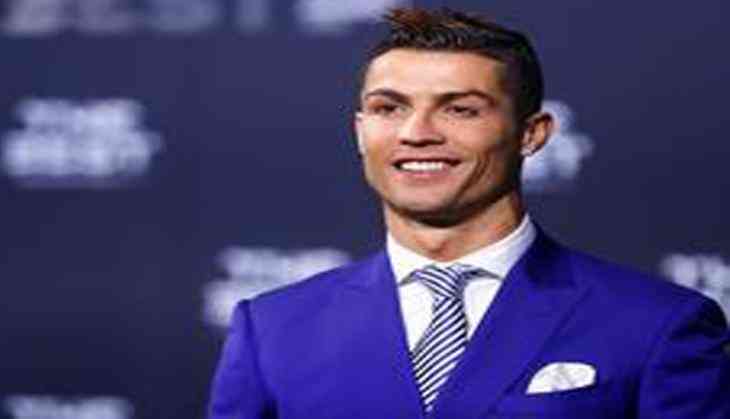 Just two days after Real Madrid star striker Cristiano Ronaldo welcomed his fourth child, girlfriend Georgina Rodriguez expressed her `supreme happiness` over giving birth.
Taking to her Instagram account, a first-time mother and the Spanish model wrote a heartwarming message saying that now their family is `complete` with the arrival of a baby girl, Alana Martina.
Rodriguez also posted a photo of herself, in a white silk robe, holding her little princess as she lays down surrounded by flowers arrangements that were sent to her in the hospital by family and friends.
"Alana Martina was born on 11-12-17. Being a mother and caring for the children at home for all of this time has helped me experience a supreme happiness and now with the arrival of Alana Martina, we are now complete, and happier than ever," the 22-year-old writes in Spanish.
"I want to personally thank the hospital for the impeccable attention they've given us before, during and after the labor. I also want to thank our family and friends for the calls, messages, visits, and thoughtfulness they've had with us over the past couple of days," E! Online quoted Rodriguez, as saying.
The Portuguese striker's girlfriend further expressed gratitude to all her followers and supporters for their best wishes before thanking god for blessing her with a healthy baby girl.
"Lastly, I'd like to thank all of our followers that have supported us and send us their beautiful wishes and good energy in the form of messages. We're delighted and grateful with God for the health of our little Alana Martina and of course also for the three other little ones at homes, which I can't wait to hug and eat up with kisses," Rodriguez continued.
The post further read, "It's beautiful to see my mother calm Alana Martina while on her chest I wouldn't change this feeling for anything in the world. I love my parents, and I love my family. Thank you all!"
Earlier, Ronaldo had also taken to his Instagram account to confirm the birth of his first child with girlfriend.
He had posted a picture of a happy couple with the star striker's eldest son and new-born baby girl called Alana Martina, captioning, " Alana Martina is just born! Both Geo and Alana are doing great! We are all very happy!"
Alana, who cannot be seen in the picture, had arrived nine days earlier than anticipated at a Hospital Quiron Universal near Ronaldo's home.
In June, Ronaldo welcomed birth of his twins, Eva Maria and Mateo, from a surrogate mother in the United States.
Ronaldo also has a son, Cristiano Jr., who was born in 2010.
-ANI