Will a pollution tax and firecracker ban help Delhi breathe easy?
The measures
With winter and Diwali round the corner, there have been a slew of attemps to check Delhi\'s air pollution
NGT announced a number of vehicle bans, Delhi govt is mulling a pollution tax on diesel trucks
NGT has asked vehicles passing through Delhi to take an alternative route
The challenges
Will these measures reduce air pollution
4 main pollutants: Trucks, firecrackers, private vehicles, post-harvest leftovers
More in the story
Why have three infants filed a petition in the Supreme Court?
How bad is the air pollution in Delhi?
Delhi might get some respite from chronic air pollution. The National Green Tribunal, on 7 October, ordered all commercial vehicles entering the city to be taxed up to Rs 5,000.
It also directed that vehicles which are only passing through Delhi, should be diverted to an alternative route from Panipat.
Measures
The NGT had ordered a slew of vehicle bans earlier this year to check air pollution in the city, but to no avail. As air quality is expected to worsen during Diwali and winter, there is a flurry of activity to control air pollution in the capital.
Delhi transport minister Gopal Rai told Reuters on 7 October that his government was mulling a pollution tax of about Rs 1,300 on every diesel truck entering the city. The tax will be introduced in two months, he said.
Meanwhile, the Supreme Court is hearing two petitions on cleaning the city's air. This includes a first-of-its-kind plea filed by three infants seeking a ban on fireworks in the capital on account of the air pollution they cause.
The other case, an application by Supreme Court amicus curiae Harish Salve, prompted the court, on 5 October, to set a 3-day deadline to the state to come up with a pollution control plan, which led to Rai's statement.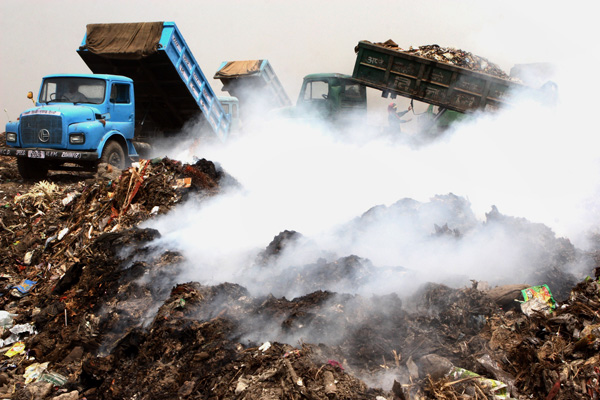 Too little, too late
While these are big steps towards curbing pollution, they fall well short of significantly improving the city's air quality.
Delhi's air pollution is so severe that such measures are, by definition, too late. In a recent report, the World Health Organisation found Delhi was the most polluted city among the 1,600 cities it had surveyed worldwide.

Indeed, even without Diwali and the winter, the city has been choking for far too long. In the last six months, the deadly pollutant PM 2.5 was in Delhi's air in unhealthy amounts - above 100 micrograms per cubic metre - for nearly half the time, according to government data.

PM 2.5 is essentially harmful particles that are so tiny they can directly enter the bloodstream and cause illnesses such as cancer.

The first action against pollution in Delhi came in the 1990s when several petitions were filed in the Supreme Court. As a result, many polluting industries were moved out of Delhi. Then, in a landmark judgment, the court ordered all public transport to switch from diesel to Compressed Natural Gas, or CNG.
Major pollutants
These measures did help reduce the city's air pollution but, as it turned out, they weren't enough. Three major sources of pollution were not addressed: private vehicles, diesel trucks, burning of crop residue in the winters. Firecrackers used during Diwali put an additional burden.
Trucks: A recent study by the Centre for Science and Environment found that over 1.1 lakh trucks enter or exit the city every day. Many of these just pass through; on just one national highway through Delhi, CSE found that nearly a fourth of the trucks were destined for elsewhere.

The trucks choose to pass through Delhi as it is cheaper - they don't have to pay toll on alternate highways. The tax the Delhi government plans to impose is meant to take care of this.

Imposing this charge will reduce the traffic that has options not to travel through Delhi immediately. It will also create conditions for traffic that is not destined for the city to look for alternative routes," said CSE's Anumita Roychowdhury.
In the last six months, the cancer causing pollutant PM 2.5 was in Delhi's air in unhealthy amounts
Firecrackers: This week, the Supreme Court will hear the infants' PIL seeking a ban on fireworks. The plea quotes several articles from scientific journals to draw the connection between air pollution and children's health and educational performance.

The petition asks for ban on firecrackers not just through the festival season but afterwards as well. It quotes an earlier judgment of the court on noise pollution from firecrackers that had led to time restrictions on their use.

Still, even if Delhi manages to check pollution from diesel trucks and Diwali firecrackers, two big concerns remain: private vehicles and crop residues.

Private vehicles: As the CSE study points out, about two-thirds of the city's pollution comes from vehicles that aren't trucks. In April 2015, the NGT had banned diesel vehicles older than 10 years. However, it later gave the state the option to not fine the older vehicles.

Beyond this, barely any attention has been paid to pollution from private vehicles. Interestingly, even the infants' petition focuses only on firecrackers. While it begins by mentioning pollution from industries and vehicles, it says these are "necessary evils" in turning Delhi into a world class city, whereas firecrackers are "needless pollutants".

Burning post-harvest leftovers: The burning of post-harvest leftovers from crops like rice and pulses in farmlands around Delhi has repeatedly come up in discussions on the city's air pollution.

After a case was filed before the NGT in November 2014 by environmentalist Vikrant Tongad, the central government's agriculture ministry came up with a 'National Policy for Management of Crop Residues'. While it advises a variety of measures to prevent burning - encouraging other uses for the residue, providing technical and financial assistance to farmers - none of these have actually taken off.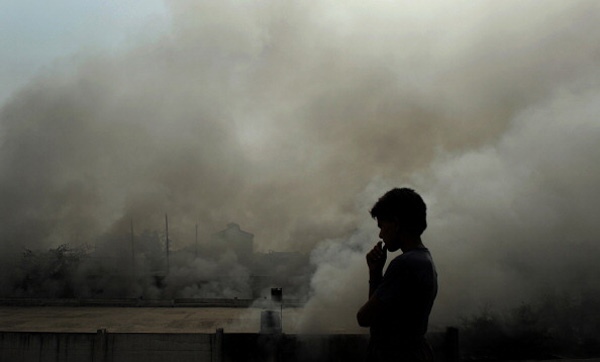 International experience
It turns out that even Beijing, the poster-boy of air pollution in the past few decades, has tackled its pollution woes without explicitly targeting private vehicles. It has claimed a 20% reduction in pollutants like PM 2.5 by running the power plants around the city on gas instead of coal.
This winter we will know if the pollution tax on trucks, and probably a ban on firecrackers, will let Delhi breathe easier. But as the 1990s experience shows, there isn't a single solution to the capital's air pollution woes. It's about time we tackled the problem of private vehicles as well.