Jaya is wrong. Mindless urbanisation, not rainfall, is behind #ChennaiFloods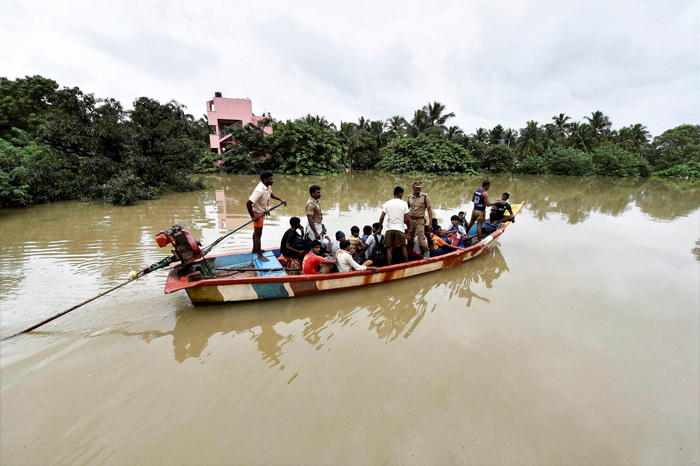 The tragedy
More than 200 people have so far lost their lives in the Chennai floods
Tamil Nadu CM J Jayalalithaa says the incessant rainfall is to blame for the calamity
The reality
Research on urban flooding and the ecology of Chennai has been published in Current Science
It says the reasons for the disaster are actually mindless urbanisation and dismal governance
More in the story
Some wards have lost 99% of their green cover in a short span - how has this affected the ecology?
What have successive governments done to prevent repeated flooding?
The Chennai floods have taken a heavy toll on life and property across the city. More than 200 people have been reported dead and the estimated worth of the damage is in the region of Rs 8,000 crore.
While citizens still try to come to terms with the severity and wait to be rescued via boats and aircraft, Tamil Nadu Chief Minister J Jayalalithaa has said the incessant rainfall is to blame for the calamity. But environmentalists, bureaucrats and citizens beg to differ - the plain and simple reason for this disaster are the perils of urbanisation and 'development'.
Also read - #ChennaiFloods: unlearnt lessons & a disaster told in numbers
A peer-reviewed academic research on urban flooding and the ecology of Chennai, published in Current Science, agrees with the latter view - that the reason for the people's suffering isn't just natural calamity, it's dismal governance.
Waterways clogged
Chennai faces a lot of challenges - from indiscriminate waste disposal and suburban spread to incompetent management.
Due to its mostly plain topography, the city lacks natural drainage, which increases the need for an effective water drainage system. However, the drainage system was last refurbished between 1989 and 1991. Since then, the population in the city has increased by 20%.
The Cooum and Adyar rivers, which provide the city with a natural drainage channel, are more known for toxic pollution and encroachments. The rivers, which once helped make Chennai a trading and fishing hub, are now sewerage hubs.
Another waterway, Buckingham Canal, is now a drainage channel for the southern part of the city. And while the three water bodies can still collect between 75 and 450 tanks of water during floods, the fact that their banks have all been encroached upon doesn't help matters.
Water bodies disappearing
At the start of the 20th century, Chennai had about 150 water bodies, big and small, around the city. Presently, only about 27 water bodies exist.
"Slums (number recorded to be 30,922) have developed without basic amenities, and are subjected to flood every year. They often pollute the water courses, thus worsening the health situation," says the research. No single government agency has control of these water bodies, making proper management even more difficult.
Between 1997 and 2001, many wards in the city lost 99% of their green cover. Water had nowhere to go
One small mercy was 2007's 'Tamil Nadu Protection of Tanks and Eviction of Encroachment Act', which aimed to check encroachment. But it's implementation is now under the scanner, especially after the grim events of the last few weeks.
No lessons learnt
It's not as though Chennai hasn't seen floods before - there have been major ones in 1943, 1976, 1985, 1996, 1998, 2005 and 2010. This is why the assessment that this is a disaster made by the administration rings true.
Between 1997 and 2001, the green cover in numerous municipal wards of Chennai decreased by almost 99%. The outcome was severe: the water retention capacity decreased considerably, with not enough surface water moving downward to become groundwater.
During this period, the flow of water also increased by 90% in these wards, because 'development' replaced greenery.
Also read - #ChennaiFloods: what's behind this man-made disaster
The state government had also funded a 'Flood Alleviation Scheme' in 1998, at a cost of Rs 300 crore. Its primary objectives were improving drainage flow, relocating encroachments and protecting against flooding.
Furthermore, the Chennai City River Conservation Project was started in 2000, with a budget of Rs 1,700 crore, to improve waterways. Additionally, funds from the Jawarharlal Nehru National Urban Renewal Mission have also been routed for improving sewerage.
Unfortunately, most of these measures were structural. The involvement of various agencies like the municipal corporation, the Public Works Department, and slum and housing boards led to a lack of coordination.
The phenomenon of urban flooding
Rainfall data for the last 200 years in Chennai does not show any increasing trend. On the contrary, the last two decades show less rain, but more floods. That's predictable, given that the city has only 855 km of drainage systems as against 2,847 km of roads.
Urban flooding has become an increasingly common phenomenon, and was recently reported across many Indian cities - from big ones like Ahmedabad, Bhopal, Bangalore, Chennai, Delhi, Kolkata, Hyderabad and Surat to smaller centres like Rohtak, Kurukshetra and Gorakhpur.
As the effects of climate change intensify, managing solid waste, improving drainage and afforestation need to be prioritised.
Lest we forget, all modern cities have a high population density per square kilometre, making even a small flood dangerous.
MORE AT CATCH - This night, that year: a first-person account of Bhopal's date with hell
8 times the Bhopal gas tragedy has been portrayed on the big screen
#ChennaiFloods: a brief guide to 6 diseases the city must watch out for