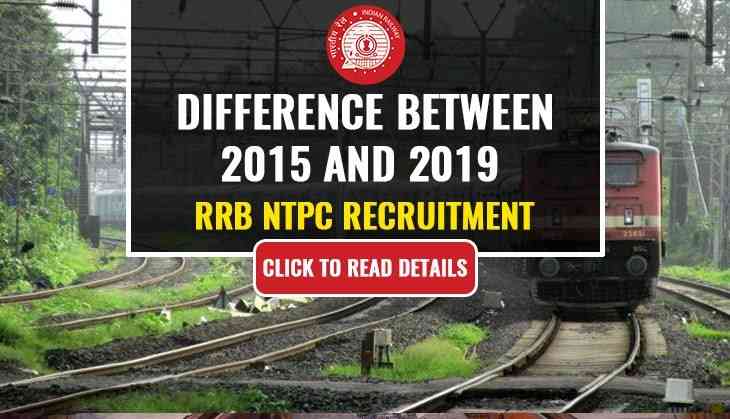 Indian Railways has released a huge job opportunity on the posts RRB NTPC (Non-Technical Popular Categories) on its official website of the Railway Recruitment Board. RRB has released 1.3 lakh jobs under the advertisement CEN-01/2019. However, for NTPC posts, there are 35,277 posts have been released and the rest of the vacancies are under Level 1 and other.
As per the official notification, the online application process for RRB NTPC was started from 1st March 2019. The link for the submission of the online application form was started from 6 pm. The last date to submit the online application form is 31st March till 23:59 hrs. While the online application fee can be submitted by the applicants up to 5th April till 23:59 hrs.
However, after 2015, Indian Railways has released the vacancies on the posts of RRB NTPC.
Therefore, there are the expectations that a huge number of applicants likely to be applied by the aspirants for the posts.
Because this time, RRB has released more vacancies in comparison to the vacancies released in 2015.
If you are also going to apply for the post of RRB NTPC then, know some major differences between 2015 and 2019 vacancy released by Railway Recruitment Board, RRB.
The total number of vacancy released in two different years:
The major difference made by RRB is that the vacancy difference under advertisement CEN-01/2019 and CEN-03/2015.
In 2015, RRB has released 18252 jobs on various posts. While in 2019, RRB has released 35,277 posts for NTPC.
Check out the comparison post-wise:
For Goods Guard:
In 2015, there is a total of 7,591 vacancies.
In 2019, there is a total of 5748 vacancies.
For Traffic Assistant:
In 2015- 166 vacancies
In 2019- 88
For Senior Time Keeper:
For Traffic Apprentice:
In 2015- 1,645
In 2019- No vacancy
For Commercial Apprentice:
In 2015- 703
In 2019- 259
For Senior Clerk cum Typist
In 2015- 869
In 2019- No vacancy
For Assistant Station Master (ASM):
In 2015- 5,942
In 2019- No vacancy
For Station Master:
In 2015- No vacancy
In 2019- 6865
For Enquiry cum Reservation Clerk (ECRC):
In 2015- 127
In 2019- No vacancy
For Junior Accounts Assistant cum Typist
In 2015- 1,205
In 2019- 3164
Check out the posts that have been increased by Railway Recruitment Board under this year recruitment of RRB NTPC than 2015 NTPC jobs:
Junior Clerk cum Typist: 4,319
Accounts Clerk cum Typist: 760
Junior Timekeeper: 17
Trains Clerk: 592
Commercial cum Ticket Clerk: 4940
Graduate posts: 24,649
Senior Commercial cum Ticket Clerk: 5638
Also read: RRB NTPC Recruitment 2019 Notification Out! Apply for over 30,000 vacancies today for Rs 35,000 salary per month