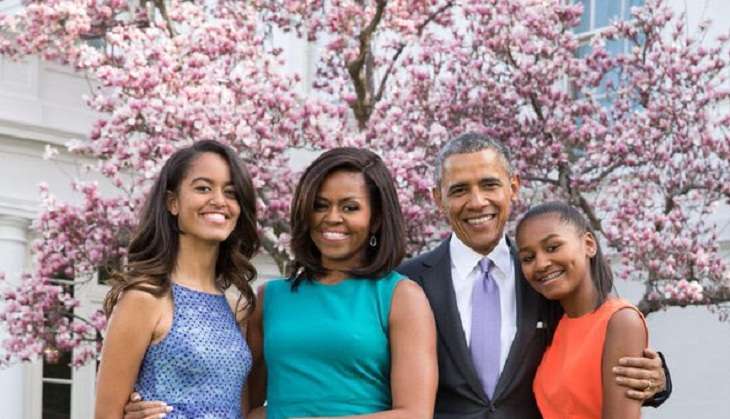 An Indian-American girl wowed the sizeable audience at the White House when she narrated a poem, sharing her experience as an immigrant and how it was painful to replace her mother tongue Tamil, with English.
In the audience were US First Lady Michelle Obama, who felicitated her and four others including another fellow Indian-American Gopal Ratnam with the prestigious National Students Poet in recognition of their poetry skills.
"I have lost more than I have ever lost in 16 years. I have started shedding ethnicity like hair: Mother, I fear I'll go bald," Maya, 17, concluded reading her poetry 'Ma, I haven't spoken in three years' amidst applause from the audience. She even received a shout out from the First Lady in her speech.
"Maya... Where's Maya? You put it best. These are your words, I'm told: "On the stage, there is no way to leave unnoticed. Did you say that?" the First Lady asked. Maya was born in the US to Tamilian parents. "My family is Tamil. I was born here. I write a lot of my poems based on my culture, my heritage," she told PTI after the White House event.
"The poem that I actually read at the White House is based on the experience of losing my mother tongue and kind of replacing it with another, which is very painful thing to imagine to go through," she said, adding that when she was in the middle school she stared getting interested in poetry.
Gopal, 17, the other Indian-American budding poet who received national attention lives in Dallas and is a high school student. His parents - father from Chennai and mother from Kerala - moved to the US in the 1980s. He was born here.
"It (love with poetry) started in seventh grade. I had a really great English teacher. He really pushed me in writing in a more creative manner. I choose poetry as my avenue of writing," he said. "I am super honoured to meet the First Lady," he said. "I also want to plan for pre-med. My dream job right now is some sort of medical doctor," he added. At the event, Gopal read out the poem 'This Apple'.
The other three poets honoured at the White House are Stella Binion from Chicago, Joey Reisberg from Towson in Maryland and Maya Salameh from San Diego in California.
Since its inception in 2011, the National Student Poets Program has showcased the essential role of writing and the arts in academic and personal success for audiences across the country. "This is the last time that we're going to have the pleasure of welcoming a class of National Student Poets to the White House, at least under this administration. So I'm feeling a little melancholy here, because this has truly been an honour and a privilege and a joy," Michelle Obama said.
Recollecting how it all started, the First Lady said when they came here, they wanted to use this incredible platform of the White House to inspire young people to dream really big for themselves, to think about what their lives could look like beyond what their everyday existence is like.
- PTI