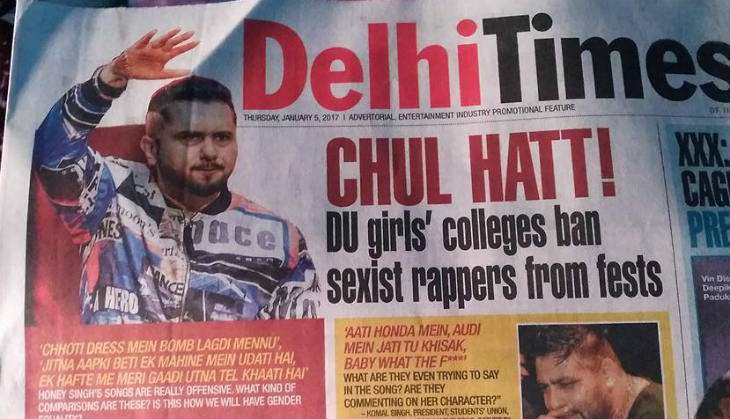 As India grapples with the horrific mass molestation in Bengaluru on New Year's eve, girls' colleges in Delhi University have gone ahead and taken some action. On their own. Loudly.
Unequivocally, they have decided to ban rappers who in an unabashed manner promote sexist lyrics in their songs.
"How can you call a woman 'bomb'? We do not even consider artistes like Honey Singh, Badshah and other Punjabi singers for our fests. This is not a joke, you cannot laugh about it. We are always cautious during our selection of artistes," Garima Tandon, president of the students' union of Gargi college told TOI.
Well said, Garima.
And it's high time all other colleges and universities across the country wake up and shun movies and culture that promote such misogyny!
The co-ed colleges in DU are still figuring out who to call. And we sincerely hope that none of these sexist rappers are invited to the fest.
Raavi Jotwani, vice president of the Jesus and Mary College students' union, says, "Lyrics like Manne suna hai tu twenty plus ho gayi and Yahaan sari dance dikhari hai, gori kamar hilari hai (Party by Fazilpuria), are sexist and offensive and we are not trying to promote that culture. We prefer a female artiste who believes in ideas like ours and who can understand us better than someone who tears us apart in our own college in our fest. We are taught that women should be confident, competent and compassionate and the lyrics of these artistes are completely opposite so they are a big 'No' for our fests."
Delhi's women's colleges' decision of taking a strong stand and not inviting sexist rappers is a step in the right direction.
And we sincerely hope that all other universities and colleges follow suit and say Chal Hatt to the likes of Honey Singh and Badshah!