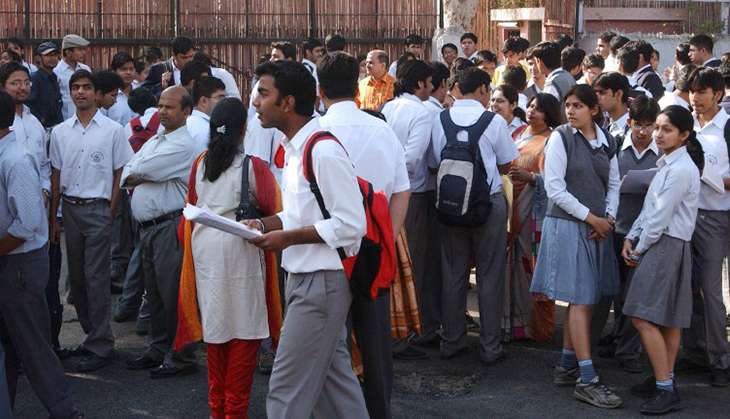 The Union Human Resource Development Ministry on 14 November announced the reintroduction of Class 10 board exams for CBSE schools. Minister Prakash Javadekar said states could choose to reintroduce boards exams for Classes 5 and 8 too.
For those acquainted with the country's education system, this was not a shocking development. Most teachers, principals and parents have been expecting the Class 10 Boards to make a comeback, albeit with varying views. Catch spoke to several parents and principals to understand how this move will affect them, and whether those on the ground-level approved.
Undoing of CCE & reorganisation of education system
Most educators Catch spoke to expressed mixed views. "Rote learning will make a comeback. The rat race will return. With Continuous and Comprehensive Evaluation (CCE), children with a creative bent of mind or those excelling in sports had a good chance. Now, they'll take a backseat. Also, some students score well by working hard at the end," said Sarita Madhok, principal of Mayoor School in Noida.
The current crop of teacher have now adapted well to CCE. "It took six years to arrive at this stage. Teachers have now adapted to CCE. And now, we're back to previous system," Madhok added.
Kamini Bhasin, principal of Delhi Public School, Noida, agreed: "It was going well for children. My teachers now understand the nuances of the system. Now, things have to be reorganised again," she said.
Under CCE, students underwent continuous evaluation throughout the year. End results were not based on one exam but on their overall performance. The system, introduced six years ago in CBSE schools, was expected to reduce the pressure on the child during/before examinations.
Both the principals, however, did not discredit the move to reintroduce Class 10 boards.
"Board exams are simple. It has a direct approach. Indian students know how to work hard, which was getting diluted in the CCE system," Bhasin said.
Currently, most schools in the National Capital Region opt for internal CCE evaluation, not CBSE's board exams.
Parental woes
Many parents expressed their angst over the reintroduction of the Class 10 boards.
For Venita Thakur, this could be a move in the wrong direction. "A Class 10 student is not mature enough to handle pressure. If the system of board exams are back, I am afraid kids may start taking wrong steps and avoid communication. Just look at the pressure on children appearing for JEE!" she said.
Thakur's daughter appeared for Class 10 exams this year, scoring 8 CGPA. "Currently, the question paper is set by external experts. But it's the internal teachers who evaluated her answers. The teachers know my daughter. They have seen her growing up from childhood, understand her personality. Most importantly, my daughter was relaxed and focused on her assignments throughout the year. It makes a huge difference," she added.
"Also, some children do not fall in the intelligent or bright kids' bracket. What happens to them? The previous system of boards put a lot of pressure on children. I know my daughter's strengths and weaknesses. She is an average student, scoring in the range of 65% to 75%."
Downward spiral of academic standards?
Kiran Mehta, principal of Salwan Public School, Mayur Vihar, supports the government's move. Her reason - the falling academic standards of students.
"This is definitely a good step by the ministry. Students are not doing well in exams and we're witnessing an academic down slide. Children know they'll get the formative marks and hence don't make an effort to do well. Once they arrive in Class 11, seriousness begins. But with this move, students will get serious from Class 8 onwards."
A document on Agenda Items of the 64th Central Advisory Board of Education (CABE) meeting notes that "children are losing the habit of regular studies and are not preparing for the examination as they used to do earlier since they now know that they are not going to be detained by the school due to the huge weightage given to the co-scholastic evaluation under the CCE pattern."
Board exams for Classes 5 & 8
For Brishti Mukherjee, this is not something to be feel stressed about. "If kids start appearing for board exams from Class 5, they'll be eventually, over time, be ready for Class 10 boards."
"If implemented, students of Classes 1, 2, 3 and 4 will be prepared for the Class 5 exam. Eventually, the pressure and stress for Class 10 exam will go down. If boards are good for children, we need to accept it," said Priyangana Mukherjee, mother of a Class 4 student.
At DPS Noida, students of Class 5 already have a certain inter-school level examination in place.
"Terminal exams at Class 5 level are already being held by the school. The idea is not to evaluate but to help them understand the needs, make an internal assessment and work harder," said Bhasin.
But not everyone is in favour of this move.
"Let children be children. Let them enjoy their childhood. The board system can be activated post Class 8," said Kiran Mehta of Salwan Public School.
Reiterating similar views, Sarita Madhok of Mayur School said, " I am not in not in favour of board exams for Classes 5 and 8. This will create unnecessary phobia and a lot of pressure."
What's the future: CCE or rote learning?
"This is definitely not a good move, but this is a convenient move," said a senior auditor of education and quality parameters at a leading group of schools, who did not wish to be named.
She said that CCE was the only way forward, but CBSE schools' CCE system is flawed.
"CCE in itself is a brilliant concept. If implemented in its essence, it can bring the brightest results in Indian education. However, to reach CCE's optimal level of utilisation, a lot of background work needs to be done with teachers, principals and parents. At this stage, I am just talking about preparation for classes - not even referring to the child or the expected end results," she said.
The auditor who has seen teacher and principal training at leading schools, says the ground reality is different.
"It's difficult to reach the expected CCE levels because most schools are not willing to invest enough time, resources and money in teacher training. The shocking fact is that most school principals I have interviewed over the last two years don't even understand what CCE is. If they can't understand the basics, then how can we expect teachers to understand it!"
"The current CCE system is handicapped. Either we keep it aside, mend it and train the teachers. Or we continue with the system and let it remain diluted. If government is reintroducing board exams, it means they'll focus on teacher training, empower the current system and then reimplement CCE," she said.
"In the future, CCE will make a comeback. Because schools across the world have CCE in their education process in a certain format. And India has to implement it eventually, to be at par with international education standards."