Hinduism has been reduced to what you can eat and what you can't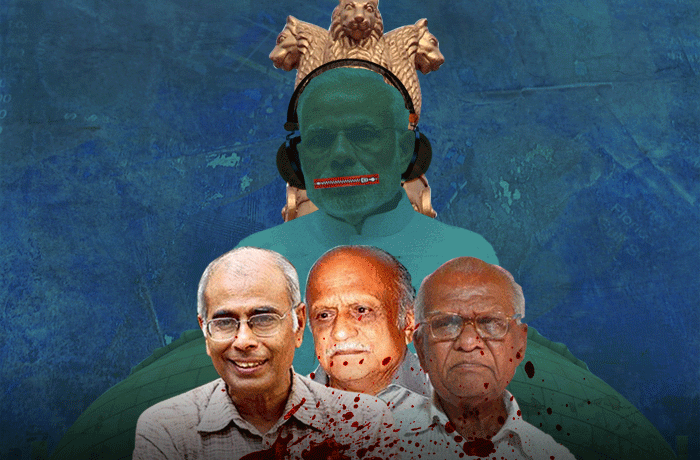 There's nothing politically-driven about my decision to return the Sahitya Akademi award. I only followed my conviction and felt it important to send out a message against the growing intolerance in this country.
For the past two-to-three years there has been a distinct rise in the attacks, insults and criminal charges against intellectuals, activists and academicians.
Today, if anyone opposes a popular strain of thought by thinking for himself and expressing an honest opinion, his books are banned and burnt and he is labeled anti-national and criminal.
Legendary writer U R Ananthamurthy was put on a public trial of sorts for expressing his dislike for Narendra Modi. He was treated like a criminal on the run. He was threatened to be sent to Pakistan. It was outrageous.
It was also around this time that several writers and public intellectuals faced violent threats. Some were killed.
M M Kalburgi, Narendra Dabholkar and Govind Pansare were brutally murdered. The silence around their deaths was what shook me most.
These were never the paradigms along which we functioned as a nation. India has always been the defender of democratic space for thought. So much so that we have sheltered writers from outside whose home countries threw them out. Whether it was Salman Rushdie or Taslima Nasreen, we have given them a safe haven and defended their right to voice their opinions.
It was the absolute apathy of the Sahitya Akademi around this environment that shocked me.
While they would have held a normal condolence meeting in the case of any unfortunate incident, these incidents were especially brushed under the carpet, without paying the most basic respect you give to a dead author. Even ordinary writers who have passed away are given a condolence meeting and a condolence message is sent to the aggrieved family.
Nothing was done this time.
This honour bestowed on me by the same prestigious academy that once stood for the greatness of literature holds no meaning for me any longer.
Either the Sahitya Akademi fears the ruling government or they have themselves changed to this level of insensitivity and become a dehumanised forum to give awards, churn out festivals and host celebrations blindly.
When I had renounced the award earlier this year, I stood isolated. It was unnerving. At times, I felt I had done something wrong. I especially didn't expect this type of isolation from the left writers of the Hindi literature world who claim to be socially-committed. Not one showed any solidarity back then.
I don't know if not accepting the award makes any difference, I did what I had to. When Kalburgi was murdered he had already served as vice chancellor of a university. So I wanted to send out a message not just to the world of literature but to academic institutions as well.
I'm happy that Nayantara Sahgal, a very prominent writer - who had the guts to criticise Mrs Gandhi during the emergency - has come out to renounce her award. Ashok Vajpeyi has also turned it down. I'm hearing of some others who will, too, in the coming days.
There was dignity in being a writer back in my younger days. But now even if you make a rational comment, political or cultural critique, there are people so intolerant that they will use violence and any means possible to suppress dissent.
One of my novellas, Peeli Chhatri Wali Ladki (2001), criticises the caste system.
The story is about a boy and girl from different castes who fall in love and in the book I make a scientific argument that 15 to 87 percent of our caste system has been genetically diluted.
This has taken place in this country already. So no one caste can claim superiority anymore. I made the argument that the foundation of the caste system has been genetically eradicated and we only practice it culturally.
It stirred up a storm. Right wing Hindus came after me. They said it was a filthy book. I can show you files full of letters tearing my book apart. Not one of my fellow writers came out in my defence. There is some sort of an intellectual gap between me as a writer and what Hindi fellow writers judged my art as.
But the book did well thanks to international support. It was first published by Penguin. Then it was published by Yale University and won me international appreciation and awards.
Something is lagging here in the world of the arts. You see the communalisation of everything. Hinduism is a wonderful philosophy. It has wonderful scriptures and books but now it has been reduced to what you eat and what you don't eat. This kind of reductionism is not going to help the image of Hinduism.
We're in hyper-sensitive mode. Not only in India but all over south Asia, in Pakistan and Bangladesh.
Avijit Roy- a Bengali writer I know from Bangladesh, was a rationalist, secular, modern writer. Mukto mona (free mind) was his very popular and famous blog. He had come to visit the book fair in Dhaka from US along with his wife and he was murdered brutally by fanatic Islamist group in February this year.
I hold this government responsible for this reductionism - there has been no attempt from the top to send out a corrective message.
Hinduism is a wonderful philosophy, but it has been reduced to what you can eat and what you can't
Prime Minister Modi is too vocal a leader to be silent about recent developments, from writers being killed to stifled intellectual voices to the Dadri killing. Why is he silent? He speaks all over the world but doesn't address the burning issues within India. I don't understand this dichotomy. He should condemn these people!
When babas and sadhus who are caught red-handed in crimimal activities are threatened, they receive security cover and protection. But a writer is so vulnerable today. Anyone can come and slap and thrash them.
India has a great legacy. We are a democracy. Like Tagore said, we are a great ocean of humanity. We have these many languages and cultures and food habits. Despite these differences we are still together. The reason is the kind of tolerance we have inherited. Now that tolerance is diminishing. Something violent is taking over.
This is my biggest fear for India and it is coming true.
As told to Shriya Mohan
The views expressed are personal and do not necessarily reflect those of the organisation.
More in our #ArtistsSpeakUp series:
Why didn't anyone return their awards after 1984 riots? - Sahitya Akademi chairman
Shashi Deshpande: Writers in this country don't need protection, we need freedom
'Our crisis is not economic. It is cultural' - Udayan Vajpeyi
The State is trying to create a monoculture: Anand Patwardhan
The Sahitya Akademi today speaks on Swacchta but not on writer's murders: Ashok Vajpeyi
Stop us at one place and we'll spring up at a hundred others: filmmaker Nakul Singh Sawhney
Everything is a soft target today unless you are male, Hindu, upper caste, rich: Githa Hariharan
It's shocking we ask whether it's right to kill people over beef rather than whether it's right to kill: Kalki Koechlin
Everything that falls under culture is prey to a barren notion of Hindutva: Kiran Nagarkar
No country for dissent: Nayantara Sahgal returns Sahitya Akademi Award