Devyani Khobragade turns writer with a powerful story of a Dalit girl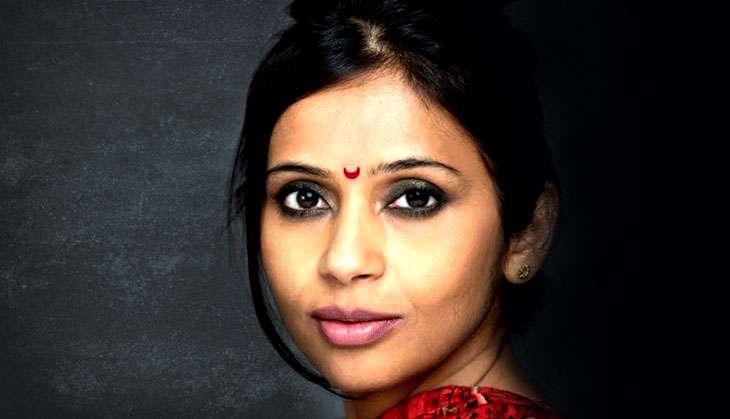 Indian diplomat Devyani Khobragade's name is sure to conjure up images of her being charged in the US of paying her housekeeper less than the minimum wages allowed under American law. Khobragade was then deputy consul-general in New York, and the Indian government had slammed her arrest as being contrary to the Vienna Convention.
That was the horrific December of 2013.
Three years later, Khobragade has turned writer with her first story The White Sari. The powerful tale of a Dalit girl, Ratna, who meets the love of her life, Akarsh, but their relationship is thwarted by the power play of the rigid caste divide.
Ratna meets Akarsh on one of her visits to Chaitya Bhumi, where Babasaheb Ambedkar's ashes are enshrined. She is a brave Dalit girl who would stand up for her rights and is sure to remind the reader of Khobragade.
The name Akarsh, too, is bound to ring bells, for Devyani is married to Aakash Singh Rathore, a professor of philosophy. In the story, Akarsh is a student of sociology who is deeply interested in Babasaheb's teachings and the Ambedkar movement.
But when you gingerly ask Khobragade if she had anyone in mind while writing this story, her answer - "the short reply is that fact is fiction and fiction is fact" - leaves you with more questions than answers.
Edited excerpts from the interview
LH: The White Sari captures a girl's insecurities and frustrations so well - more so of a girl who belongs to the most disadvantaged section of our society. Did you have any one in mind when you wrote this beautiful story, or is this a work of fiction?
DK: The idea behind writing the story was to portray the anxieties, anger and agony that mark the growing social consciousness of a modern Dalit girl who feels a lot of pride for the struggle of her people.
At the same time, she is a young adult who falls in love and faces a dilemma of her social versus personal self. As for your question whether I had anyone in mind when I wrote the story, the short reply is that fact is fiction and fiction is fact.
LH: Ratna, the protagonist in the story calls herself "Babasaheb's tigress". You portray her as this brave and thinking girl who gets angry at the atrocities inflicted upon Dalits, so why isn't she willing to take chances in life and love?
DK: Ratna is willing to break free. Whether she is able to depends not only on her, as it is in the reality around us. The story highlights one of her assertive facets through a tragic romantic relationship with a high-caste boy. She is a thinking and a feeling woman and therefore, she is ready to take on what life has brought for her.
LH: I liked your description of Dalit women - 'the Dalits within the Dalits' - but hasn't anything changed for these women at all?
DK: There has been a change for the Dalit woman as more and more of us get opportunities for education and profession outside the confines of home. However, the extent and the differentiated ways the Dalit woman faces the problem of the caste system and its debilitating effect is not recognised to the fullest extent even by the Dalit themselves. It is left to the few Dalit women political organisations and Dalit women intellectuals to deal with it.
LH: What does love mean to you?
DK: Love is the one thing that can bring about profound changes.
LH: Ratna's story is a story of hope. Is the world then changing, is it beginning to be dotted by Akarshs who care little about the caste divide and are willing to go the extra mile for the ones they truly love?
DK: This is a story of hope and I do see the world being dotted by more Akarshs and Ratnas. However, not to the extent that one would like it to be.
My next story would be about a woman who was not as fortunate as Ratna to have found a bold love who would cross rigid social and structural boundaries for her.
LH: From a medical doctor to diplomat to writer - what's your next avatar?
DK: These are not different avatars, but manifestations of different aspects of change and growth.
(The White Sari by Devyani Khobragade is exclusively available on www.juggernaut.in)