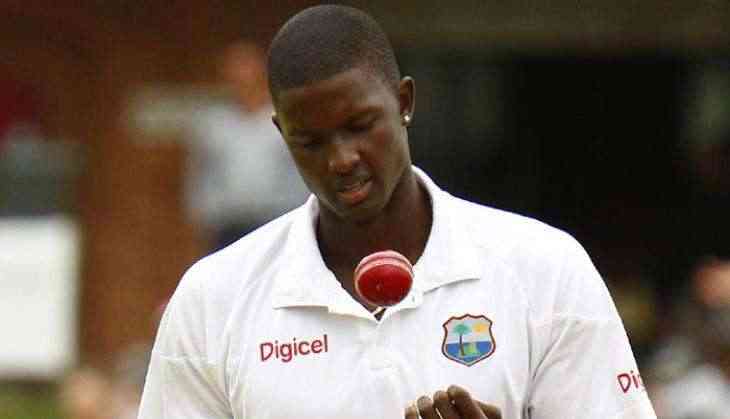 West Indies skipper Jason Holder Tuesday demanded discipline from his bowlers in the remaining four ODIs of the five-match series against India, saying picking up wickets upfront would be crucial.
West Indies notched up what seemed a stiff 323-run target in the series opener, but India made short work of the chase and reached the target with almost eight overs to spare, with Virat Kohli and Rohit Sharma slamming big hundreds.
"In limited overs cricket, in these conditions you need to utilise the new ball. This is an area every team targets. We want to take few more wickets with the new ball," Holder said at the pre-match press conference.
"We got one wicket in the last game and if we can get two or three wickets upfront, it will help us put pressure on their (India's) middle order."
Holder felt the 320-odd runs his team scored at the Barsapara Stadium was below par, and given the way Kohli and Sharma made mince meat of the bowlers on a featherbed, he is not way off the mark.
"Getting 320 is positive for us and we can build on that. We have all seen how the conditions can be in India. Here the par score can be anything from 320, 340 to 350 and you need to bowl ridiculously well to defend it," he said.
"Hopefully, we will be able to repeat it (batting effort)."
Shimron Hetmyer produced a sensational century and Kieran Powell a brisk fifty, but Holder, citing the Kohli-Sharma 246-run partnership, said his team's batting has to be clinical.
"I felt 320 was a little below par. Then again if we had taken a few more wickets, had broken that Virat-Rohit partnership it could have been different. It was a tough game," he said.
"When you put runs and are never too sure if it is enough or not... Obviously our bowlers dictated and struggled against Kohli and Rohit.
"We need to be more disciplined in bowling and a bit more clinical with the batting. Like how Rohit and Virat went the distance after India lost an early wicket," Holder added.
With less than a year to go for the World Cup, the visiting skipper said the aim is to give everyone opportunity to prove their mettle, helping the team settle into a cohesive unit.
"For this tour we just want to give everyone an opportunity which can help them grow. World Cup is next year. We have got a young group. It's about giving them the opportunity to know what it takes to perform at this level," Holder said.
Motivation could be a problem when a team keeps losing, but Holder said the youngsters' eagerness to prove that they belong to this level, is good enough reason to stay motivated.
"It's not too hard. It is matter for us to be motivated. It's not hard as it's a young group who are eager to prove themselves when given an opportunity, showcase what they can do. Motivation is easy, it's about coming together more as a team," he said.
Asked for his take on the long tour, he said, "You got to manage the players in the best way possible. There are pretty closely scheduled games. It is a matter for us to manage our players in the best way possible, keep them fresh."
When asked about the pitch for tomorrow's game, the West Indies skipper said, "I had a look at the wicket and there is no grass. Spinners do pretty well here. Our spinners did not do that well in the last game, but credit must also go to the Indian players.
"I felt (Devendra) Bishoo came good in the second spell and looked a lot better, was able to get the wicket of Kohli, which will be crucial for him."
As far as absence of big names such as Chris Gayle, Kieron Pollard and the Bravo brothers -- Darren and Dwayne -- was concerned, Holder said, "Gayle is not here and what happens after this series is too far beyond.
"We have youngsters like Chanderpaul Hemraj in the top order. We want to give them as much exposure as possible.