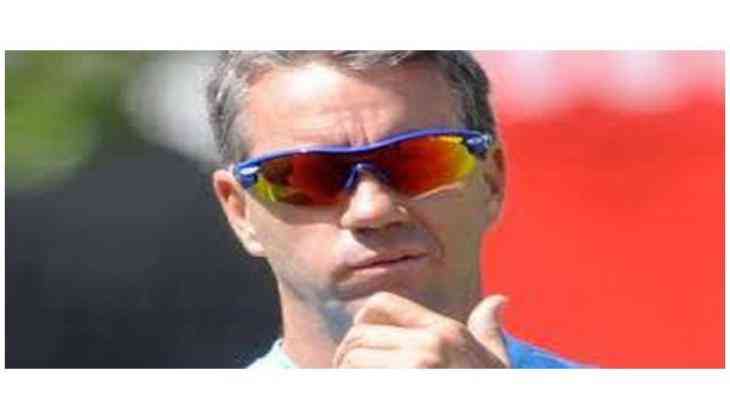 Once known for its intimidating presence, the West Indies team has been on a steady decline for some time now but outgoing coach Stuart Law insists the Caribbeans have the skill level to dominate world cricket again in near future.
West Indies began their two-month long tour of India with 0-2 Test series defeat and followed it up with a 1-3 defeat in the subsequent ODI series.
They were expected to fare better in the Twenty20 but were handed a crushing 71-run defeat in the second T20 International to concede an unassailable 0-2 lead.
Law, who will part ways with the West Indies team after the subsequent tour of Bangladesh, said the Caribbeans are presently on a transition phase and with time they will only get better.
"West Indies cricket is not about lack of talent. The skill level is always there. It's about applying that skill, making the right decisions under pressure in the middle of the game. It's a tough place to learn there at the middle," said the 49-year-old Australian, who is set to join English county side Middlesex soon.
"Sooner than later we will get better results, better equipped players. International cricket is a beast and to learn your cricket out there is a tough ask."
Law said the tough tour of India is a big learning experience for his young side and irrespective of the final outcome they will only take home positives.
"It's a young team and they are learning on the job. It is tough to learn in this environment against one of the best teams in the world, he said.
"They have full of potential and now its up to them whether they really want to work hard or not, play really good cricket, listen to the coaching staff and senior players. Keep developing their game every time."

Having already lost the series, the West Indies coach said his players will definitely play for pride in the last match of the tour.
"I hate losing. It's a tough pill to swallow. We haven't had that much joy in this tour. It's time for them to dig deep and play for pride and give it everything in the last game. If we play anywhere near to our potential we can beat any team on our day. We need to improve a lot to get to that stage," Law said.
Law said India's stand-in-captain Rohit Sharma made all the difference on Tuesday with his whirlwind century.
Rohit was at his brutal best here, smashing an unbeaten 111 off just 61 balls to power India to 195 for two.
"Rohit Sharma can hit any bowler around the park on a given day. He played exceptionally well. He took the game away from us. It's tough to learn while playing against a player like Rohit Sharma, who can destroy you any day," he said.
-PTI