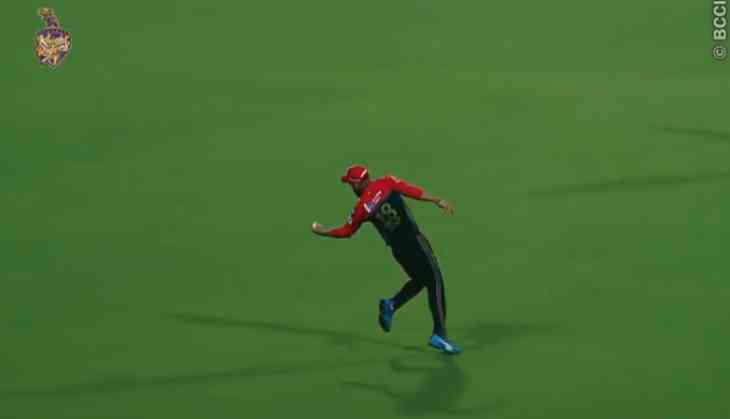 Virat Kohli took his revenge when he dismissed Shubman Gill in the second innings during a match between Kolkata Knight Riders and Royal Challengers Bangalore. Shubman Gill took a catch to dismiss Virat Kohli in the first innings of the game and he did the same in the second innings.
Shubman Gill took a catch at deep-mid wicket in the first innings to dismiss Virat for 100. Virat Kohli pulled off an amazing catch in the second innings to dismiss Shubman for just 9 runs. The incident took place in the 5th over when Dale Steyn bowled a full-length ball. Kohli fumbled at first but then he was able to take hold of the ball. Not just Shubman but even Kohli was left surprised by the catch.
M35: KKR vs RCB – Shubman Gill Wicket https://t.co/iChGIAkgz2 via @ipl

— Cricket Junkie (@JunkieCricket) April 20, 2019
Royal Challengers Bangalore won their second match in the tournament as they beat Kolkata Knight Riders by 10 runs. The match was a high scoring spectacle from both sides exactly what happened in Bengaluru when the two teams met. Kolkata couldn't chase the target but they tried their best by sending Andre Russell up the order.
Robin Uthappa cost the match to KKR as he consumed a lot of balls. He scored just 9 runs but took 20 balls to do that. Andre Russell once again showed his hitting prowess as he hit 65 off just 25 balls. It was all left to Russell but he became an unfortunate victim of a run-out by Kohli and Moeen.
RCB now has four points to their name but are still sitting at the bottom of the points table because of their net run rate. KKR moved down to number six as they have eight points from the nine matches they played.
Also read: Watch: Virat Kohli teasing Sunil Narine, says 'Mankading' me is not your cup of tea