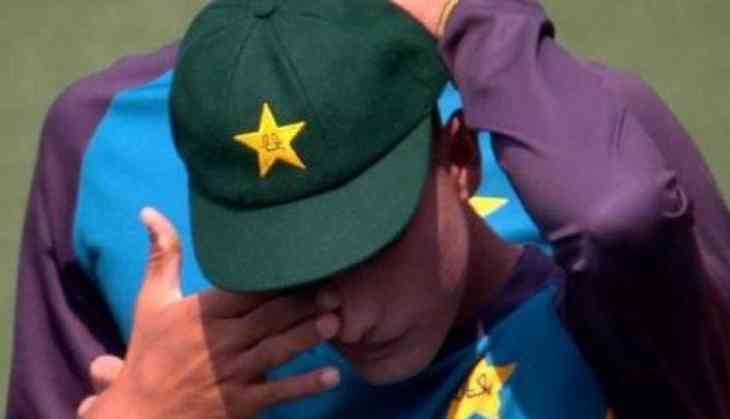 Pakistan fast bowling prodigy Naseem Shah broke into tears after being handed his Test cap on the opening day of first Test against Australia in Brisbane on Thursday. Dispite the fact that Pakistan didn't have a great day in the field as they were bundled out for just 240 in first innings, it was a significant day for Naseem who took his maiden bow for the national side at the age of 16.
Naseem's mother passed away on Tuesday morning, before the first Test, but the 16 year old decided to stay on with the national team. The pacer was later handed his Test cap by legendary pacer Waqar Younis and he broke down in tears.
Previously, former Pakistani pacer Shoaib Akhtar spoke highly of Naseem for taking a courageous decision and weighed him to Indian skipper Virat Kohli, who too returned to the field to play for Delhi one day after his father passed away.
"As a bowler I can say that Pakistan has found a solid [Tagda] fast bowler," Akhtar said in his YouTube channel. "What I really like about Naseem Shah is that he understands how to bowl.
"To know how to bowl at this young age is amazing and its inbuilt in some – this is same as Mohammad Amir as when he come on to the scene in 2009," he further added.
"I want to see a fast bowler who has a strong character and I know that every fast-bowler gets hit about in Australia but when you fight it out, you are also appreciated there," Akhtar said.
Naseem will now have to showcase brilliance with the ball after Australia bowlers bundled out Pakistan for just 240 on Day 1.
After the visitors withstood obstinately in the first session, posting 57 for no loss at lunch, pace trio Mitchell Starc (4-52), Josh Hazlewood (2-46) and Pat Cummins (3-60) ripped apart the Pakistani batting order to put the home side on the front foot at stumps.
Also Read: Mayank Agarwal on the brink of equalling Don Bradman's sensational record in Kolkata